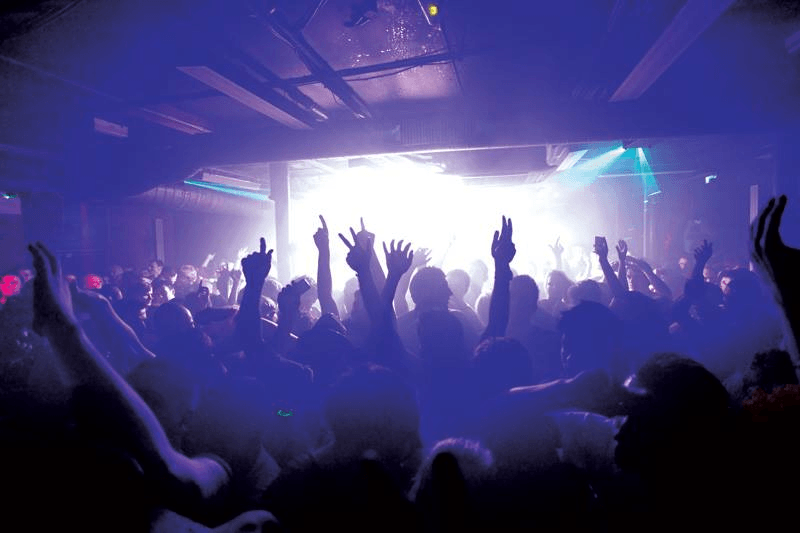 Sankeys Announce Spring line ups…
Sankeys Manchester is back in full swing after a small hiatus last year, and is once again the city's most essential destination for underground music fans. Getting back to the hey day of sweaty basement parties and intimate gatherings that focus on atmosphere and ambiance more thananything else, Sankeys has been a leading underground club in England rightback to the 90s. Located in the wholly non commercial but industrial edge of town in Anocoats, its raw setting is the perfect match for the parties that play out there.
Sankeys is also known for its clued-up bookings that prize quality over quantity: rather than having a long list of names on each flyer, Sankeys selects the choicest acts each week. All of them play in the electric space under mesmerizing, futuristic lights, LED strips and a full over-dancefloor light panel that adds an extra layer of sensory stimulation to each and every party.
As well as being renowned for its great underground style, Danny Tenaglia's legendary sound engineer Andy Kale has tuned the club's killer Phazon soundsystem and it sounds even more ridiculous than ever. The long established, consistently boundary pushing club has a rich heritage on which to draw from, then, but looking ahead in 2014 it is set to captivate even moreimaginations with another season of fantastic events that touch on many different scenes and sounds.
What's more, this year Sankeys will close from June until the end of September when the team head out to the Ibiza sister club, so you only have a limited time to get down to experience the club this spring. Out there during summer the focus will be on some amazing and weekly Tribal Sessions line-ups that are already looking like they will be the talk of the 2014 season.
Throughout March and April there's lots on offer, with Fuse taking over on March 1st with Enzo Siragusa, Seb Zito and more, Tribal Sessions on March 7th with The Martinez Brothers, Darius Syrossian, Jozef K and more, then a special four hour set from Art Department on March 8th.
Local label Music is Love take over on March 14th with New York's Levon Vincent, Detroit's Moodymann and Delano Smith and Wbeeza, New Jack City and label boss Oli Furness all in tow. March 15th is Micron with Cassy, Matt Tolfrey, Shaun Reeves and more, and Belgium brothers 2ManyDJs take over on March 21st with Riton and Justin Robertson also lining-up. Drop The Mustard then have Duke Dumont, Maribou State and more on March 28th before the month ends with Tania Vulcano from Circo Loco headlining for MVSON on March 29th.
As for April, Tribal Sessions starts the month with Darius Syrossian, KINK Live and more on April 4th, then Berghain big man Marcel Dettmann and Francis Inferno Orchestra play April 11th, before Anime Edge & DANCE's Cuff label headline on 12th, Soul Clap and Wolf & Lamb come over from New York with No Regular play, Slow Hands, Tanner Ross, Nick Monaco, Navid Izadi live and Pillow Talk on 17th, then it's a special Hacienda party on the 18th with legends Graeme Park, Greg Wilson, Mike Pickering Justin Robertson and more. Steve Lawler (for four hours!) and Detlef offer a VIVA showcase on April 21st and then hot French trio Apollonia all play on April 26th.
There truly is something for everyone at Sankeys in the next couple of months. Given the touch ups the club has had, and with the improved soundsystem, there never was a better time to go and check out one of the country's finest institutions.
www.sankeys.info
https://www.facebook.com/officialsankeys
https://twitter.com/sankeysclub
http://www.residentadvisor.net/club.aspx?id=4406
Line Ups
SAT 1ST MARCH – FUSE
ENZO SIRAGUSA
SEB ZITO
RICH NxT
ROSSK
ITTETSU
LUKE MISKELLY
SANKEYS PAGE:http://www.sankeystickets.co.uk/event.php?id=12103092
RA PAGE: http://www.residentadvisor.net/event.aspx?570022
FRI 7TH MARCH – TRIBAL SESSIONS
THE MARTINEZ BROTHERS
DARIUS SYROSSIAN
JOZEF K
FLIC
DI CHIARA BROTHERS
DANIEL SANDERS & KEIRAN SHARPLES
SANKEYS PAGE: http://www.sankeystickets.co.uk/event.php?id=12100064
RA PAGE: http://www.residentadvisor.net/event.aspx?570547
SAT 8TH MARCH – ART DEPARTMENT
ART DEPARTMENT (4 hour extended set)
MORA & DAUD
JAY HODGES
GERADO & HAMPRON
+ MORE
SANKEYS PAGE: http://www.sankeystickets.co.uk/event.php?id=12109824
RA PAGE: http://www.residentadvisor.net/event.aspx?570085
FRI 14TH MARCH – MUSIC IS LOVE
MOODYMANN
LEVON VINCENT
DELANO SMITH
OLI FURNESS
WBEEZA
NEW JACK CITY
MIKKI FUNK
SANKEYS PAGE: http://www.sankeystickets.co.uk/event.php?id=12085002
RA PAGE: http://www.residentadvisor.net/event.aspx?561982
SAT 15TH MARCH – MICRON
CASSY
MATT TOLFREY
SHAUN REEVES
DALE HOWARD
MICRON DJS
SANKEYS PAGE:http://www.sankeystickets.co.uk/event.php?id=12111012
RA PAGE: http://www.residentadvisor.net/event.aspx?572902
FRI 21ST MARCH – 2 MANY DJS
2 MANY DJS
JUSTIN ROBERTSON
RITON
WILL TRAMP
SIGIURIMN
SANKEYS PAGE:http://www.sankeystickets.co.uk/event.php?id=12052196
RA PAGE: http://www.residentadvisor.net/event.aspx?570556
FRI 28TH MARCH – DROP THE MUSTARD
DUKE DUMONT
MARIBOU STATE
FRIEND WITHIN
ED NORRIS & OLI HACKETT
SAM GRAHAM
SANKEYS PAGE:http://www.sankeystickets.co.uk/event.php?id=12110622
RA PAGE: http://www.residentadvisor.net/event.aspx?563473
SAT MARCH 29TH – MVSON
TANIA VULCANO
GERMAN BRIGANTE
CUARTERO
OMAR GUEDAR
FRAN & HENSHAW
MVSON COLLECTIVE
SANKEYS PAGE:http://www.sankeystickets.co.uk/event.php?id=12111056
RA PAGE: http://www.residentadvisor.net/event.aspx?572907
FRI APRIL 4TH – TRIBAL SESSIONS
KINK – LIVE
DARIUS SYROSSIAN
MINEO
JOZEF K
MARCO FARAONE
DANIEL SANDERS & KEIRAN SHARPLES
ADRIAN
SANKEYS PAGE:http://www.sankeystickets.co.uk/event.php?id=12113298
RA PAGE: http://www.residentadvisor.net/event.aspx?572910
APRIL 11TH
MARCEL DETTMANN
FRANCIS INFERNO ORCHESTRA
OLI FURNESS
RIO PADICE- LIVE
MALIN GENIE
SANKEYS PAGE:http://www.sankeystickets.co.uk/event.php?id=12116882
RA PAGE: http://www.residentadvisor.net/event.aspx?572918

SAT APRIL 12TH – CUFF RECORDS
AMINE EDGE & DANCE
STUFF
CLUDED JUDGMENT
+ MORE
SANKEYS PAGE:http://www.sankeystickets.co.uk/event.php?id=12113318
RA PAGE: http://www.residentadvisor.net/event.aspx?572929

THUR APRIL 17TH – CREW LOVE
SOUL CLAP
WOLF & LAMB
NO REGULAR PLAY
PILLOW TALK -LIVE
SLOW HANDS
TANNER ROSS
NICK MONACO
NAVID IZADI -LIVE
SANKEYS PAGE:http://www.sankeystickets.co.uk/event.php?id=12113336
RA PAGE: http://www.residentadvisor.net/event.aspx?572930

FRI APRIL 18TH – HACIENDA
MIKE PICKERING
GRAEME PARK
GREG WILSON
JUSTIN ROBERTSON
JON DA SILVA
HEWAN CLARK
RUSS
HERBIE SACCANI
SANKEYS PAGE:http://www.sankeystickets.co.uk/event.php?id=12113340
RA PAGE: http://www.residentadvisor.net/event.aspx?572939

FRI APRIL 25TH – VIVA WARRIORS
STEVE LAWLER (4 hour extended set)
DETLEF
UNDER DJS
+ MORE
SANKEYS PAGE:http://www.sankeystickets.co.uk/event.php?id=12113382
RA PAGE: http://www.residentadvisor.net/event.aspx?572953
SAT APRIL 26TH – APOLLONIA
SHONKY
DAN GHENACIA
DYED SOUNDOROM
JOHN DIMAS
CHAPPELL
WILLOW
ALEX LEWIS
MATT KING
SANKEYS PAGE:http://www.sankeystickets.co.uk/event.php?id=12113414