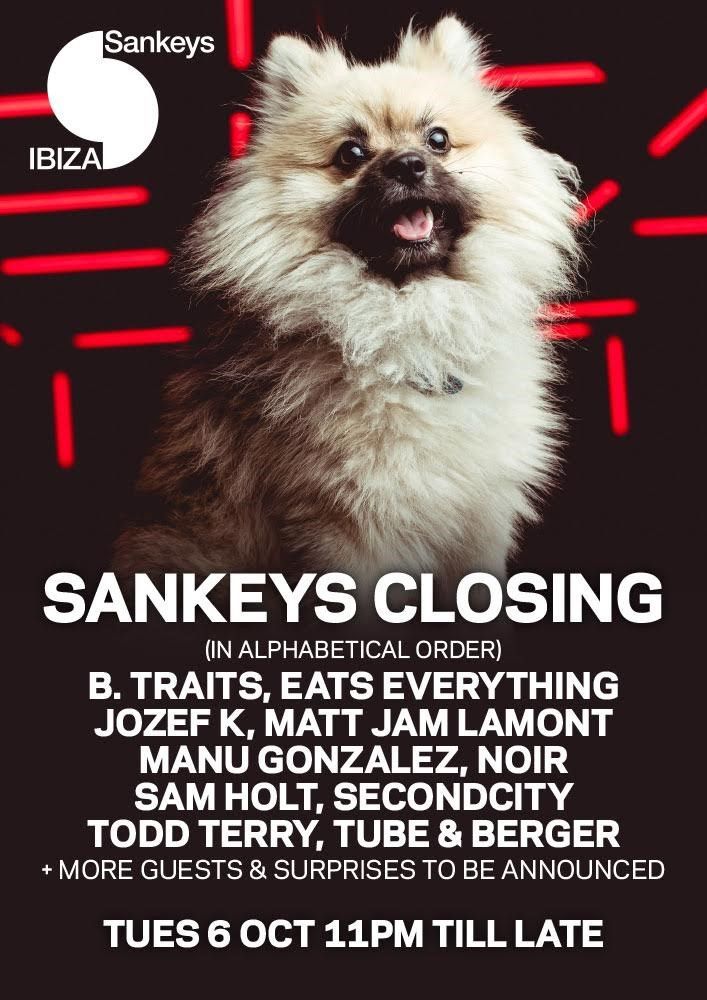 Sankeys Awards and Closing Party Line Up Announced
The summer of 2015 has been another remarkable one for Sankeys Ibiza and all associated with the club. The leading venue has once again offered a deliciously diverse array of sounds, scenes, styles and DJs all summer long. As the summer draws to a close, to celebrate the most successful season to date, the club for the second year running will be hosting the Sankeys Awards, a night that celebrates the artists and nights of the club and the island of Ibiza.
Now is the chance for you to have your say. Who was your favorite DJ this summer? The Best Resident, Newcomer or Night?
Get voting here! www.facebook.com/SankeysIbiza/app_1507937639448950

The Categories and Candidates:
Best Techno DJ
Shlomi Aber, Alan Fitzpatrick, Adam Beyer, Ida Engberg.
Best Tech House DJ
Steve Lawler, Argy, Nick Curly, East End Dubs, Jozef K, Secondcity
Best Resident DJ
Detlef, Anek, Matt Jam Lamont, Steve Lawler, Sam Holt, Jozef K, Tough Love, Doorly
Best Garage DJ
DJ EZ, Matt Jam Lamont, Tough Love, Low Steppa, Preditah
Best Sankeys Night
The Redlight, Magna Carta & Reverse, VIVA Warriors, Shelter
Best House DJ
Tough Love, Sam Holt, Josh Butler, Miguel Campbell, Low Steppa
Best Newcomer
Matt Jam Lamont, Sam Holt, Tough Love, Rudimental, Leftwing & Kody.
Best Ibiza DJ
Martinez Brothers, Marco Carola, Apollonia, Solomun, tINI
Best Ibiza Club Night
Circo Loco, Enter, Music On, Solomun + 1.

And now with great excitement Sankeys Ibiza finally reveals it's 2015 Closing Party line up and what a way to finish off what has been their best season yet!
Headlining Sankeys impressive closing party will be the larger than life beat maker Eats Everything. Eats Everything is at the forefront of a swathe of talented producers to come out of the West Country Bass Epicenter, Bristol. Voted as DJ Magazines 'Best British DJ' in 2011, Eats Everything has become an unstoppable force, known for his off-the-cuff sets and party starting personality. Joining the lineup we have the legendary B-Traits, DJ, Producer and BBC Radio 1 Presenter. She has quickly become one of the biggest female DJs on the island this summer and is set to bring the deeper and darker sounds of European house and techno to the club.
Next up we have Secondcity, the Tribal Sessions resident and Chicago born DJ who has accelerated into the collective consciousness of house heads around the world. Joining him will be another Tribal resident and favourite Jozef K, dubbed as the prodigal son of Tribal Sessions he is well known for his energetic live 808 + 909 sets. Next up we have three of The Redlight's favourites, Matt Jam Lamont, The Godfather of Garage who has been an intrinsic part of the UK house and Garage scene since it's inception. Sam Holt, originally one half of Copyright and part of the Defected crew. And the Grammy Award winning and legendary DJ Todd Terry who, with almost two decades of dance floor domination under his belt the quality of his music always encapsulates the Todd Terry sound. Next up we have Tube & Berger who again need little introduction. This dynamic duo are one of the hottest acts in electronic music right now. Their sound continues to take the music industry by storm with their ever organic and evocative sounds. Joining them will be Noir who is recognised as one of the most in demand house DJs and the man behind the hugely successful and pioneering label, Noir Music. And last but not least we have an extremely special unannounced guest! We are keeping this one tight to our chests for now but trust us, you will not be disappointed when we announce who it is on the morning of Tuesday the 6th of October.
So with a line up like that, there is only one thing to do…
Buy your ticket now: bit.ly/1OvCyEy