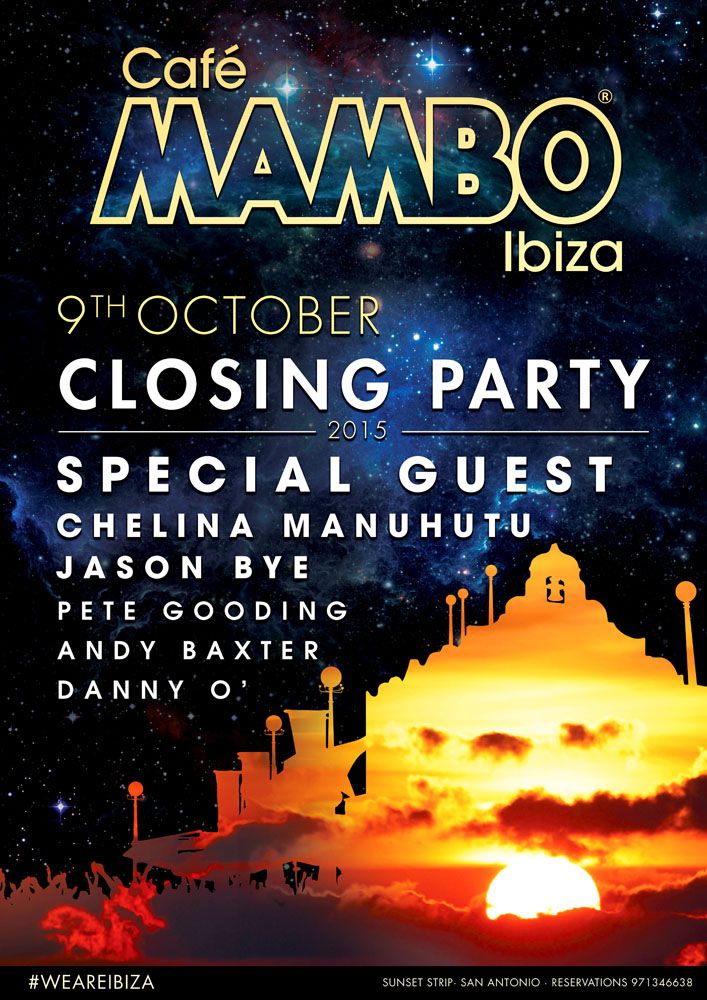 Café MAMBO 2015 Ibiza Closing Party
Café Mambo's Ibiza closing party celebrates the end of its 21st Anniversary year in style.
Café Mambo celebrates the end of its 21st Anniversary year on Friday 9th October in style. Rounding off its most successful Ibiza season yet, Mambo is throwing one of the last closing parties on the island. The special event features summer residents, Jason Bye, Pete Gooding, Andy Baxter and Danny O', together with special guest DJ Chelina Manuhutu and another special guest to be announced.

Chelina Manuhutu has taken the decks by storm this summer in Ibiza. The Dutch former model has been playing at Pacha on Sundays, as well as spinning her trademark house and deep techno at some of the Solomun+1 pre parties at Mambo.
Also appearing will be longstanding Mambo resident and respected DJ Pete Gooding. Pete has compiled this year's album, 'Café Mambo Ibiza Sunsets 2015' on UMTV, featuring artists such as The Cure, Grace Jones, Mary J Blige, Jose Padilla, Gilles Peterson, Carl Craig, Skream, Young Marco, Soul II Soul, Womack & Womack, Velvet Underground, Lamb, Vangelis, and William Orbit.
As well as unrivalled DJ line-ups, mixed with food, cocktails and the stunning backdrop of the famous sunset, the world's most popular sundowner bar and free party hub triumphantly staged BBC Radio 1 Weekend again this year and hosted special parties with Fatboy Slim and Duke Dumont. Cafe Mambo also presented pre-parties during the season for Pacha and Amnesia including Together & Defected in the House, Solomun + 1, Aoki's Playhouse, F*** Me I'm Famous, Martin Solveig's My House, Bob Sinclar's Paris by Night and more.
Café Mambo returns to the UK on Saturday 2nd October with club promoter Take at Mcqueen in Shoreditch. The night features Mambo resident Ridney, together with Paul Johnson, Chris Days, and Mcqueen residents.
Mambo continues its international tour through Autumn/Winter 2015 with dates, Saturday 17th October, Hull, Funktion (UK); Saturday 31st October, Lugano, WKND (Switzerland); Friday 6th November, London, McQueen (UK); Saturday 7th November, Birmingham, The Rainbow (UK); Saturday 7th November – Dubai, Nassimi Beach (UAE); Friday 27th November – Modena, Snoopy club (Italy); and Saturday 5th December – Dubai, Nassimi Beach (UAE).
Some of Grupo Mambo's other Ibza venues will remain open through the winter including eco-cafe Bondi, Sant Antoni marina-side restaurant Villa Mercedes, La Cava restaurant in Ibiza Town, and boutique hotel, Hostal La Torre.