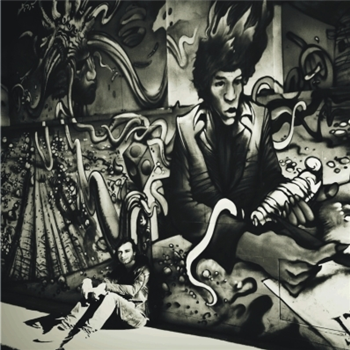 Sascha Dive – Dark Shadow (LP)
Frankfurt born DJ and producer Sascha Dive is to release his second full-length artist album in April 2014. It comes four years after the house man's first, Restless Nights, and offers 11 tracks of exploratory electronic sounds that make the most of the long player format.
The album comes on Deep Vibes Recordings, the label Dive himself runs and has done since 2007. As well as releasing his own beats, the label has championed artist including Robert Dietz, DJ Qu and Reboot and have helped establish Dive as a pillar of the house scene. His own music, on labels including Tsuba, Raum and Freebase, veers from stripped back tech to sublimely deep house and back again with ease.
Dark Shadow kicks off with the ambient sound designs of 'Red Planet' and sets a cerebral and grandiose tone from the off. The tile track itself is another beatless piece awash with dark drones, imposing male vocal murmurs and skittish hand-drum patterns. It's noir and involving and leaves you on the edge of your seat.
The sumptuous house he is best known for arrives before too long in the form of the deep, underlapping house grooves of 'In Your Soul' whilst 'Dance With Me' is a more energetic, metallic and spitting tech house cut that really ups the ante.
Form there Dive explores lumpen back room house on 'New Moon', intricate and tightly woven minimalistic grooves on 'SQ*' and tripped out, intergalactic techno sounds on 'Phantom'. It makes for an ever evolving listen that never stays in one place too long, instead exploring every outer region of house and techno yet tying the whole thing together into one cohesive whole.
Dark Shadow marks the sort of artist evolution you'd expect of someone of Sacha Dive's standing, and at the same time proves that electronic albums needn't be married to the same styles and grooves all the way through to be a success.
Tracklist
1 Red Planet (Intro) 03:06
2 Dark Shadow 05:18
3 In Your Soul 4:26
4 Dance With Me 06:27
5 New Moon 4:21
6 Thunderstorm 08:48
7 SQ8 9:06
8 Phantom 6:51
9 Inner Circle 6:00
10 Fay 5:15
11 Fuck That Dope Loop