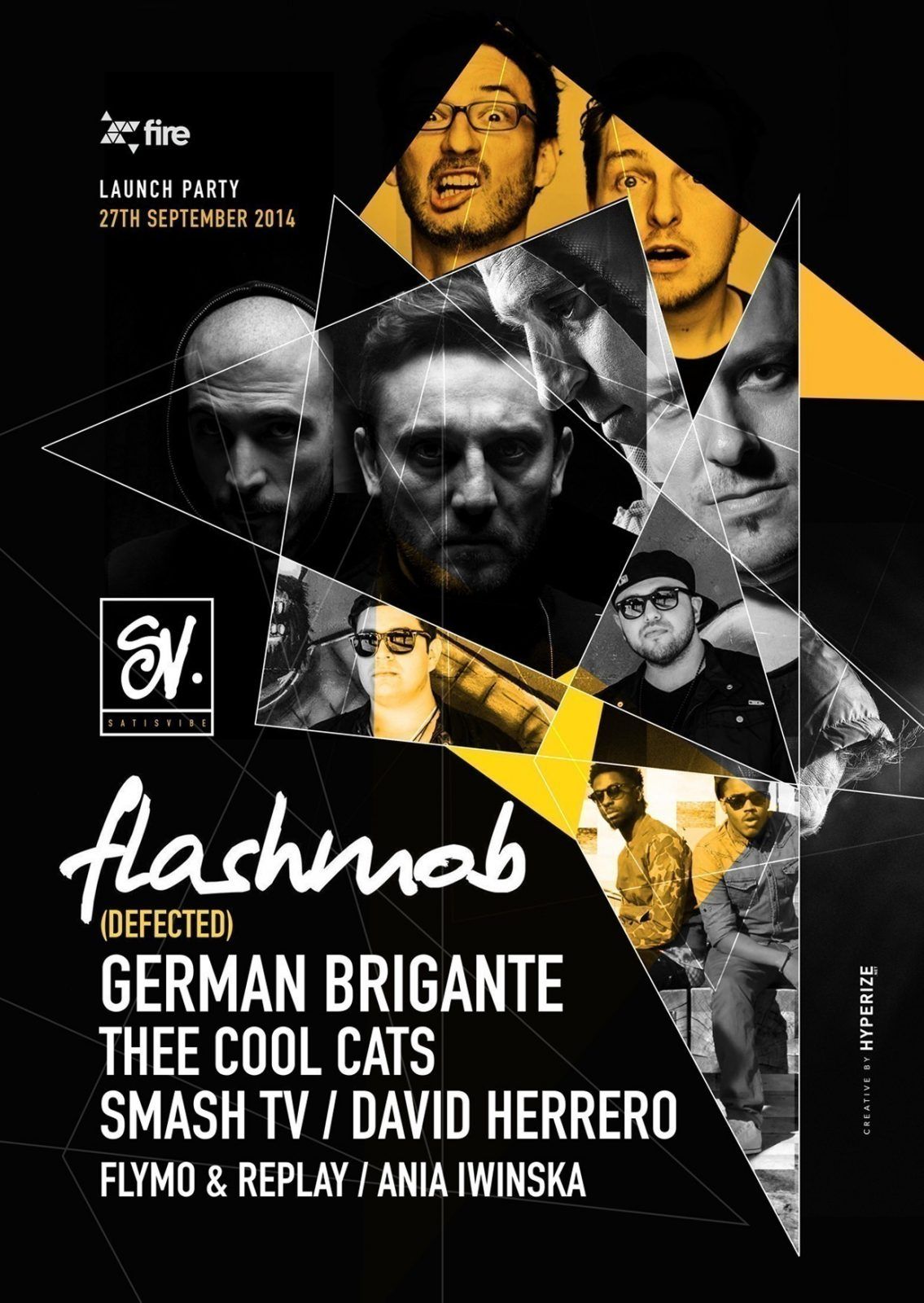 Satisvibe Launch Party
Satisvibe Launch Party
At Fire London
Saturday 27th September, 10pm-6am
Acts: Flash Mob, German Brigante, David Herrero, Smash TV, Thee Cool Cats and more
On Saturday 27th September SatisVibe presents a night not to be missed in what will be an epic and memorable journey through the halls of house music. Taking place at revered underground haunt Fire in Lambeth, the line up selected for you is designed to deliver a musical and atmospheric experience and is underpinned by a sets from Flash Mob, German Brigante, David Herrero, Smash TV and Three Cool Cats.
Flashmob is one of the most acclaimed, instantly recognisable production groups in house music. Riding a tidal wave of success generated by the ravenous response to singles 'Brick House', 'Ninety Five' and – most significantly – 'Need In Me' (which has now passed 3 million views on YouTube), Flashmob have carved an indelible niche for themselves, crafting sublimely unpretentious house music, the widespread appeal of which has been near unprecedented. Not many people's records get spun by both Kerri Chandler at Pandemonium and Pete Tong at Pacha in the same season; the fact that Flashmob can count themselves as producers in this group goes some way to showing the global underground appeal of the records they make.
Hailing from the south of Spain, German Brigante is focused on a bumping, groovy form of tech house that aims straight for your hips and keeps dancefloors filled with energy. From his use of percussion to the deadly basslines he designs in his lab, German's sound is unmistakable and made to make people move.
Right place, right time. Maybe it's an old cliché, but one that's been the hallmark of David Herrero's music career. Just as the dance music world was heading into the world of funky house, Herrero was there. And then, when it began to embrace the mix of organic, tribal deep grooves Herrero was there again, leading the way with his productions. As Herrero goes, it seems, so does electronic music.
Smash TV are passionate gardeners, amateur-baristas, Dating coaches and an internationally renowned Liveact-, DJ- and Producer-Team that presents their tongue-in-cheek Hugh Hefner meets Dart Vader-attitude in shows across the globe every weekend. having been adopted into the Get Physical family as odd cousins 3 years ago, they didn't have much of a choice than to produce their highly acclaimed longplayer "Noise & Girls" to avoid further medical assistance.
To make the night even more special there are many more DJs from Mexico, Spain, Germany and London also lining up across the entire Fire club.