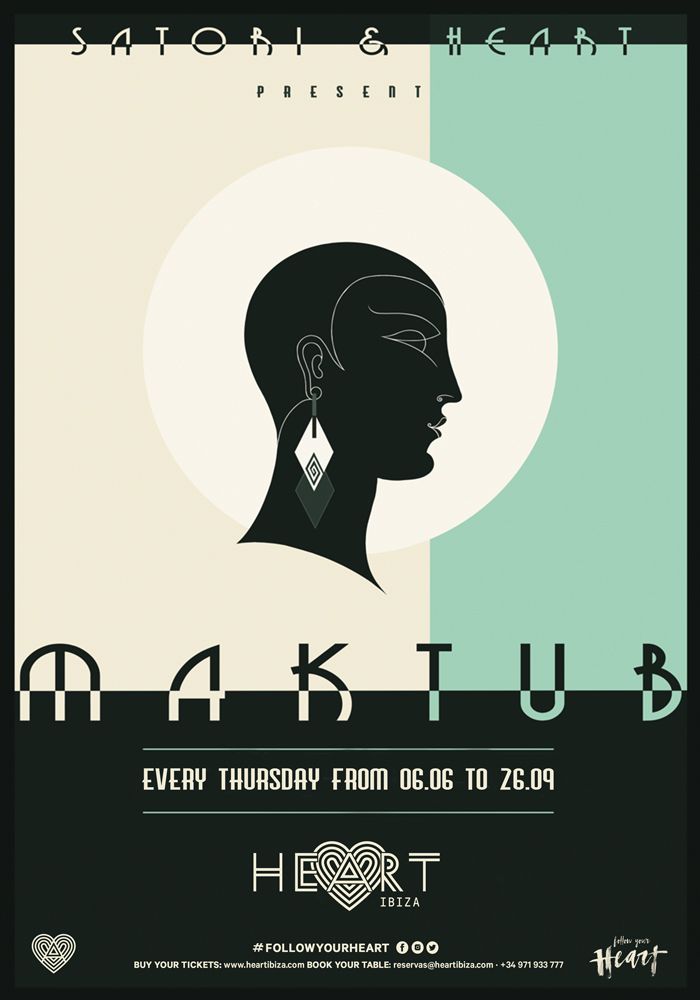 Satori announces Ibiza residency at Heart
A mainstay of Crosstown Rebels with a recent outing on DGTL, Dutch artistSatori brings an eclectic, unique take on electronic music that has perhaps even more to do with organic instrumentation than it does synthetic sound. Continually rising as a producer, performer and multi-culturist, he now proudly reveals his new Thursday night Maktub residency at Ibiza's Heart nightclub, famous for its creative partnership between Cirque du Soleil and the Adrià brothers that seeks to explore what happens when food, music and art collide.
'Maktub' roughly translates to 'it was written' in Arabic, used to denote something that was destined to be. Serving as the ethos and creative concept behind the party, it will inform all aspects of the events, from the visual to the aural. Stepping away from the traditional DJ culture that has characterized Ibiza in recent decades, Maktub will focus on live artists and captivating performers, fusing electronic music with live performance and with a big focus on cinematic, engrossing, thematic visuals. "The idea is to create a further cinematographic experience, where the visual art will perfectly mix with the sound" says Satori, "producing this way what an extraordinary atmosphere should be".
"The principal objective is to move a live act into a real art piece and give it the same value as a band performance" he continues. "This way we are making the electronic music boundaries bigger. Ibiza is known for being the center of electronic music, but currently everything is based on DJs culture. With this concept, we want to break with this DJ culture and, in return, expand the artistic/musical concept of the island, with the live acts strengthening."
Heart is an intimate, high-ceilinged club venue located on Ibiza Town harbor which is steeped in decades of clubbing history. It makes the perfect canvas forSatori's widescreen vision of what an event could and should be, and it's going to be the host for many incredible nights this summer.
Maktub @ Heart
Opening: June 6
Closing: September 26
Buy your early bird tickets at www.heartibiza.com/club-tickets/

Bookings: [email protected]