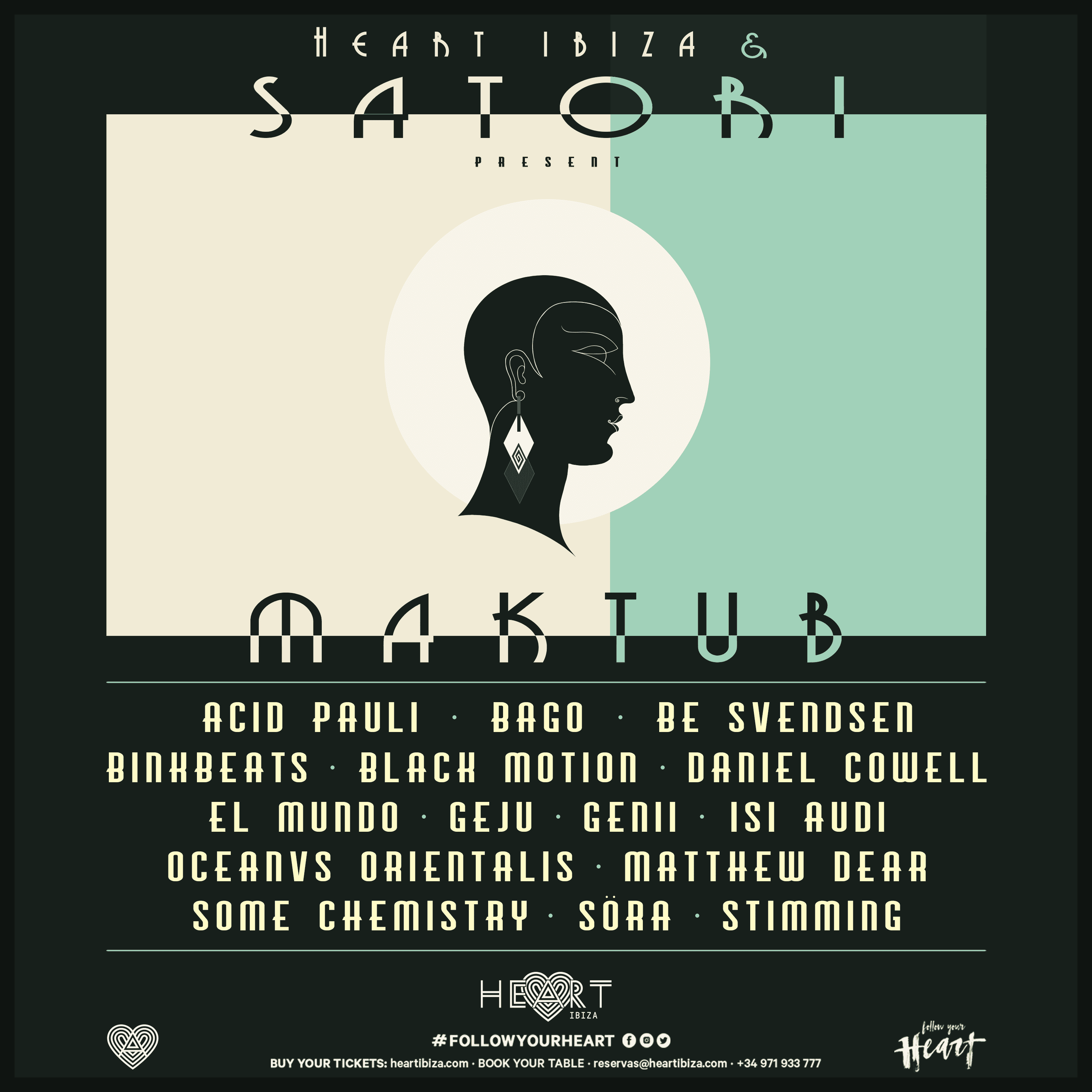 Satori reveals artists to set to play his Maktub x Heart Ibiza residency
After rave reviews of his recent live shows alongside his Band From Space at London's Village Underground and across the US, Satori now announces the incredible line-up of live acts that will join him at his Maktub Thursday night residency at Heart Ibiza.
The night seeks to promote the status of live electronic music alongside a cohesive visual theme, with Satori himself playing an all-new, improvised live show every single week. This focus on live music is showing a new way for Ibiza, and is a standout addition to the island's musical calendar. In addition to the solo performances of each act on the lineup, Satori will sporadically share the stage with his Band From Space along with other musicians and vocalists for improvisation performances.
Across the summer, Satori will be joined by guests including the masterful US techno specialist Matthew Dear, whose gorgeous vocals and oddball sounds always make him a captivating listen. German maestro Stimming will bring his intricate sound design and love of found sound, while fellow countryman Acid Pauli will trip out the crowds with his masterful machinery. Be Svendsen will show why he's such a fixture at Burning Man, and Russian talent Geju will present his wonderful blend of slow house, Eastern ritual sounds and chillrave. The roster also features the collective formation Oceanvs Orientalis. Other artists features across the season include Bago, Binkbeats, Black Motion, Daniel Cowell, El Mundo, Geni, Isi Audi, Some Chemistry and Sora, presenting a truly global sound pallette from LA to Vienna.
With Satori's improvised approach bringing something new alongside his guests every single week, it's a compelling proposition to keep people coming back for more.
"The principle objective is to move a live act into a real art piece and give it the same value as a band performance" explains Satori. "This way we are making the electronic music boundaries bigger. Ibiza is known for being the centre of electronic music, but currently, everything is based on a DJ culture. With this concept, we want to break this DJ culture and, in return, expand the artistic/musical concept of the island, with the live acts strengthening."
Heart is an intimate, high-ceilinged club venue located on Ibiza Town harbour which is steeped in decades of clubbing history. It makes the perfect canvas for Satori's widescreen vision of what a party could and should be, and it's going to be the host for many incredible nights this summer.
Maktub @ Heart
Opening: June 6
Closing: September 26
Tickets available now: www.heartibiza.com/club-tickets/
Bookings: [email protected]
#FollowyourHeart