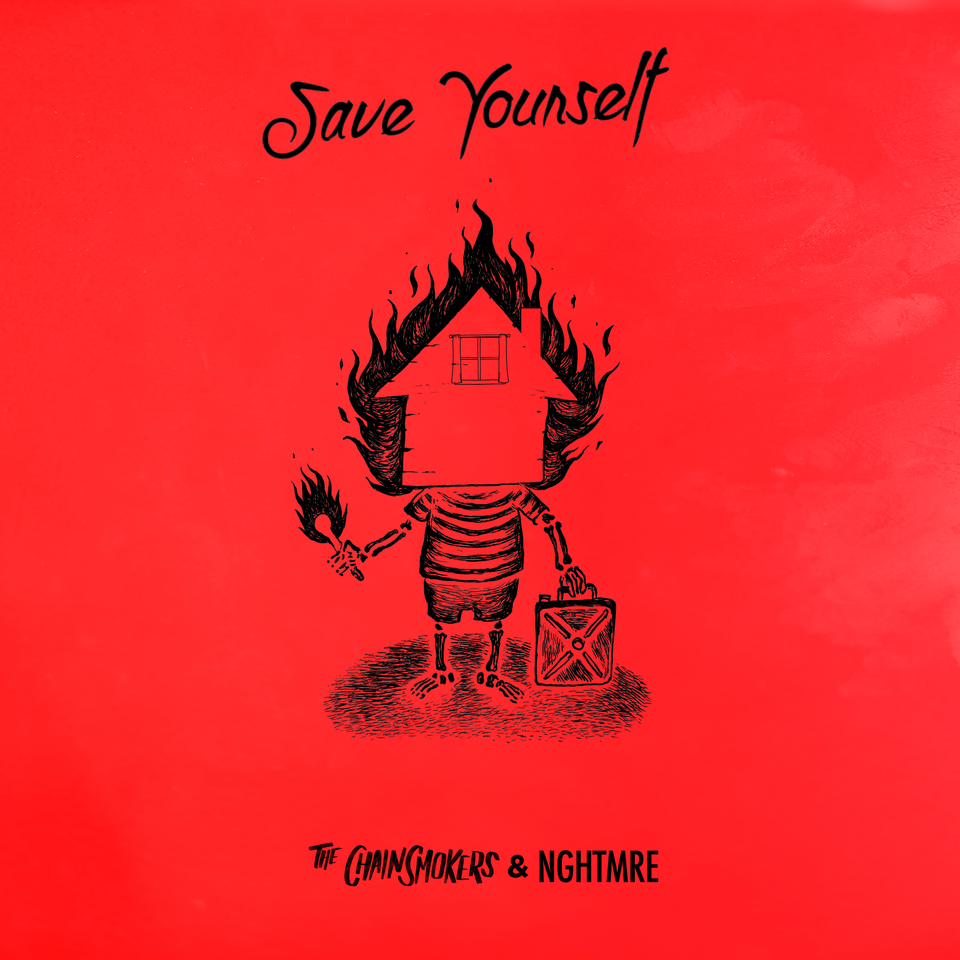 The Chainsmokers & NGHTMRE - Save Yourself
On their new release "Save Yourself," The Chainsmokers and NGHTMRE demonstrate the magic that can happen when two prolific artists with radically different sounds bring their A-game to a collaboration. The track delivers NGHTMRE's signature heavy basslines and stabbing synths along with The Chainsmokers' high-energy production and penchant for catchy vocals; the result is a masterful exhibit of genre-bending music that's guaranteed to be on heavy radio and festival rotation this season. "Save Yourself" is out on Sony Music/Disruptor Records, and The Chainsmokers and NGHTMRE couldn't be more stoked to officially share it with their fans. "Tyler(NGHTMRE) has been a good friend of ours for some time and we always talked about how great it would be to work together on a song. We have always been a huge fan of his style of producing and thought that if we came together on a song we could make something really unique and badass, and the idea of making something really gnarly was very appealing. We come from the dance world, those are our roots and we are really excited to release a song that is deeply rooted in that with NGHTMRE. We think our fans will be really excited about this one!" – say The Chainsmokers.
Fresh off of his recent Billboard Hot 100 Festival performance, NGHTMRE was looking forward to releasing the track after dropping it during several live sets. "The guys and I had been talking about working on something together for a little while. I was excited to hear they wanted to create a heavier track with more of a festival vibe. Everything just came together so perfectly in the end and the track has been smashing in our live shows. Hope you guys like it as much as we do!" Both NGHTMRE and The Chainsmokers have experienced monumental success in their relatively short careers, soaring to the upper echelon of dance music stardom. Through his meticulous, earth-shattering productions and equally electrifying live sets, NGHTMRE has earned his place as one of bass music's most notable artists. Since 2015's instant hit "Gud Vibrations," (with SLANDER), he's grown the Gud Vibrations brand to a multi-event series, selling out their boat party during Miami Music Week and launching their own festival in SoCal. Likewise, The Chainsmokers have become one of the most recognizable faces in electronic music, with a multitude of mega-hits, including their debut "Selfie" and radio gems "Closer," "Paris," and many more. We can't wait to see what these artists come up with next as they continue to evolve and change the paradigm of modern dance music.