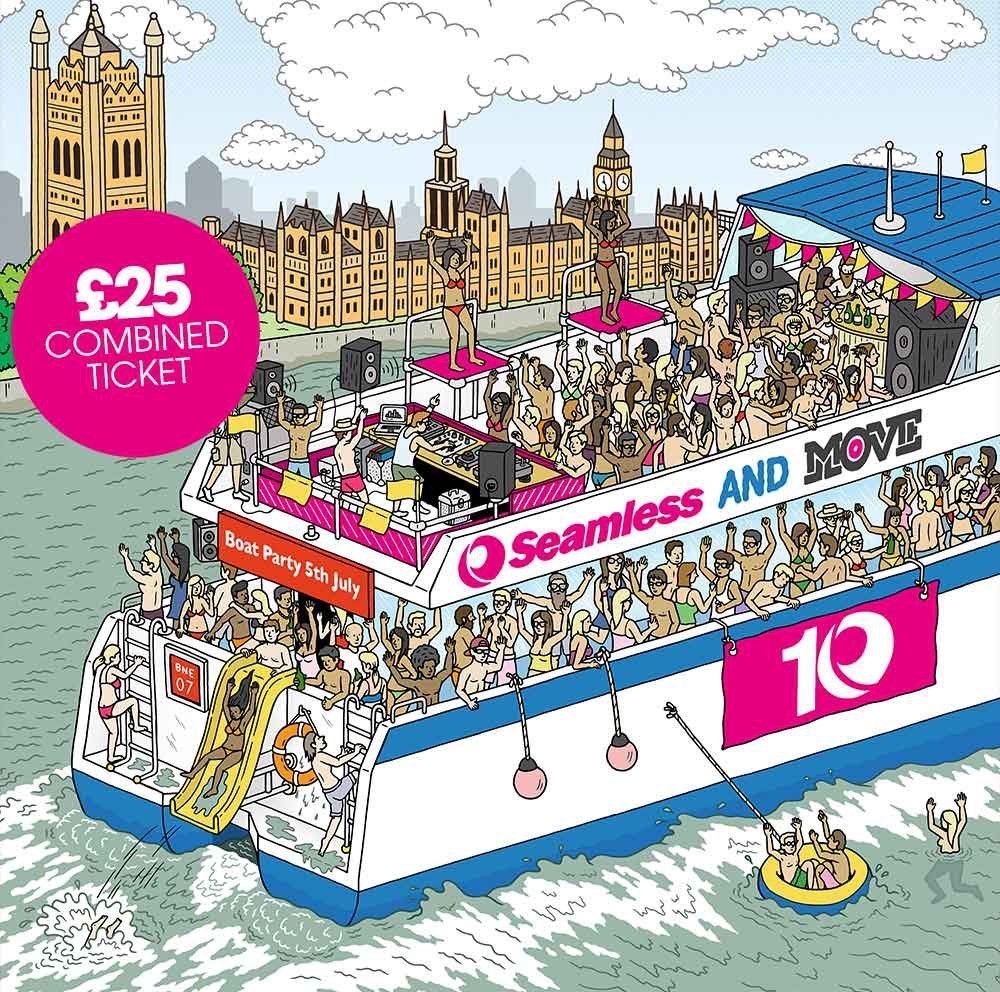 Seamless 10th Anniversary Boat Party and Pacha London
Move "A night dedicated to leading the way in the new wave of House music
One of the best things about London night-life is a big boat party!
Party hard whilst taking in the amazing sights of London that can only be seen from the River Thames….you can continue partying at the Pacha London After Party (well it's a bit more than that with headliners Sneaky Sound System, Seb Fontaine and Pacha Ibiza resident Graham Sahara.) Start the night early, get dockside at 7.45pm (as easy jet says – don't be late the rest can't wait!) Dance your socks off, enjoy the sites and then 5 minutes down the road to Pacha where we take it up a notch…or three!
Seamless
Launched in 2004 off the back of creating the bargrooves series, Seamless Recordings quickly gained a reputation for quality music compilations. Now one of the leading labels in branded compilations with a long list of ultra-cool hotels, clubs, bars and beach clubs mixed by a veritable Who's Who in the electronic music scene. Brands such as El Chiringuito, Purobeach, Gecko Beach, Boutique Hostal Salinas, Savannah Ibiza and Ocean Beach Ibiza, After Dark at We Love Space, Crèche at Gatecrasher and Flying Circus at Sankeys compiled and mixed by the likes of Groove Armada, PBR Streetgang, Kenny Dope, Audiofly, Blond:ish, Cozzy D, Alexis Raphael, Pete Gooding, Chris Coco, Graham Sahara, Timo Garcia, Tom Crane and many others. Combined with its in-house series Crowd Pleasers and Best Nights Ever and many artist albums (9inCommon, Minus Blue, T_Mo etc), Seamless is a solid consistent releaser of quality electronic music across multiple genres, with over 20 albums being released both physically and digitally. Seamless Sessions, the party hosts events over London and will be in Ibiza all summer with a weekly event at Savannah Ibiza.
The Boat Party and Pacha London event with Move celebrates 10 years for the label, along with DJs, Graham Sahara, Seb Fontaine, John Moss, and supported by Momentum DJs along with their crew. Expect a sell out event and get an early night on Friday as this is going to rock your socks off for 10 hours grooving to solid deep, techy house.
Best Nights Ever – Boat Party is released on Seamless Recordings on July 21st on 2xCD and Digital Download
£25 All inclusive ticket (Boat Party and Pacha London)
£20 Advance ticket price before 15 June

London Boat Party
Upon the Golden Jubilee
Leaving from Westminster Pier
Departs 8pm and returns 12am
then after at Pacha London until 6am