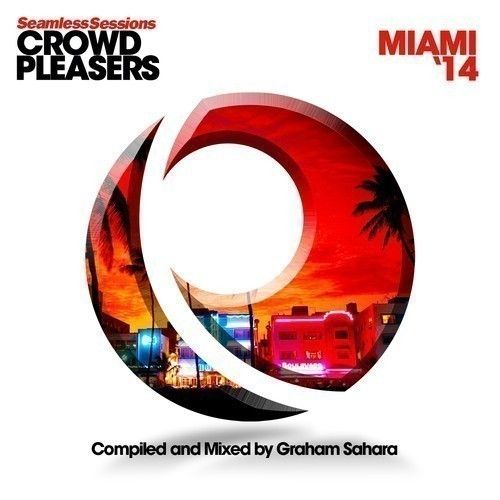 Seamless Sessions Crowd Pleasers… Miami '14
Since the first Crowd Pleasers back in 2012, the series which, "Does what it says on the tin", continues with the winners no fillers policy to ensure a packed dance floor from start to finish. Miami is one of the biggest events in the dance calendar where traditionally labels would launch their battle weapons of the summer, the lines would be drawn and it would be where the hits were incubated and nurtured. So who better to select the tracks that we think will be causing a stir in Miami and later in the year than Graham Sahara as resident of Pacha Ibiza and A&R for Seamless…..
Graham has split the vibes with CD1, a mixture of nu school garage and deep house flavours. With 14 tracks of phat bass lines, funky grooves and sexy vocals, this features plenty of the up and coming artists such as Detroit Swindle, A Lister, Leigh D Oliver, Lars Vegas and Jacob Bech whom are all set to really blow up this coming year. This mix really encompasses the more funky sounds that are returning to the dance floors for 2014 and one that also see's Seamless returning to its more funky old school roots.
CD2 features 14 tracks of driving bass lines, peaktime dance floor undergound house sounds, which features really emerging artists like Hot Since 82, Cristoph, Barrientos, and Will Clarke. This 70 minute journey-like mix is seamless blended and will have the listener finishing off heading for the door and the nearest party!
Graham also presents our Radio Show, now the Seamless Sessions Ibiza Radio show, which brings you the styles and the sounds most played on the magical White Isle. This is available via the seamless Soundcloud page and also iTunes. The show is now featured on the new Pioneer Radio and soon to be Ibiza Sonica, which is testament to the quality of the show and the new signings Seamless has made over the last 6 months.
www.seamlessrecordings.com
CD1 Poolside Mix
1. Mikks Tape ft Luke Anderz – What I Need (Leigh D Oliver Mix)
2. Danny O – Saturday Vibe (Original Mix)
3. Mikael Delta – Staunch Hearts (A Lister Mix)
4. Dare Me – Eyes on You (Original Mix)
5. Detroit Swindle – Huh, What! (Original Mix)
6. Jordan ORegan – Get With You (Original Mix)
7. Solution – Feels So Right (Lars Vegas Remix)
8. Max Corderoy – Stay Up (Original Mix)
9. JazzLoungerz – Obssesion (Jazzloungerz 2013 mix)
10. Danny O – The Realm (Original Mix)
11. Detroit Swindle – The Fat Rat (Original Mix)
12. Danny O – Pleasure From Poison (Original Mix)
13. Angel Johnson feat Tammy Cartwright – Lovers Heaven (Jacob Bech Remix)
14. J.Cub Feat BiBi – Stay With Me (Alias Rhythm Mix)
CD2 Club Mix
1. Groove Addix ft Annette Taylor – Got My Groove Back (Christian Hornbostel Classic Dub)
2. Will Clarke – Jizzneyland [Original Mix]
3. Graham Sahara & MinusBlue – Come Together (Original Mix)
4. Rick Sanders – Two Shades (Original Mix)
5. Kucna Muzika – Trust Me(Original Mix)
6. Jobb & Corco – New Day (Original Mix)
7. John Moss – Damn Thing (Original Mix)
8. Hot Since 82 – Chords (Original Mix)
9. Cristoph – Shelter (Original Mix)
10. Origins Sound – Another Love (Original Mix)
11. Do Anything You Wanna (Original Mix)
12. DJ Lora – Shined On Me (Original Mix)
13. Will Clarke – Glasshole [Original Mix]
14. Andy Lee – What About Us (Original Mix)