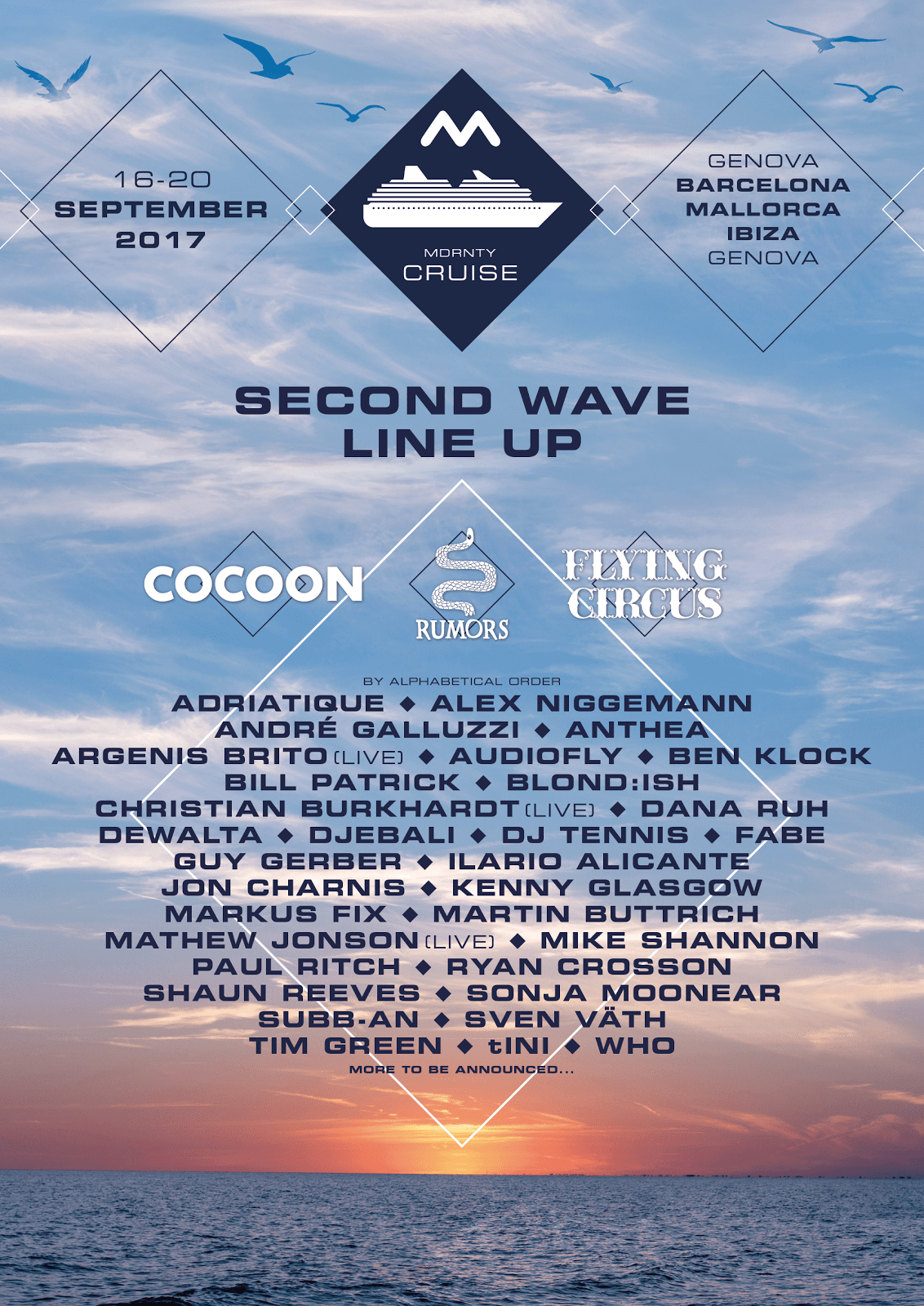 Second wave of acts announced for MDRNTY Cruise
Second wave of acts announced for MDRNTY Cruise inc. Guy Gerber, Ben Klock, DJ Tennis, Djebali, Dewalta, Mike Shannon, Martin Buttrich, Bill Patrick and more
Guy Gerber, Ben Klock, DJ Tennis, Adriatique, Martin Buttrich, Paul Ritch, Alex Niggemann, Blond:ish, Audiofly – MDRNTY Cruise has now announced more big names for their first cruise devoted to electronic underground music. Setting off from Genoa for Palma, with stopovers in Ibiza and Barcelona, this autumn musical event will attract up to 3,200 clubbers from 16th-20th September. Starting from €729, all-inclusive packages (cruise, 24hr-party, accommodation, food & drink, alcohol and applicable taxes) are already available at mdrnty-cruise.com
Partnerships with internationally renowned labels.
For their first MDRNTY Cruise, the organizers have decided to give a freehand to the major labels of electronic music, so they can shake the five specially converted dancefloors on the cruise liner. The list of stage hosts featured at MDRNTY Cruise just got longer. In addition to COCOON, Sven Väth's label—announced last month—there will be the labels Rumors and Flying Circus. The artists Guy Gerber, Ben Klock, DJ Tennis, Adriatique, Martin Buttrich, Paul Ritch, Alex Niggemann, Blond:ish, Audiofly, Kenny Glasgow, Mike Shannon, Subb-an, Ryan Crosson, Shaun Reeves, Bill Patrick, Dewalta, Jon Charnis, Argenis Brito, Who and Djebali will all be joining Sven Väth, Sonja Moonear and Mathew Johnson, among others, on board MSC Magnifica to share a non-stop music Mediterranean voyage with the public.
"Drawing on the special relations we have forged with DJs at MDRNTY events and the Caprices Festival, we wanted to offer a stage to these major labels, explains Maxime Léonard, Director of MDRNTY Cruise. "We wanted to give free rein to each label's creativity. They enthusiastically replied to our invitation, and loved our idea of having stage hosts for each label. We are delighted with their involvement in the programme for this cruise, which is a trendsetter of its kind."
Looking for more? MDRNTY Cruise doesn't stop at music.
MDRNTY Cruise is not just a 294m-long floating dancefloor, it is also an ideal venue for relaxation, fitness and entertainment. The five specially converted dancefloors on board are of course the highlight of this cruise, but thanks to its many facilities, MSC Magnifica is also the perfect location to relax and treat yourself off the dancefloor. And for those of you looking to enhance their experience, the MDRNTY Cruise team has also organised artistic and technological performances, contemporary art exhibitions, as well as fun and sporting events… more than enough to enjoy an unforgettable adventure in an exceptional and out-of-the-ordinary setting.
"Since we first came up with the idea for MDRNTY Cruise, our goal has always been to allow all those involved to take maximum advantage of their time on board; we offer much more than music.", concludes Maxime Léonard. "Our goal for everyone: artists, public, crew, and organizers alike … is to provide an original and unforgettable experience!"
For reservations and details about all-inclusive offers (cruise, 24hr-party, accommodation, food & drink, alcohol and applicable taxes), visit mdrnty-cruise.com
For any questions, request for an interview or visual, please contact the press office:
Koris Dinh – [email protected] – +41 79 230 88 07
Artists confirmed at this date (in alphabetical order) :
Adriatique, Alex Niggemann, André Galluzzi, Anthea, Argenis Brito (live), Audiofly, Ben Klock, Bill Patrick, Blond:ish, Christian Burkhardt (live), Dana Ruh, Dewalta, Djebali, DJ Tennis, Fabe, Guy Gerber, Ilario Alicante, Jon Charnis, Kenny Glasgow, Markus Fix, Martin Buttrich, Mathew Johnson (live), Mike Shannon, Paul Ritch, Ryan Crosson, Shaun Reeves, Sonja Moonear, Subb-An, Sven Väth, Tim Green, tINI and Who
About MDRNTY:
Since it was created in 2008, MDRNTY has never ceased to look for exclusive, unique areas to accommodate the cream of electronic music.
Now unmissable events, whether they happen in a resort, in a hot air balloon or on the net with MDRNTY +, these unique moments helped make electronic music available outside of the confidential clubs to meet their ever-growing public.
MDRNTY Cruise, with his first trip scheduled from 16 to 20 September 2017, promises to be an unforgettable experience for 3200 passengers on this electronic cruise, a first in its genre.
All the details and information on: mdrnty-cruise.com
About the MSC Magnifica:
Combining traditional know-how and cutting edge design, this vessel offers a wide choice to its customers, with 5 gourmet restaurants offering world specialties and 12 themed bars.
The ship's award-winning spa, the MSC Aurea Spa, offers traditional Balinese massages and the latest beauty treatments : sauna, steam room, fitness centre, a thalassotherapy area and space dedicated to relaxation.
The leisure facilities are equally impressive, with a fabulous outdoor pool complex, 4 hot tubs, a sun deck and an glass-framed indoor pool with retractable Magrodome roof for a perfect swim in any weather. You can also play tennis, mini-golf, bowling, billiards, enjoy a high-tech fitness club and a running track.
With an unbelievable range of activities available to you, you are sure to live every moment to the fullest. Entertainment continues in the evening at our spectacular casino, panoramic nightclub, 4D movie theatre, at the cybercafé, cigar room, our fabulous theatre with 1 200 seats and live music in the lounge bars.