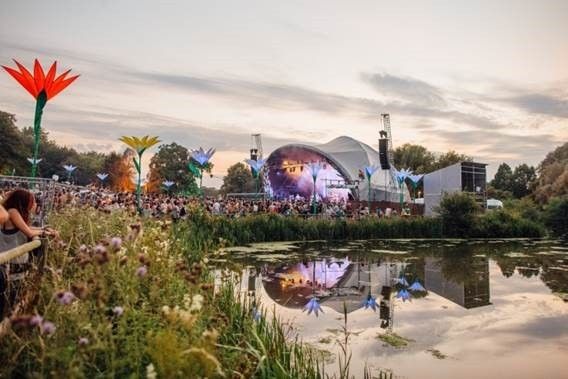 SECRET GARDEN PARTY ANNOUNCES SECOND WAVE OF ARTISTS
The Secret Garden Party is pleased to announce its second line up of artists for 2015:

THE CAT EMPIRE
PUBLIC SERVICE BROADCASTING – ANGUS AND JULIA STONE
TEMPLES – BEARS DEN – BERNHOFT – PALMA VIOLETS – IBEYI – SAY LOU LOU – DARWIN DEEZ ROOTS MANUVA – THE ACID – HINDS – CHARLOTTE OC – HÆLOS – GENTLEMANS DUB CLUB
8:58 (ORBITAL'S PAUL HARTNOLL) – ZOLA BLOOD – YAK – EKKAH
THE MAGIC GANG – LAUREL – KIKI BUN – LITTLE BARRIE – FURS – FICKLE FRIENDS – BEATY HEART PLUTO SHERVINGTON – EAVES – MEANWHILE – KAWEHI – LUSTS – VESSELS – BLACK HONEY
THE MOON – LOLA COLT – BEANS ON TOAST – WILL AND THE PEOPLE
GULF – BEN UFO/JOY ORBISON – RICHY AHMED

They will join as previously announced; JUNGLE – KATE TEMPEST – CARAVAN PALACE – JACK GARRATT – MARIKA HACKMAN – JAGAARA FLYTE – ELDER ISLAND – MENACE BEACH – IYES

And many many more to be announced……

Enigmatic Australians The Cat Empire have a reputation for buoyant live shows and are always a big draw when they visit the UK. Their mash up of Cuban salsa, ska, reggae and pop becomes something joyous and truly original whenever they take to the stage. Angus and Julia Stone are also Australians; a brother/sister duo whose heartfelt and textural folk/blues is beginning to make big waves in Europe. Their recent self-titled album co-produced with the legendary Rick Rubin is the highest-charting by the duo to date, reaching the top 10 in several countries including France, Germany, the Netherlands and New Zealand. Public Service Broadcasting are more familiar to UK festival goers. They made quite an impact on their debut, combining a wonderful mix of electronics, guitars with vintage public service information samples. Their brand new follow-up album, The Race for Space, takes as its theme the exciting late '60's American-Soviet exploration contest, mingling evocative archive footage with harmonizing electronic soundscapes.

Merriment and Participation

The Secret Garden Party is all about a magical immersive experience and everything a for 2015's event nods to this year's arts & expressions theme 'Childish Things.' Content includes:

Giant Parades – Visual Spectaculars – Boating Lake – 24 Hour Woodland Parties – 14 Live Music Stages & 6 DJ Stages – Goat Racing – Aerial Displays – Toys & Games – Art Installations – Mud Wrestling – Revelries & Merrymaking – Fire Walking – Sanctuary & Hot Tubs – Massage Area – Guerilla Science – Floating Dance Floors – Wild Swimming – Little Gay Brother Bar – Paint Fights –24 Hour Toad Hall Bar – Live Theatre & Comedy – Organic Food Stalls – Intellectual Exchange & Mart Dialogues – Camp Fire Tales – Dance-Offs – Poetry Slams & Spoken Word – Kids' Area – Fine Dining

Announcing Sanctuary 2015…..

Is your body a temple or a playground?
Whilst all corners of the Garden worship at the altar of multisensory fun and games, Sanctuary is solely dedicated to restoring gardeners that have need of that holistic "Bloody Mary" for both their body and soul. In fact, the four-day idyll is incomplete without time spent at this cat-napping nursery of calm. Where else can you indulge & spoil yourself this much and feel better for it? Nestled on the banks of the lake, Sanctuary is Secret Garden Party's indulgent playground of pleasures, the place to soothe, revive and rejuvenate the body with a massage or a hot tub, imbibe fortifying juices, superfoods (or a full English) and, of course, the best Bloody Mary's on site.

An additional area is dedicated to wellbeing therapies, where Thai, Ayurvedic or holistic massage is practised by some of the leading therapists on the circuit. There are group activities for you and your fellow playmates with beginner yoga sessions or Acro Yoga, yoga rave, 5 rhythms dance, fire walking and an assortment of meditation activities including social meditation and dance meditation.

Sanctuary is a beautiful respite from the playtime crowds and an opportunity to boost, reward and indulge.
Advance bookings are now open at:
http://store.secretgardenparty.com/index.php?route=product/category&path=63

….and Bathing Under the Sky

Following last summer's sell-out success, Bathing Under the Sky are back with the nation's only portable wood-fired Spa and the award-winning Hot Tub Bus. Start your festival in style with a social bathe and soiree with a glass of fizz or perhaps enjoy a mid-way treat to recharge your engine in wood-fired hot tubs and saunas before heading back to the party.

Luxurious wood-fired hot tubs, dry Finnish sauna with cooling shower, hot showers with head & body shampoo, complimentary glass of sparkling wine served to your hot tub, changing area ( female changing area extended for 2015), hair and beauty facilities including hairdryers, straighteners and mirrors, fresh clean towel, use of the private Champagne Bar.
Advance bookings are now open at:
http://www.bathingunderthesky.com/festivals/sgp2015

Boutique Camping:

For those who wish to forgo the usual communal canvas areas; Boutique Camping offers a luxurious five-star experience. Customers have their own exclusive, queue-free road onto the site, leading to a private car park. Assistance will be on hand to carry luggage and convey it with care to chi chi abodes. Boutique customers have just a moment's hop, skip and a glitter-fuelled jump from your accommodation straight to the throbbing heart of the party.

Accommodation ranges from stylish wooden Suite Huts with en-suite bathrooms, to Luxury Yurts, the Ritz of outdoor residences; tribal Yurts with gorgeous fixtures and fittings to Belle Tents; or even a fully- furnished Gypsy Caravan.

Bookings are open at:
http://store.secretgardenparty.com