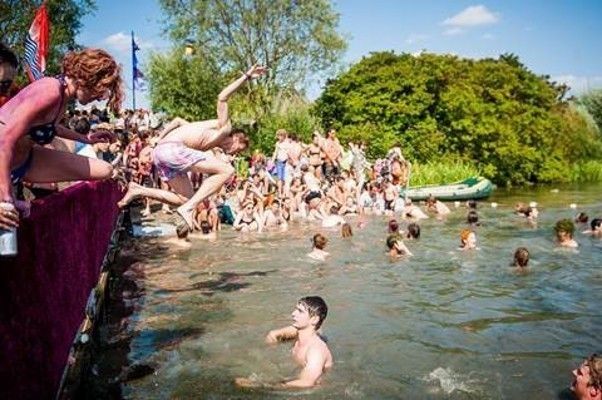 Secret Garden Party: Wall of Sound presents 'Rock 'n' Rave v Folk Face Off!'
Hey You … What's that Sound ? A combination of musical genres and some of the hottest new talent out there come together to bring you a freedom of expression where barriers and boundaries do not exist. Bring the Noize !
The legendary independent label curates Secret Garden Party's Temple of Boom on Thursday 25th. Billed as the 'Rock 'n' Rave v Folk Off!,' it will present a pick of hot new acts to perform exciting mash-up sets featuring folk music/ guitars/ dance/electronica….. They are:

WILL JOSPEH COOK/ SYKUR/ MAYAENI/ JEREMY LOOPS / DEATH BY CHOCOLATE / KILLAFLAW – DJS, MARK JONES AND JAGZ KOONER
WILL JOSEPH COOK
Will turned 16 at the end of May and has been attracting the attention of the public and industry in equal measure. Lyrically beyond his years with a voice full of soul he supported Tom Odell in Manchester earlier this year and Tom subsequently tweeted his admiration. That message got back to the promoters behind The Rolling Stones in Hyde Park, where he performed as special guest this weekend. New songFresh Air is up on You Tube Monday 8th July. Not a bad start at 16!
Will is looking forward to Secret Garden Party:
"Secret Garden has been on my mental wish list of parties to go to for a long time .. Totally stoked, thank you!" Will Joseph Cook
SYKUR
Iceland is now recognised as a world-beating exporter of fine talent – Björk, Sigur Rós, Of Monsters and Men, Gus Gus – you can now add electro-monsters SYKUR (meaning sugar in Icelandic) to this list. The band, consisting of Agnes Björt Andradóttir, Halldór Eldjárn, Stefán Finnbogason and Kristján Eldjárn started as a trio back in 2008 while Halldór, Stefán and Kristján were still at school. Singer Agnes joined in 2011 thus completing the band and bringing with her a unique combination of sneering Courtney Love attitude and Donna Summer disco-fabulousness. Their second single 'Curling' from debut EP 'Mesópótamía' is out on Wall of Sound 26th August.
"It's no secret that SYKUR are becoming super-excited for playing at secret garden party. We look forward to bringing some sugar-sweet sounds to Cambridgeshire" Halldór Sykur
MAYAENI
Detroit born Mayaeni, is suddenly an 'overnight' sensation. Her song Nothing Inside with DJ Sander Van Doorn(which she co-wrote with Justin Parker of Lana del Rey Video Games fame) hit #1 on Cool Cuts, the DMC Buzz Chart and the Beatport Overall Chart. After a debut performance for over 20,000 people at Ultra in Miami in March, Nothing Inside became a breakout summer 2012 hitand a favourite in clubs around the world. Mayaeni has Jay Z as one of her fans; in fact he has just signed her.

JEREMY LOOPS
Hailing from South Africa, where he has a major following Jeremy Loops redefines the moniker 'one-man band.' Equipped with multiple instruments, a loop station, pedals and beatbox sounds, he creates a wonderful textured landscape of music that brings a new dimension to the new school of alternative folk music.

DEATH BY CHOCOLATE
Coming from a land renowned for its confectionary, it's hardly surprising that five traveling Swiss musicians found themselves unusually attracted to a dessert item they encountered at an English eatery: Death by Chocolate. In fact, they liked the name so much they decided to appropriate it as their own, and so the band Death by Chocolate was born. Death by Chocolate have already performed over 200 gigs, ranging from little clubs like the White Trash in Berlin to the massive EXIT Festival in Serbia and even to a Bon Jovi concert in Zurich's Letzigrund Stadium, where the quintet supported Jon Bon Jovi in front of 40.000 spectators. Their album From Birthdays to Funerals is out now.

KILLAFLAW
Named after a track by legendary bluesman Howlin' Wolf, Killaflaw inhabit the electronic/rock interzone. They're from Liverpool, and consist of Benn Helm (vocals, guitar) and Andy Paton (electronics, trumpet). Killaflaw have been likened to a number of other acts – "like Led Zep meet the Chemical Brothers", "the missing Link between Soundgarden and The Prodigy" – but really they have a sound that is uniquely their own.
Gigging and recording all the time, Killaflaw produce everything from affecting electronic bangers ('Broken Idol', 'Holy Funk') to bluesy singalongs ('Message') to journeying rocky electronic MTV-friendly anthems ('Set Me On Fire', 'Higher Ground') to sync-friendly powerhouses ('Revolution'). As the UK's DJ magazine said: "Killaflaw have the passion, the soul, the raw power and the tunes. They're gonna be massive." Killaflaw's Broken Idol Ep will be released in September.
For the Temple of Boom's further line up curated by Eddy Temple Morris visit here:
http://www.secretgardenparty.com/#!/the-secret-garden-party/stages-venues/the-temple-of-boom/
If you haven't already booked your ticket for the hottest party this summer, we are urging you all to BOOK NOW while tickets to The Secret Garden Party are still available. Tickets in tier 4 are very close to selling out.
Once they have gone, there will only be a limited number of tickets left in tier 5.
BUY TICKETS: http://sgp.seetickets.com/Event/Secret-Garden-Party-2013/Mill-Hill-Field/654258/
The price of a ticket also includes FREE parking and a FREE festival programme.