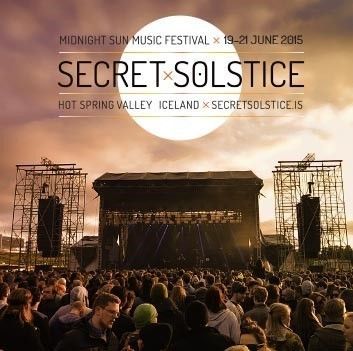 Secret Solstice Festival 2015 – First Wave Announced
In case you didn't hear the news, Secret Solstice festival is coming back bigger and better in 2015. To be held next year over the weekend of the 19th-21st of June, Iceland's summer solstice will again provide nature's most incredible light show, as the sun stays in the sky for three entire days.
And right now is by far the best time to accept your invitation to join our next epic event…
Our initial release tickets went on sale to a massive response, selling out in 14 minutes. A very limited amount of discounted tickets to our next event are still available. But…
This price WILL INCREASE SOON.
For only 15,900 Icelandic krona (around £80/$126/€102) or if you like to treat yourself you can purchase a V.I.P ticket for 29.900 kr. (around £151/$236/€192), you can grab a full 3-day pass to Secret Solstice 2015 and experience the most unique party in the world in the centre of Reykjavík, complete with 72-hours of unending daylight.
Be one of the lucky few and claim your discounted pass now:
***Tix.is > https://tix.is/is/Event/67/secretsolstice/***
***Miði.is > > http://midi.is/tonleikar/1/8617/***
We can't wait for you all to join us in 2015.
Initial dance line-up was just announced including names such as:
Erol Alkan, Flight Facilities, Moodymann, Route 94, Daniel Avery, Detroit Swindle, KiNK (live) and Klose One to name a few.
Check out the rest of the initial announcement on www.secretsolstice.is