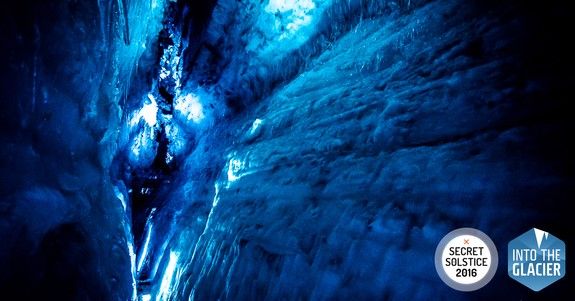 SECRET SOLSTICE PRESENTS INTO THE GLACIER 2016
From 17th to 19th June 2016, Reykjavík, Iceland will once again play host to one of the most captivating and picturesque dance events in the world – Secret Solstice Festival. Now in its third edition, the unique weekend is rapidly gaining a dedicated fan base due to its diverse lineups, communal atmosphere and astonishing setting with remarkable landscapes like no other festival in the world.

This year, Secret Solstice became the first festival in history to host a party inside one of Iceland's spectacular glaciers. With its majestic walls only wide enough to house a few fortunate attendees and a lineup featuring one of the world's biggest DJs, it proved an exclusive and unforgettable event. Luckily for 2016 patrons, Secret Solstice can now proudly announce the party's return for a second year. Grab tickets for 'Into The Glacier' below:

TICKETS
SECRET SOLSTICE FESTIVAL PRESENTS INTO THE GLACIER 2016

Set within the recently opened cave system of Langjökull glacier, the second-largest glacier in Europe, this party setting is one that sparks mystery and intrigue. 10,000+ year-old ice forms a spectacular natural arena, allowing guests a once-in-a-lifetime experience partying intimately with some of the biggest acts in the world. For a taste of what's in store, check out last year's edition with TEED now in an all-new video:



For 2016, Secret Solstice will be taking it up a notch as Into The Glacier will host not one but two exclusive parties, each with capacity for only 100 guests. On Saturday 18th June guests will be in for a night curated by a world-famous electronic artist, while on Sunday 19th guests will be treated to an acoustic set by a prominent Icelandic act. With both events promising a unique and distinct ambiance, this is one party not to be missed.

Whilst Secret Solstice has not yet announced the artists for the 2016 glacier shows, event organisers urge prospective revelers to snap up tickets as soon as possible as it is likely that tickets will sell out long before the lineup is revealed.

"Due to how unique the event is, our 2015 party in the glacier sold out in less than three weeks," said Leon Hill, one of Secret Solstice's organisers. "This is one of those times when describing an event as a once-in-a-lifetime experience really rings true."

In total the event spans over seven hours including transport to and from Iceland's capital city of Reykjavík, a short guided tour of the glacier's tunnel system, the main party event inside one of Langjökull's ice chambers, and two complimentary drinks for each guest.

If you fancy being one of only a handful of people on Earth able to experience a party inside a glacier then Secret Solstice presents Into The Glacier is your perfect opportunity. Tickets are on sale now with only 100 available for each show at 34,900 Icelandic krona (approx. £177/$269/€248). Be warned as they are expected to sell out very quickly.

Tickets are also still available for the full Secret Solstice weekend, which last week presented phase one of its eclectic lineup for 2016, including Of Monsters And Men, Kerri Chandler, Deetron, Högni Egilsson, Amabadama, Lady Leshurr, Benoit & Sergio, Maxxi Soundsystem, Droog, Will Saul, youandewan, Voyeur, Stephane Ghenacia, Herra Hnetusmjör, Glowie, Axel Flóvent, Lily the Kid, and Lily of the Valley.