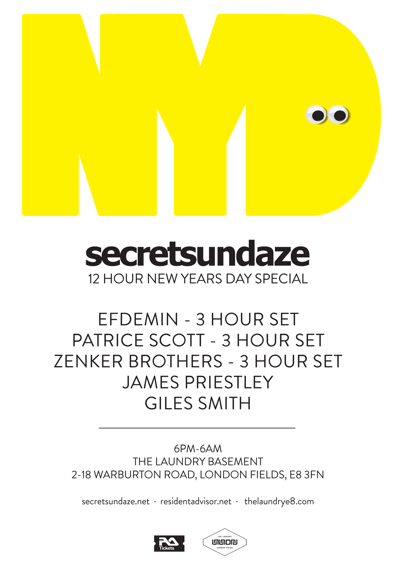 secretsundaze 12 Hour New Year's Day Special
After traditionally hosting New Year's Eve parties, the dawn of 2015 sees the always on point secretsundaze make the move to throw their first ever New Year's day event. To mark the occasion they have a 12 hour celebration planned from 6pm to 6am. All three of the guests DJs will play extended 3 hour sets.
secretsundaze will be hosting the party at The Laundry, the scene of their night time event back in May this year. The Laundry is a welcome addition to London's nightspots with its slick industrial feel, great layout and is perfectly located in the heart of East London.
Headlining the party is Efdemin. An artist of the highest calibre, he has consistently shown great skill and dexterity both a producer and DJ. His 3 stunning LPs on the seminal Dial imprint, communicate a rich musical background that covers more atmospheric and heady material contrasting with his straight up, direct techno tracks. Efdemin's approach to DJing is similarly inventive and clever, as anyone who has seen him smash top nightspots and festivals will surely agree. He now also of course holds the accolade of Berghain resident, surely the most coveted residency in the world of underground house / techno.
Joining him is second guest Patrice Scott hailing from Detroit, the birthplace of techno. First appearing on the secretsundaze radar through his amazing Sistrum imprint, his sound sits nicely amongst the current crop of Detroit talent like Delano Smith, Omar S and Kyle Hall. Unlike the immediacy of the former or earthy grit of the latter, his music shimmers: at times energetic, at other times languid and spaced out, but always engaging. He is currently working on his debut LP which should see the light of day in early 2015. Patrice stole the show at secretsundaze's Sonar party in 2014 and his heads down no nonsense DJ style is perfectly matched to The Laundry aesthetic.
Finally secretsundaze are hyped to have secured the mighty Zenker Brothers for this special NYD show. The Munich based brothers have been plying their trade for some time now but really seem to have hit a new high with their hugely stylish take on the techno sound. Raw, potent yet still refined and classy, their music has appeared on the likes of Berlin techno royalty Tresor, Will Bankhead's leftfield gem Trilogy Tapes and now on their very own incredible Ilian Tape which was recently picked out by Resident Advisor as Label of the Month. The brothers Marco and Dario are quite possibly the best techno producers in the world right now and their reputation as a DJ duo is rocketing too.
Last but by no means least, usual suspects and residents Giles Smith and James Priestley will be on hand to keep the fires burning as day turns to night and night to morning.
secretsundaze are very much offering an underground alternative this New Year's Day to the numerous more predictable line ups in London. With each artist also being given an extended set this gives them the opportunity to dig deep in their record collections to create that special atmosphere. It's also worth noting The Laundry has an excellent restaurant / canteen upstairs which will be open during the evening so those in need some fuel for the party have to only wander upstairs or why not eat there before hand. secretsundaze are very much looking forward to their first New Years Day party and hope you can join them to bring in 2015 in fine style.