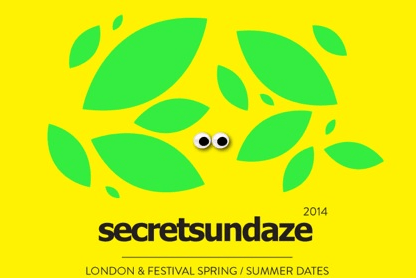 secretsundaze 2014 Spring / Summer Announcement
secretsundaze, one of the UK's most consistent and pioneering parties, gears up for yet another season of events in London, the UK, Europe and beyond.
secretsundaze have always prided themselves on their on-the-money line-ups which combine big names with emerging cutting-edge talent and 2014 is no exception to this. Kicking off the season will be the extended May Bank Holiday all day/all night Opening Party on Sunday May 4th – an event that has come to be synonymous with the start of summer. Established names such as Rolando, Mosca and DJ Qu will rub shoulders with some of the most exciting new artists out there with the likes of Brownswood and Apron championed LA based singer/producer Seven Davis JR – Live and Theo Parrish collaborator Andrew Ashong.
The second two-part May Bank Holiday instalment on May 25th will see secretsundaze favourite Martyn and established Ostgut Ton stalwart Ryan Elliot play alongside newcomers A Sagittariun – Live and Joey Anderson (he made his London debut at secretsundaze last year and they had to get him back for a rare appearance).
Venue wise secretsundaze are adopting a similar mentality, using recognized spaces they hold dear to their heart such as Oval Space and the terrace at Studio 338 as well as introducing some new spots that fit with their aesthetic, including The Laundry and ICan Studios.
International dates include a US tour taking in Output in NYC and the legendary Smart Bar in Chicago, Fuse in Brussels, Tresor in Berlin, Studio 80 in Amsterdam, Animal Social Club in Rome and possibly the best small club in the world, Robert Johnson in Offenbach, plus many more below.
Festival Dates include We are FSTVL in May, their huge day and night party during Sonar at La Terrrazza, Unknown Festival in Croatia and The Zoo Project Festival closer to home.
secretsundaze residents Giles Smith and James Priestley will of course be guiding the flock all season. There is no doubt they are two of the very best residents the UK has to offer, regularly playing the hottest clubs worldwide and are very much one of the reasons why secretsundaze has stood the test of time and indeed why they have such a loyal following of fans. 


Easter Reminder
Of course their huge party on Easter Thursday 17th April is their next event and this is a gentle reminder. Held at Electric Brixton – the same spot as our sellout event their last year with Nina Kraviz – 2014's line up boasts Derrick May, Deetron, Livity Sound (the triumvirate of Peverelist, Kowton and Asusu), Arnaldo, James Priestley and Giles Smith. This promises to be one of the hottest tickets on Easter weekend so you know what to do!
Super Early Bird and Early Bird are sold out and 1st Release tickets are available here: http://www.residentadvisor.net/event.aspx?555838
secretsundaze Spring / Summer 2014
THURSDAY APRIL 17TH – EASTER SPECIAL AT ELECTRIC BRIXTON
DERRICK MAY / DEETRON / LIVITY SOUND – PEVERELIST / KOWTON / ASUSU / JAMES PRIESTLEY / GILES SMITH
SUNDAY MAY 4TH – OPENING PARTY PT1 AT STUDIO 338
ROLANDO / MOSCA / DJ QU / SEVEN DAVIS JR – LIVE / GILES SMITH / JAMES PRIESTLEY
SUNDAY MAY 4TH – OPENING PARTY PT2 AT CORSICA STUDIOS
AMIR ALEXANDER / VIRGINIA / ANDREW ASHONG / ALEXANDER NUT / JAMES PRIESTLEY / GILES SMITH
SUNDAY MAY 25TH – BANK HOLIDAY SPECIAL PT1 AT OVAL SPACE
VERY SPECIAL GUEST TBA (DOLLY) / MARTYN / GILES SMITH / JAMES PRIESTLEY
SUNDAY MAY 25TH – BANK HOLIDAY SPECIAL PT2 AT THE LAUNDRY
RYAN ELLIOTT / JOEY ANDERSON / A SAGITTARIUN – LIVE / JAMES PRIESTLEY / GILES SMITH
SUNDAY JULY 27TH – OSM & SECRETSUNDAZE PRESENTS SECRETSUNDAZE AT OVAL SPACE
GUEST ARTISTS TBA / GILES SMITH / JAMES PRIESTLEY
SUNDAY AUGUST 24TH – BIRTHDAY PARTY PT1 & PT2 AT ICAN STUDIOS
GUEST ARTISTS TBA / JAMES PRIESTLEY / GILES SMITH
SUNDAY SEPTEMBER 28TH – OSM & SECRETSUNDAZE PRESENTS SECRETSUNDAZE 2014 SUMMER CLOSING PARTY AT OVAL SPACE
GUEST ARTISTS TBA / GILES SMITH / JAMES PRIESTLEY
secretsundaze UK and International Festivals
SATURDAY MAY 24TH – WE ARE FSTVL AT DAMYNS HALL AERODROME, UK
BRAWTHER / OCTOBER / BLM / GILES SMITH / JAMES PRIESTLEY
SUNDAY JUNE 15TH – SECRETSUNDAZE OFF SONAR PT1 AT PIC-NIC AREA & PT2 LA TERRRAZZA, BARCELONA, ES
GUEST ARTISTS TBA / GILES SMITH / JAMES PRIESTLEY
TUESDAY SEPTEMBER 9TH – SECRETSUNDAZE AT UNKNOWN FESTIVAL AT ROVINJI, HR
GUEST ARTIST TBA / JAMES PRIESTLEY / GILES SMITH

SUNDAY SEPTEMBER 14TH – SECRETSUNDAZE AT THE ZOO PROJECT FESTIVAL AT DONNINGTON PARK, UK
GUEST ARTISTS TBA / JAMES PRIESTLEY / GILES SMITH
International Tour Dates
FRIDAY MARCH 21ST – STUDIO 80 – AMSTERDAM, NL NICK HÖPPNER / GILES SMITH / ROBERT BERGMANN
SATURDAY MARCH 22ND – HOPE WORKS – SHEFFIELD, UK PATRICE SCOTT / JAMES PRIESTLEY / GILES SMITH / LO SHEA
SUNDAY MARCH 30TH
- ANIMAL SOCIAL CLUB – ROME, IT
 GILES SMITH / JAMES PRIESTLEY
SATURDAY APRIL 19TH
TRESOR – BERLIN, DE
 AMIR ALEXANDER / JAMES PRIESTLEY/ GILES SMITH
SUNDAY APRIL 20TH – ROBERT JOHNSON – OFFENCBACH, DE GILES SMITH / JAMES PRIESTLEY
FRIDAY APRIL 25TH – OUTPUT – BROOKLYN, USA RADIO SLAVE / JAMES PRIESTLEY / GILES SMITH
SATURDAY APRIL 26TH – SMART BAR – CHICAGO, USA GILES SMITH / JAMES PRIESTLEY
SUNDAY JUNE 1st – KITCHEN STREET, LIVERPOOL, UK
 JAMES PRIESTLEY / GILES SMITH
SATURDAY JUNE 14TH – BADABOUM, PARIS, FR FRANCK ROGER / GILES SMITH / JAMES PRIESTLEY
SATURDAY JUNE 21ST – FUSE – BRUSSELS, BE AMIR ALEXANDER / JAMES PRIESTLEY / GILES SMITH
SATURDAY JUNE 27TH – HINTERHOFF – BASEL, CH AMIR ALEXANDER / JAMES PRIESTLEY / GILES SMITH
WEDNESDAY JULY 25TH – LA TERRRAZZA – BARCELONA, ES GILES SMITH / JAMES PRIESTLEY
SUNDAY AUGUST 3RD – TWISTED PEPPER – DUBLIN, IE JAMES PRIESTLEY / GILES SMITH
FRIDAY AUGUST 22ND – LA TERRRAZZA – BARCELONA, ES GILES SMITH / JAMES PRIESTLEY
SATURDAY SEPTEMBER 6TH – ST JUDES – GLASGOW, UK JAMES PRIESTLEY / GILES SMITH
Tickets for all secretsundaze UK events* are exclusively available at Resident Advisor.
http://www.residentadvisor.net/promoter.aspx?id=22
www.secretsundaze.net / www.facebook.com/ssldn / www.twitter.com/secretsundaze / www.soundcloud.com/secretsundaze / www.vimeo.com/channels/secretsundaze / www.youtube.com/secretsundazerecords