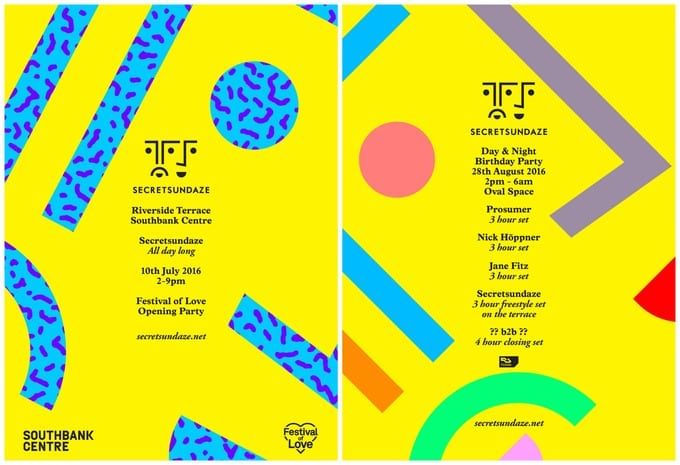 secretsundaze celebrates 15 years and hosts free party at The Southbank
Secretsundaze celebrate their 15th anniversary this summer! Founded by DJ duo Secretsundaze (Giles Smith and James Priestley) in 2002, the party continues to be one of the most authentic, relevant, consistent and non compromising nightlife events in the capital. Today, Secretsundaze reveal two very special upcoming events in London this summer, including an all-day free party at the Southbank Centre in July and details of their birthday party event in August where the founding duo are joined by Prosumer, Nick Höppner and Jane Fitz, and have a special never to be repeated back to back lined up. Plus, the first international date for their successful 'All Night Long' series is revealed, in addition to their many summer club gigs and festival appearances.
Secretsundaze host free all-day party at London's Southbank Centre
On Sunday July 10th Secretsundaze host an all-day free party at the Southbank Centre as part of the annual Festival of Love Opening Party celebrations. Taking place at the iconic spot of the Riverside Terrace just outside The Royal Festival Hall and overlooking the River Thames, this promises to be one of the most standout and unique dance events in London this year.
Secretsundaze duo James & Giles will play all day from 2-9pm and promise to touch on ambient, jazz, soul and disco, before moving towards their most commonly associated house and techno sounds as the day progresses. The pairing of Secretsundaze playing all day long in their 15th year and the incredible setting of the Southbank makes this an unmissable day which is open to secretsundaze fans & house music lovers of all ages.
Secretsundaze 15th birthday with Prosumer, Nick Höppner & Jane Fitz plus special back to back set
Secretsundaze are also excited to release details of their birthday party on Bank Holiday Sunday August 28th, a very special extended day and night session which will take place at regular haunt Oval Space. The party will kick off at 2pm on the outdoor terrace where Secretsundaze residents will play a special freestyle set covering many bases.
Joining Secretsundaze on this special occasion and all playing extended 3 hours sets will be three of their favourite artists. Prosumer should need no introduction. Panorama Bar resident for many years and Ostgut Ton recording artist he is a self confessed Chicago house expert, cutting his teeth working in the legendary Hardwax store. Joining Prosumer will be another current Panorama Bar resident and regular Secretsundaze guest Nick Höppner. Nick is surely one of the most versatile residents at the much lauded Berlin institution, able to play everything from classic house to cutting edge UK sounds to the typical Berghain techno sound. Their third and final guest will be london hero and friend Jane Fitz. Jane has been doing what she does quietly for many years but it's only in recent years she has gained the props she deserved for being one of London's finest house and techno DJs.
To close the party, there will be a special one-off, never to be repeated again, 4 hour surprise b2b session which will serve as a perfect celebration of the club's 15 year history. Tickets for this are available exclusively through Resident Advisor and go on sale at Midday on Monday 13th June.
Secretsundaze All Day Long in Barcelona
Finally, hot on the back of their hugely successful monthly All Night Long residency at The Pickle Factory, the boys take their long set concept to La Terrrazza in Barcelona, the scene of their regular parties during Sonar week, for a special Secretsundaze All Day Long session. La Terrrazza is a stunning open air club and Secretsundaze parties at the venue have become the stuff of legend over the years. With Secretsundaze playing across the whole 7 hours with no guest DJs, it keeps things musically pure and gives Giles and James the chance to really stretch themselves with long sets. The party is on Sunday July 17th and tickets are available now through Resident Advisor.
All in all 3 more parties that show that Secretsundaze are still very much the life and soul of the party!
COMING UP
Saturday 11th June 2016. 10pm – 6am
Secretsundaze All Night Long at The Pickle Factory, London
Tickets from £9.50 at https://www.residentadvisor.net/event.aspx?830456
Friday 17th June 2016, 2pm – 2am
Secretsundaze with Marcellus Pittman, Hunee, Midland, Nick Höppner, Beautiful Swimmers, Palms Trax & Shanti Celeste at Parc Del Forum, Barcelona
Tickets from €15 at https://www.residentadvisor.net/event.aspx?808430
Sunday 19th June 2016, 23:59 – 05:45
Secretsundaze with Leon Vynehall, Ryan Elliot & Nummer (Live) at La Terrazza, Barcelona
Tickets from €10 at https://www.residentadvisor.net/event.aspx?795096
Sunday 10 July 2016, 2pm – 9pm
Secretsundaze host Festival of Love Opening Party, Southbank Centre (FREE)
http://www.southbankcentre.co.uk/whatson/festival-of-love-opening-party-1001656
Saturday 16th July 2016, 10pm – 6am
Secretsundaze All Night Long at The Pickle Factory, London
Tickets from £9.50 at https://www.residentadvisor.net/event.aspx?830457
Sunday 17 July
Secretsundaze All Day Long at La Terrrazza, Barcelona
https://www.residentadvisor.net/event.aspx?846826
Sunday 28th August, 2pm – 6am
Secretsundaze 15th Birthday Party at Oval Space
https://www.residentadvisor.net/event.aspx?848706
SECRETSUNDAZE SUMMER TOUR DATES
11.06 Found Festival, London
11.06 The Pickle Factory, London
12.06 Gottwood Festival, Wales
17.06 Parc Del Forum, Barcelona
18.06 Le Petit Salon, Lyon
19.06 La Terrrazza, Barcelona
24-25.06 Glastonbury Festival, Somerset
30.06 Hideout Festival, Zrce Beach
02.07 Visio Festival, Helsinki
08.07 Electric Elephant, Tisno
16.07 The Pickle Factory, London
17.07 La Terrrazza, Barcelona
22.07 Colour, Bucharest
23.07 Zoo Project, Ibiza
30.07 Patterns, Brighton
13.08 Red Market, London
13.08 The Pickle Factory, London
15.08 Jibli Festival, Pantelleria
28.08 Birthday Party, TBA, London
04.09 Atlas Festival, Marrakech