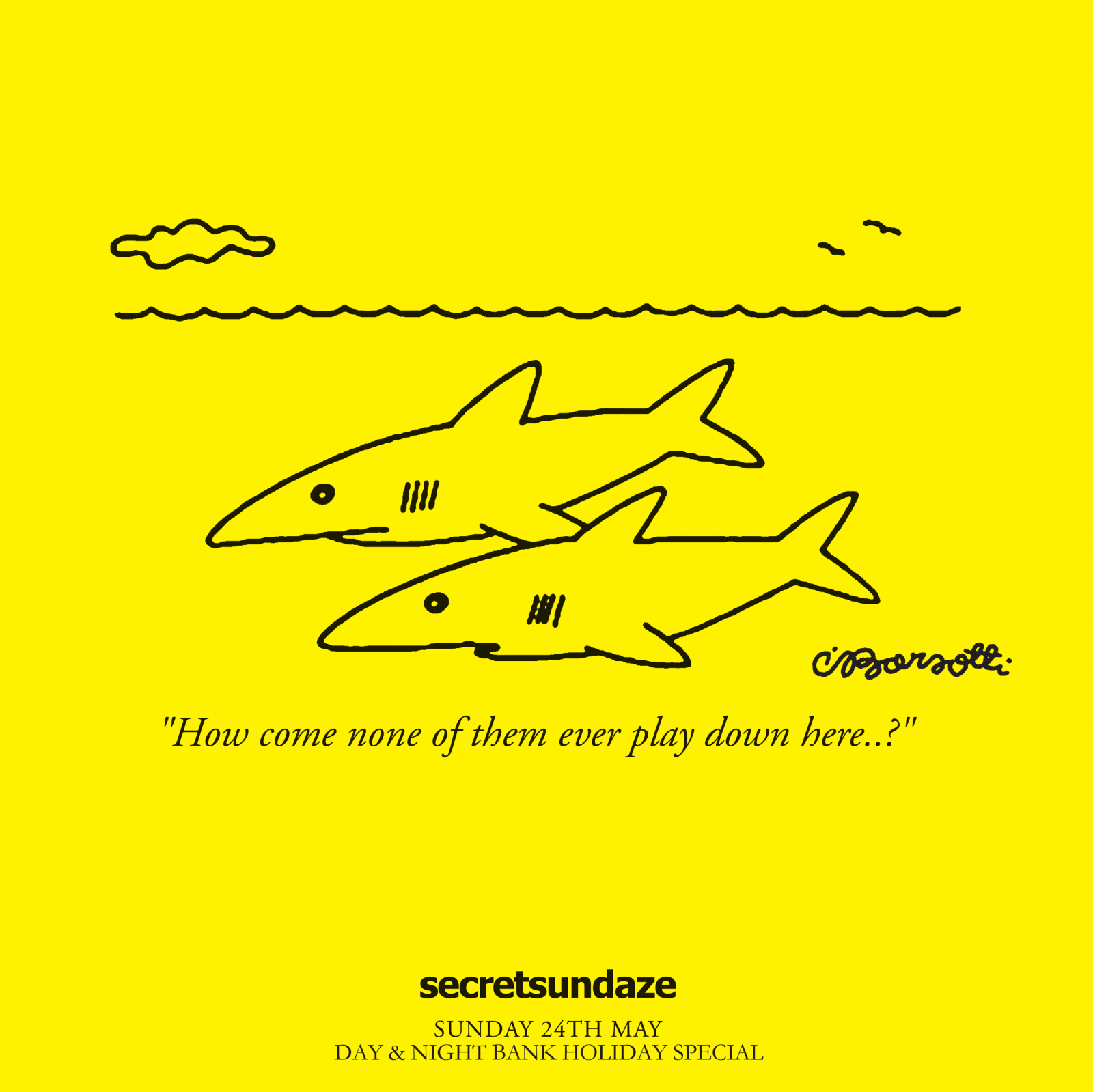 secretsundaze Day & Night Birthday Party
Ahead of their second May bank holiday party this weekend, secretsundaze reveal the line-up for the 14th birthday doubleheader on bank holiday Sunday 30th August, including Steffi, Roman Fluegel, Hunee, Bradley Zero and Endian with one more act still to be announced.
Venue wise it's about tried and tested favourites. The daytime will be at Oval Space, the scene of many a classic daytime session. With the 2 beautiful terraces and huge window that runs alongside the main room at Oval it's the prefect spot to enjoy the summer. For the nighttime they make the short journey to Village Underground in Shoreditch, a venue that's always had a special place in secretsundaze's hearts since throwing the very first ever party at the venue in 2005.
Headlining the daytime event is Steffi. The Panorama Bar resident has become a force to be reckoned with. As a DJ she is always bang on the money and her sound roams from classic deep house to slamming techno to breakbeat and booty bass. Her labels Klaxon, that she ran with Dexter, and now Dolly, which is her main focus, put out great left of centre house and techno from the likes of Basic Soul Unit, Shed, Dexter, Martyn and of course herself. Her second LP dropped on Ostgut Ton earlier last year to great reactions.
Joining Steffi is the inimitable Hunee. Korean born but brought up in Germany, Hunee first came to the secretsundaze's attention via his stunning 'Tour De Force' EP on WT Records in 2009 – a huge record at the party that year. He has become most famous though for his DJ sets which are a romp through funk, soul, disco, house and techno all served up from behind the decks with great panache. His debut LP is just about to drop on the legendary Rush Hour and secretsundaze are hyped to have him play.
The final guest for the daytime event is local boy Bradley Zero. Most known as the tall dreadlocked one that hosts Boiler Room, Bradley has gone on to carve out a name for himself as a tastemaker and DJ through his south London party Rhythm Section and his label of the same name that is primarily focused on dusty, soulful grooves by the likes of Al Dobson JR and Prequel. His vibe will be a perfect warm up for Hunee.
Headlining the nighttime edition at Village Underground will be one of dance music's longest serving ambassadors, Roman Fluegel. A musical chameleon and a man of many talents he is probably most famous for his techno project Alter Ego but he has also has success with Soylent Green and Roman IV. His recent work on Dial as simply Roman Fluegel is some of his best to date and he is arguably back at the peak of his career. Expect to hear techno, bleepy house and futuristic Italo disco.
The second special guest for the nighttime has to be announced at a later date but it's an artist that has made a big impression in a very short space of time and it's their second appearance at secretsundaze. All will be revealed on June 9th.
The final guest for the nighttime is Endian. A shadowy figure who has released just a few EPs in the last 2 years but have nevertheless left a strong impression. He is in fact George Levings Aka Commix (Metalheadz) relatively new house/techno project. This Monday 25th May will see his EP 'Finish Me' a breakbeat/techno hybrid on secretsundaze hit the shops and it looks set to be a huge release with the likes of Joy Orbison, Marcel Dettmann, Scuba, Midland and Roman Fluegel all championing it.
secetsundaze residents Giles Smith and James Priestley will be playing across both parties. Their forthcoming schedule sees them playing in New York, Washington DC, Miami, Barcelona, Paris, Berlin, Bucharest and Belfast and they are in currently in the studio working on new music.
So the scene is set for a birthday to remember. Once again secretsundaze deliver a well-balanced line up that showcases the breadth of sounds they embrace in 2015. Coupled with the atmosphere expected on the birthday this should be a one of the parties of the year in the capital.
secretsundaze take a break from their London events in mid summer to host Room 2 at Fabric on Saturday 4th July with Giles Smith, James Priestley, Mike Huckaby and Patrice Scott. For more info visit http://fabriclondon.com.