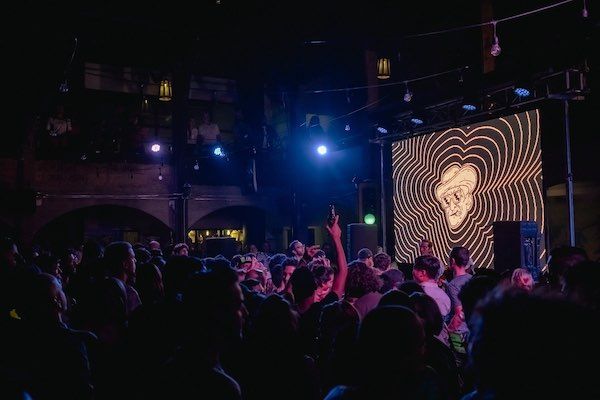 Selina Music Summit – Day to day programme announced.
Updating the traditional conference format with a fresh and bold vision, SIMS (Selina International Music Summit) is a new concept focussed around emerging musical territories that offers practical, real-life advice from top line  talent and industry leaders. In May, SIMS descends on Colombia's cultural centre MEDELLIN (16th – 18th May) and Mexico's capital MEXICO CITY (23rd – 25th May) for two B2B weekends – and now, SIMS can reveal the day to day programme. Diverse and dynamic, the talent involved across each day offers something different; with GILLES PETERSON, J.ROCC, LIANNA, N.A.A.F.I., PEANUT BUTTER WOLF, SENOR PABLO, NAO SAINZ, WILLIAM MORRIS, VEVO, WETRANSFER signed up to offer insight and soundtrack the weekend. Tickets are available from $12 for a day, or $32 for the full weekend, so you can sign up for the full weekender or pick your day. Buy here : MEDELLIN || MEXICO CITY
– MEDELLIN || 16TH – 18TH MAY –
In the last five years, Medellin has come in to focus as a leader in art, music and culture. Buzzing with an electric energy and collective creativity; the city is in a truly special place right now for techno, reggaeton, hip-hop, house movements and more. Between 16th – 18th May, SIMS (Selina International Music Summit) will showcase the local talent driving this development, plus invite international names to offer wisdom and experience. Tickets are available from $12 (day) purchase from here : MEDELLIN
THURSDAY : Kicking off on Thursday is an Ableton production workshop hosted by NOTT Collective; an all female crew; experts in all things electronic. This will be hosted by Marea in Selina's state of the art studios. In to the night, SIMS hosts welcome drinks in the tech-loaded Playground arena, and finishing off are two heavy live shows; first off – the SIMS Bandstand giving a stage to Colombia's climbing talent, and then Medellin radio dons Mad Radio taking us through until 2am with Lianna, Ha$lopablito, Melov and family DJs.
FRIDAY : Getting into the full swing of the conference on Friday, topics under the microscope vary from creation of music videos to the international market for LatAm music, record label management, monetising streaming and the electronic music scene. Speakers, panels and workshops include speakers from Polydor Records, Vevo, Stones Throw, Ditto Music, Move and more, all set to impart wisdom on their area of expertise. Heading in to the evening is another Bandstand show; then SIMS Saturday rounds off with a dope Stones Throw takeover feat. label boss Peanut Butter Wolf, J.Rocc, Señor Pablo, Johnny Crow and more.
SATURDAY : The final day investigates the role of the agent with WME, Surefire Agency and M3 Music; production techniques with Pro Audio. DJ Playero talks us through a reggaeton session; hear about the roots of this genre held at the heart of Medellin music. Long-standing Medellin based promoters The Breakfast Club discuss their journey to date while representatives of Vice and Dazed Media share their experience in building brand partnerships. Saturday's final evening show is hosted by the reggaeton boss DJ Playero – expect all about raucous raving.
MEXICO || 23RD – 25TH MAY –
Mexico City aka CDMX is another city fuelled by fast-growing under the radar music communities. Here, Latin flavours from Latin America southwards meet rap, electronica, pop and more to create a truly colourful musical climate. Selina CDMX will host Selina International Music Summit between 23rd – 25th May, curating a solid weekend of showcases, panels, workshops and more across the weekend. Again, tickets for this not-to-miss event start at just $12 for day entry, grab one from here : MEXICO CITY
THURSDAY : An ever important topic in today's creative climate, Gilles Peterson and Damian Bradfield discuss how they built the successful partnerships between WeTransfer and Worldwide FM for a mutually beneficial deal. Late night sounds on Thursday come from Gilles Peterson, Ali Gua Gua and Kate Hutchinson, all out global flavours are on the agenda here.
FRIDAY : The primary conference day digs into the importance of visual arts in modern music with Vevo, film-makers and photographers, plus SIMS discuss touring LatAm music overseas with Red Light Management, Paradigm Agency and London based promoters Como No! Other sessions include a Q&A with Little Jesus, Noisey and a Vevo workshop for artist and management. Through the evening there's a Bandstand showcase with Mexico's finest new talent, then a NOISEY takeover with Noa Sainz, Ela Minus and more TBA.
SATURDAY : Closing the weekend is a focus on the Mexican festival scene with Sicario, Mutek and Nrmal, looking at trials, tribulations, successes and learnings of running festivals in Central and South America. Juan from Yuyu Club and Derre-Tida join to talk electronic music in Mexico City, and International lawyers discuss hot topics in music law. Camilo Lara and Andy Wood share the story behind the phenomenon that is Mexrrissey plus a masterclass with one of Mexican music's most influential women, Valerie Miranda Schaeubinger. The final night closes with a heater as the final showcase takes place, and N.A.A.F.I bring a ridiculous selection of label talent to soundtrack up until the early hours.
SELINA INTERNATIONAL MUSIC SUMMIT –
Now in it's second year, SIMS (Selina International Music Summit) offers something different – quality conference events in developing musical territories. During the programme, SIMS unites world-class live acts and DJs, industry professionals with local players who are integral to developing their own local communities. As part of these events, SIMS invites artists operating in each city to apply to play, the winner will perform in front of industry professionals and peers at the events. More info on that to follow.
"We're excited to bring SIMS back to Latin America in an even bigger way in 2019, providing a platform for emerging and established local artists to showcase their music to an international audience," said Head of Music at Selina, Natasha Manley.