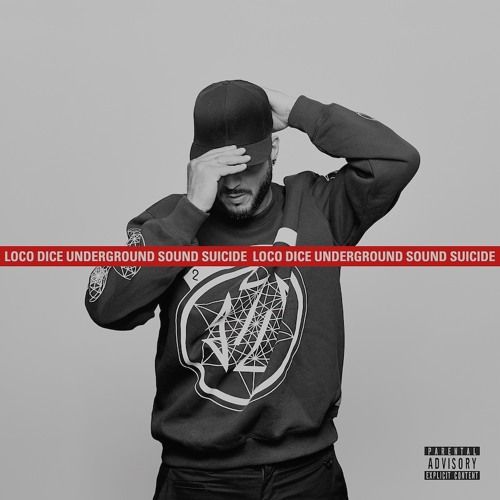 Loco Dice - Sending This One Out
Following the announcement of lead album single 'Get Comfy' ft. Giggs earlier this month, Loco Dice has unveiled 'Sending This One Out' ft. Just Blaze – to coincide with the pre-order launch of his highly anticipated new LP, 'Underground Sound Suicide'. Scheduled for release on August 25th, it sees Loco Dice join forces with legendary hip-hop beatmaker Just Blaze in a union of classic techno and hip-hop, both defining influences on both his second album and career as a whole.
A first look at the tracklist reveals further collaborations; from Miss Kittin to Neneh Cherry, illustrating Dice's willingness to experiment and cross boundaries on this record. Whilst the appearance of techno heavyweight Chris Liebing, shows the 16 tracks will be a sonic journey across a fluid mix of genres and sounds.
'Sending This One Out' is brooding and dynamic, with the addition of vocals by Mobb Deep's Prodigy taking the rolling, tech grooves of Loco Dice's music into new and untapped territory. A focal point of the album, as also evidenced by his decision to work with UK rapper Giggs on 'Get Comfy', the magic to 'Sending This One Out' lies in the blurring of two styles that few contemporary artists have dared to explore. Executed perfectly, it offers more intriguing insight into what fans can expect from 'Underground Sound Suicide'.
About Loco Dice
Loco Dice's second LP, 'Underground Sound Suicide', fuses together sounds from hip-hop and techno resulting in an amalgamation of both his influences and vision for electronic music. Since the release of his debut artist album '7 Dunham Place' in 2008, Dusseldorf's Loco Dice has grown to become one of the most sought after names in house and techno. Releases on labels like Cadenza, M_nus, Four Twenty, Cocoon and his own Desolat have all showcased his production skills, while anyone who has witnessed him DJ – from Timewarp to DC-10 to his HYTE parties at Amnesia – can testify that few match his ability to soundtrack a night.
Pre-order 'Underground Sound Suicide' now: lnk.to/undergroundsuicide
Tracklist:
1. Leavin' Brooklyn
2. You Shine feat. Pulshar
3. Burn Ca$h Ash feat. Miss Kittin
4. Back in Flingern
5. Metaphors feat. Neneh Cherry
6. Do U Really Wanna Ride!?
7. Negative II Positive
8. Party Angels feat. Jaw
9. Backstage Monsters
10.Keep it Low feat. Chris Liebing
11.Get Comfy (Underground Sound Suicide) feat. Giggs
12.Like in the Movies… yeah I want sum!
13.Sending this One Out feat. Just Blaze
14.The Ninja (Showtime!)
15. Badazz Dream (Outro)
16. Underground Sound Suicide (Bonus Mix)