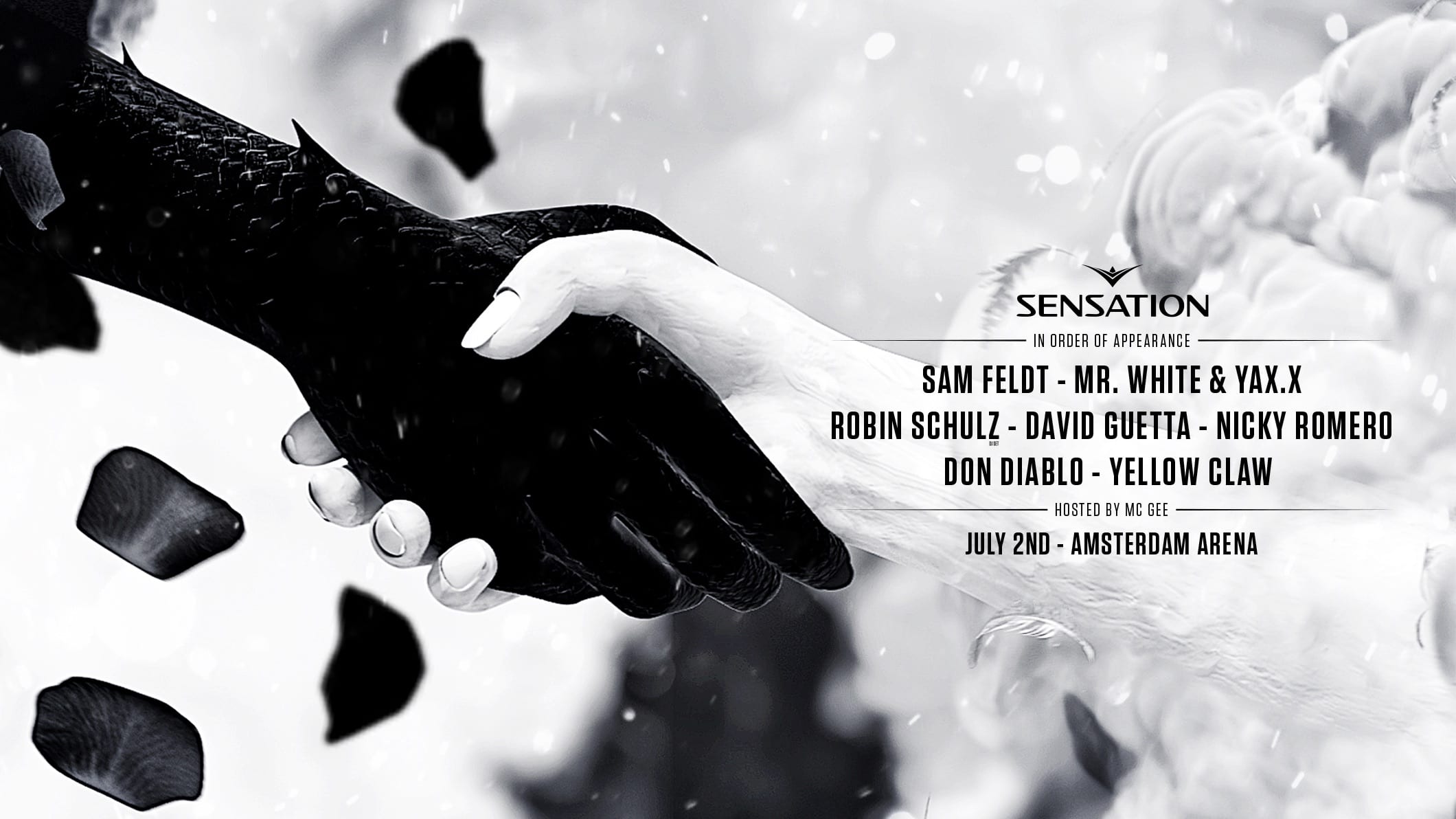 Sensation presents 'Angels and Demons' Lineup
Sensation presents a world-class lineup for their special edition 'Angels and Demons' show in Amsterdam. On July 2nd, internationally renowned DJs David Guetta, Nicky Romero, Yellow Claw, Don Diablo, Robin Schulz, Mr. White, YAX.X, and Sam Feldt will turn the Amsterdam ArenA into a temple where dance music lovers can unite in white or black and celebrate life until the early morning hours. The new show 'Angels and Demons' will challenge the status quo this year with a white and black dress code. Tickets for Sensation Amsterdam are available through www.sensation.com.
David Guetta exclusively on Sensation.
French DJ/Producer David Guetta will perform exclusively at Sensation in The Netherlands this summer. He has five Grammy awards under his belt, a number one ranking in the DJ Mag Top 100, alongside collaborations with Rihanna, Lady Gaga, Britney Spears, The Black Eyed Peas, and Kelis. Nicky Romero, the Dutch DJ who is currently making international waves, has produced earlier tracks with the greats such as Tiesto, Calvin Harris, Hardwell, and Avicii. A surprising name on the program is Robin Schulz, who scored a radio hit with 'Sugar' and made a remix of Mr. Probz 'Waves'. Yellow Claw, the three-man band known for their distinctive and energetic sound will conclude the evening after the occurrence of Don Diablo.
Olga Zegers, Music Director of ID&T: 'With these artists we can guarantee a show structure that fits seamlessly with the 'Angels and Demons theme'. With four Sensation debutants, we aim to stay innovative and surprise our audience. The melodic sounds of Sam Feldt and Robin Schulz, the energetic energy of Yellow Claw, and the renewed vibes of Don Diablo will ensure a spectacular Sensation edition. We also incorporate extraordinary show effects that have never been executed for any previous Sensation event.'
About Sensation
What began in 2000 as a one-off event in the Amsterdam ArenA, is now an international phenomenon. Until now, Sensation has toured 35 countries and welcomed over two million visitors worldwide. With the iconic all-white dress code and yearly renewed themes, Sensation lives up to its name. The Sensation concept has won awards for 'best event of the year' in countries such as the Netherlands, Germany, Australia, Brazil, and Denmark. Sensation utilizes the positive power of music and dance as a universal language, which connects millions of people around the world. This year Sensation will break with convention by adding a black dress code. Once tickets have been ordered, the entry ticket will determine whether the vistitor requires all white or all black attire to the event.
World premiere: Sensation 'Angels and Demons'
Date: July 2nd 2016
Venue: Amsterdam ArenA, Amsterdam
Timetable for Sensation 'Angels & Demons'
22:30 – 23:30 Sam Feldt
23:30 – 00:15 Mr White & Yax.x
00:15 – 01:15 Robin Schulz DJ set
01:15 – 03:00 David Guetta
03:00 – 04:15 Nicky Romero
04:15 – 05:15 Don Diablo
05:15 – 06:00 Yellow Claw
Sensation and 10,000 HOURS
In collaboration with 10,000 HOURS, Sensation is inspiring dance lovers to make a charity contribution. Anyone who buys a ticket for Sensation, will automatically donate €0.25 to 10,000 HOURS. Sensation doubles the donation to €0.50. With this contribution, and the help of volunteers, Sensation and 10,000 HOURS are able to organize a special volunteer day. Over 75 children with special needs will enjoy the ultimate Sensation experience: a day with workshops and a special Sensation show organized specifically for them.
Sensation travel
Other than Sensation tickets, we also have travel packages available. A travel package consists of one or more nights in a hotel, a Sensation ticket, and transfers to and from the Amsterdam ArenA. For more information, please visit sensation.com/travel.
Facebook:
www.facebook.com/sensation
Ticket link:
http://sns.tn/tick