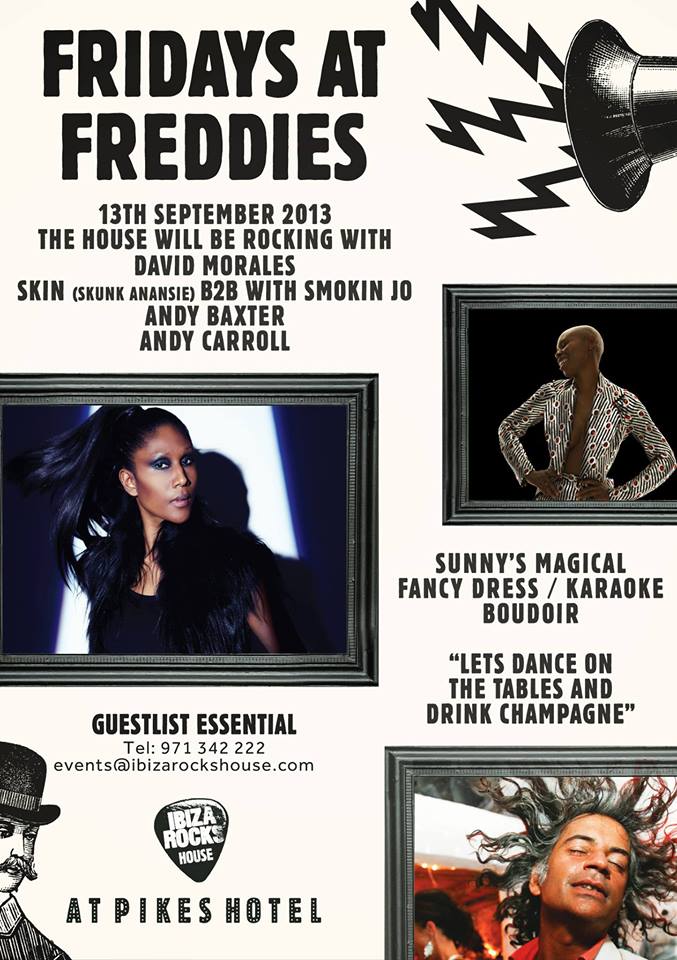 SEPTEMBER ROCKS THE HOUSE
Who would have thunk it?! Here we are in September and according to the recent weather, summer definitely seems to be coming to a close. But up at Ibiza Rocks House at Pikes Hotel, and as the sign at the front entrance says, it ain't over till the fat lady sings. And she ain't singin' just yet…
After a very successful run on Fridays, Idris Elba has finally left our shores to shimmy his way up the red carpets of the international movie world, with the premier of his latest blockbuster, Pacific Rim. Accepting the challenge and the party gauntlet from him for the next couple of weeks then, Smokin' Jo is the woman responsible for getting the weekend going through the month of September. Guest DJs include Skin (Skunk Anansie), David Morales, Bones, Andy Carroll and Colin Peters amongst more surprise names yet to be announced. Kicking off at midnight, just as We Are Rockstars comes to a close over at the Ibiza Rocks Hotel, Fridays have gone from strength to strength up at IRH over the summer and don't look to have any notion of stopping just yet. Our kind of people, our kind of music, our kind of fun…
Moving on to the regular Sunday summer shenanigans and renowned party starter, DJ Antz Bryans, has wowed us all over the last weeks with a line up of guest DJs that have been nothing if not diverse- from much respected DJ Arthur Baker to Eastenders' star Patsy Palmer, Disco Don Nigel Atkin, Hugo Heathcote, Jon Sa Trinxa, Colin Peters, Dave Lubin and Justin Field amongst them. With five events to go, our main man is pulling out the sonic stops for this last month of events at the rock n roll hotel of choice.
As for the simultaneous Sunday Roast- it's the perfect choice for these September days; make sure you bring a big appetite. We recommend pre-booking your table (details below). As for the actual Closing Party on Sunday October 13, we should probably mention that post-sunset, the evening will turn somewhat all Rocky Horror Picture Show with a screening of the legendary musical with the party continuing on into the wee small hours. Fishnets at the ready, time is fleeting and madness takes its toll…
Which brings us rather neatly to Halloween and, after last year's successful scariness, we are very excited to announce the return of VAMP ROCKS on 31 October. With tickets at 10€, price including a chalice of our finest mead plus a very scary surprise; this is guaranteed to be a night of shrieking good fun all round. No fancy dress, no entrance. DJs on the night include Stray Kitten, Bones and more TBC.
In other news, and following on from the recent Freddie Rocks Fundraiser on 1 Sept, it's with an enormous amount of pride that we announce that the total raised so far for the Mercury Phoenix Trust at this year's event is 4,000€ and counting! Massive thanks to all who got involved with the annual hirsute fundraiser- this is one doo that is becoming quite the institution at the house on the hill.
Flag Up the Dates!
FRIDAY 13 SEPT: Smokin' Jo presents SKIN (Skunk Anansie) + David Morales + Andy Baxter
FRIDAY 20 SEPT: Smokin' Jo + Special Guests
https://www.facebook.com/pages/Smokin-Jo/144609615596933
http://soundcloud.com/josmokinjocom
https://www.facebook.com/events/392790430847105/
SUNDAY 15/22/29 SEPT + 6 OCT
DJ Antz + Friends Play It By Ear /Sunday Roast.
SUNDAY 13 OCT
Ibiza Rocks House Closing Party – DJ Antz & Friends + Rocky Horror Picture Show Shutdown
ANTZ: https://soundcloud.com/antzbryans-1
https://www.facebook.com/djantzibiza?fref=ts
https://www.facebook.com/pages/PLAY-IT-BY-EAR-with-DJ-ANTZ-and-FRIENDS-at-IBIZA-ROCKS-HOUSE-at-PIKES-HOTEL/163874557013745
https://www.facebook.com/events/353351864791596/

THURS 31 OCT
VAMP ROCKS- Back for its second year, get ready for even more hairy-scariness from the hands of the witches of Ibiza Rocks House. More details to follow!
http://www.ibizarocks.com/house/
For restaurant reservations, call: +34. 971 342 222 email: [email protected]