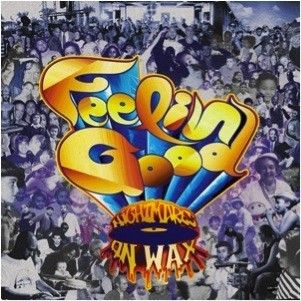 NOW IS THE TIME FOR FEELIN' GOOD!
NIGHTMARES ON WAX LIVE ALBUM RELEASE PARTY AT WAX DA JAM IN LAS DALIAS TUESDAY 17 SEPTEMBER
When it comes to the Ibiza Feel Good Factor, there are few places and parties on the island that can really deliver. WAX DA JAM is an event way up there on that same list- a party where the island's best DJs play side by side with some of the best live musicians on the island, producing an energy that simply inspires the notion of Feelin' Good- a concept that Wax Da Jam's Main Man, DJ Ease (George Evelyn) has mastered over the years without really even having to try. This is a vibe that comes naturally to his ilk, and it's exactly that that the N.O.W team exudes every Tuesday at Las Dalias.
This Tuesday 17 Sept however, and the bar is being raised to yet another level, with the Launch Party of the split new Nightmares On Wax live album, suitably entitled 'Feelin' Good' confirmed to take place at the island institution in Sant Carles.
Here's the plan, then. Starting at 10pm, Babylon Beach will host the Sky Lounge at the venue, serving up their very finest cocktails and, of course, accompanied by Stevi and Johnny Dred, doling out the secret recipe soulful jerk chicken BBQ. Meanwhile, on the decks, the Babylon Beach DJs get us in the groove for this very special performance, warmimg her up nicely until 1 a.m and getting us nicely in the mood for the very special live performance from Ease & Co from then on till 4a.m in the main room.
Talking about the upcoming Album Launch, Evelyn has this to say:
"It's all about 'Feelin' Good'- a notion that's always been pivotal to my music making and which has also made me think about the new concept of my live show. I've done the full band thing and the sound system thing and now, I really want to marry the two and do so with a real live percussive edge."
Free download 'Now Is The Time' is the first taster of the new album, available now at www.nightmaresonwax.com.

On the Door – Free until 1am 10€ after.
Babylon Sky Lounge (at Las Dalias) open from 10pm with Babylon Beach DJ's

ABOUT THE ALBUM:
NIGHTMARES ON WAX
NEW ALBUM FEELIN' GOOD RELEASED 16th SEPTEMBER ON WARP
FREE DOWNLOAD, 'NOW IS THE TIME', AT NIGHTMARESONWAX.COM
#feelingood / www.nightmaresonwax.com
"I come from the city but sunshine is in my music… It was always a natural dream to make music in the sun like I do now." – George Evelyn, Nightmares on Wax
Beamed in from his home from home on the White Island, with a cast of musicians from across the continent, Feelin' Good is the sun kissed new album from Nightmares on Wax
Sonically rich with orchestration and strings created in Berlin by Jazzanova arranger Sebastian Studnitzky, keyboards by long-term collaborator Robin Taylor-Firth, drums by virtuoso German jazz percussionist Wolfgang Haffner, bass from Paul Powell and percussion from Shovell The Drum Warrior plus vocals from Mozez of Zero 7 fame, this is Nightmares on Wax's most musically opulent work yet.
Nightmares on Wax is already an international institution, albeit a delightfully different one. Best known in Europe for his ground-breaking '90s albums 'Smokers Delight' and 'Carboot Soul' and in America the cinematic lo-funk of 2006's 'In A Space Outta Sound', DJ Ease's recording career and his contemporary Balearic vision filter into the contagious, genial bounce of this, his seventh studio outing.
Seven years ago, the central character of the N.O.W label firmly laid down roots in the north of the island of Ibiza, remaining to this day Warp Records' longest serving artist. Nowadays, his focus is on his current projects, embracing each one like he would his own child.
A major influence on his forthcoming album and live show is George's own club night Wax Da Jam, hosted at Ibiza's oldest club Las Dalias. Here is where he soundtracks a night of groove, experimentation, percussion and improvisation, alongside guests such as DJ Shadow and Roots Manuva. It's all about 'Feelin' Good'…

FEELIN' GOOD- NIGHTMARES ON WAX ALBUM LAUNCH
TUES 17 SEPT 2013, 10PM – LATE
at LAS DALIAS