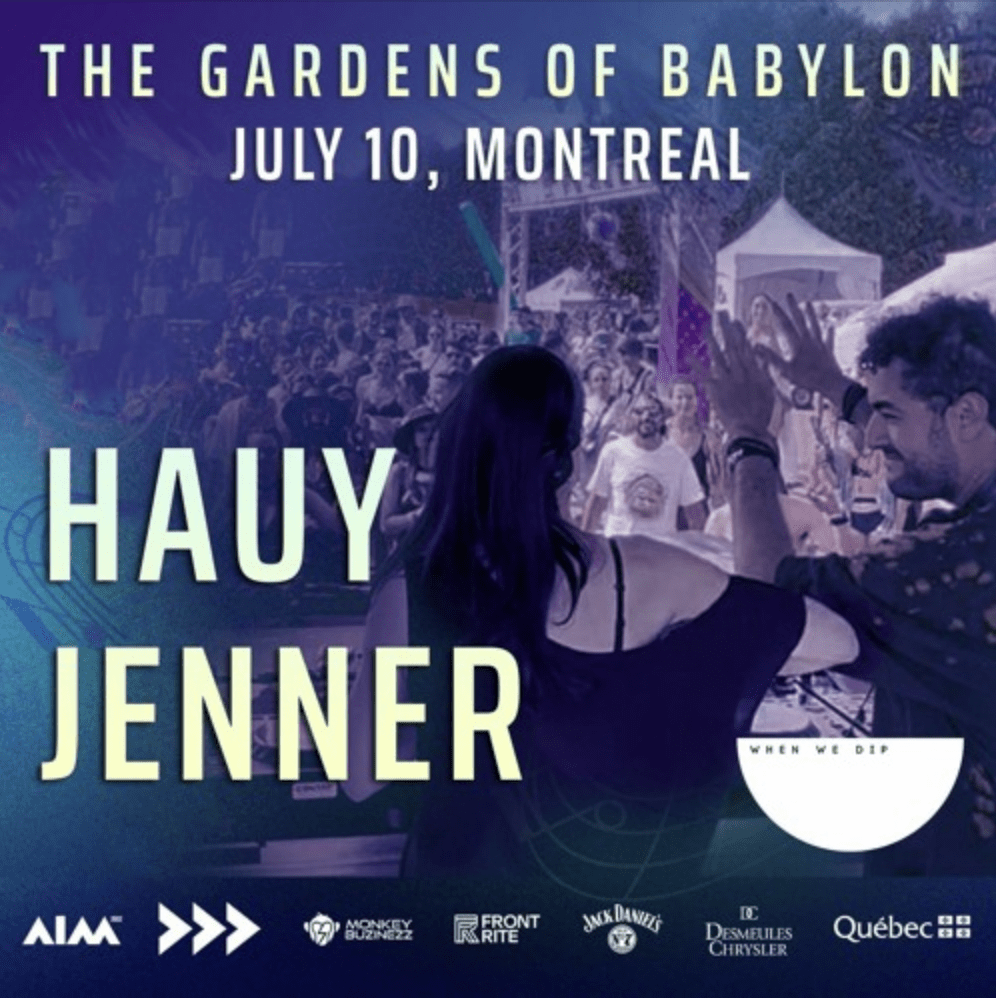 Set by Hauy b2b Jenner at AIM Festival 2022 on WWD
Those who were lucky enough to be present at Montreal's AIM festival last summer know how special this Sunday afternoon set was, and thanks to When We Dip we can now all have a taste of the magic too.
Gracing the decks of the Gardens of Babylon stage for a b2b set in brooding July temperatures, the crowd was treated to a profusion of uplifting melodies and energetic cadences by DJs Hauy and Jenner.
Nicknamed 'The Dark Princess', Toronto-based Jenner began honing her skills as a DJ in 2008 after becoming familiar with the electronic dance scene in Berlin. Since then, she has played many Toronto clubs and events such as Coda, Camp Summerdaze, Promise Cherry Beach, Harvest Music Festival, and Mayan Warrior at Burning Man 2018.
Jenner is known for her deep infectious ethereal backdrops, captivating her audience further. Deeper. Darker. There is no doubt when Jenner is on the decks because the dance floor is always full.
Hailing from Brazil, Montreal-based Hauy's sets carry the same depth and intimacy as his recordings, drawing his audience into a deeply authentic, melancholic yet hopeful world rich in tones and textures. 
His productions walk the line between progressive and deep-house, with releases on record labels such as All Day I Dream, Get Physical Music, Akbal Music, Warung Recordings, and Tale and Tone. Hauy has played festivals and events like ADE, SXM, Burning Man, Spectrum, and Electric Island among many others.
Joining forces, listen to the three-hour set by Jenner and Hauy at AIM Festival 2022, brought to you by When We Dip. 
First hour: Jenner
Second hour: Hauy
Third hour: Hauy b2b Jenner