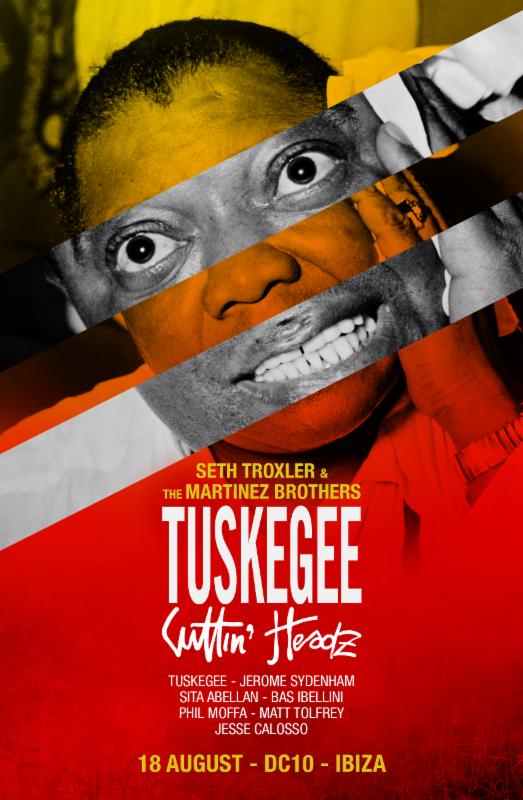 Seth Troxler and The Martinez Brothers announce full lineup for Tuskegee and Cuttin' Headz at DC-10 Ibiza
Full lineup details have been revealed for a very special collaboration with Tuskegee and Cuttin' Headz, taking place at iconic Balearic techno mecca DC-10 on Friday 18th August 2017.
Tuskegee was formed following a fateful meeting between Seth Troxler and The Martinez Brothers at DC-10 in 2014, making this show a poignant homecoming for the trio.
Celebrating the urban-American roots that inspired the imprint, Tuskegee at DC-10 will showcase some of the finest US inspired house and techno with unmissable sets from Ibedan Records legendary founderJerome Sydenham, NYC based rising star Sita Abellan, Tuskegee stalwart Bas Ibellini, Cuttin' Headz' own Phil Moffa, Leftroom Records head-honcho Matt Tolfrey and one of The Martinez Brothers' closest allies, Jesse Calosso.
With the focus firmly on quality sounds, a roof-raising back-to-back set from Tuskegee chiefs Seth Troxlerand The Martinez Brothers will ensure this special event lives long in the memories of those in attendance.
Tickets will go on sale on Thursday 6th July. Register her for priority access to tickets: www.tuskegee-cuttinheadz.com
Seth Troxler and The Martinez Brothers are bringing Tuskegee to DC-10 for a very special, one-off showcase on Friday 18th August . The event will be in conjunction with The Martinez Brother's Cuttin' Headz label, and will feature unmissable sets from the trio, plus many more to be revealed on Monday 3rd July.
Tuskegee was formed after the three met in DC-10, forging a strong relationship and bonding over their urban-American cultural influences. They have since pushed the boundaries of what's acceptable to play in contemporary Europe, giving a platform for the same sound found in the hedonistic clubbing environments of the Paradise Garage and early Detroit techno scenes.
DC-10's championing of quality underground electronic music has solidified its historical status within dance music culture. Since its opening in 1999 DC-10 has remained the most prevalent Balearic example of unadulterated, no-nonsense clubbing, totally inline with what Tuskegee will bring on August 18th.
This will be Tuskegee's biggest and most impressive show on the island to date.
Full details revealed on Monday 3rd July 2017. Register here for line up info: www.tuskegee-cuttinheadz.com
TUSKEGEE CUTTIN HEADZ:
www.tuskegee-cuttinheadz.com
DC10
http://dc10-ibiza.ibiza-clubs.net
SETH TROXLER AND THE MARTINEZ BROTHERS
ANNOUNCE SPECIAL COLLABORATION WITH TUSKEGEE AND CUTTIN' HEADZ AT DC-10 IBIZA
Friday 18th August 2017 | DC-10, Ibiza
www.tuskegee-cuttinheadz.com