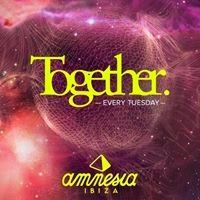 Chase & Status and Andy C to play world exclusive back to back set at Together Amnesia
Amnesia's Tuesday night party Together just has pulled out all the stops and can now announce that dance music giants Chase & Status have been just added to two already massive line ups. 11th July will witness the chart toppers play a world exclusive back to back set with The Executioner himself, Andy C.
11th July will see this world exclusive set that will see them perform together for the first time ever as key players Rudimental join them centre stage. That is before we mention a DJ Set from Pendulum, Woz, and Becky Saif with the event sure to be a hallowed and historic night in drum & bass history. Whilst on the terrace house stalwart Duke Dumont continues his July residency on the Terrace and is joined by Hannah Wants, Disciples & Camelphat.
Chase & Status have also been added to the July 18th party with Rudimental, Sub Focus, Hype & Hazard in the main room with Duke Dumont, Chirs Lorenzo, Caal, Bowler & Bunts and very special guest MK taking over the legendary terrace.
These two parties are set to be the biggest drum & bass events the island have ever seen…
WWW.TOGETHER-CLUB.CO.UK