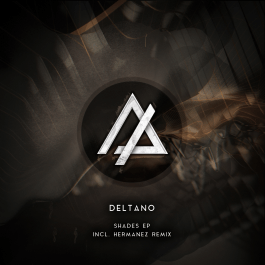 Deltano - Shades EP
This January will see Belgium's Deltano launch his DELT.A imprint with the 'Shades' EP, backed with a remix from Hermanez.
Beringen, Belgium's Deltano has been steadily carving out a name for himself over the past decade via festival slots at the likes of Tomorrowland and Extrema Outdoor on his home turf and Berlin's Golden Gate club, as well as releasing material on the likes of Be Chosen, Memoria, Rockets & Ponies and Rawthentic. Here though we see Deltano mark a new chapter with the launch of his new imprint DELT.A, paving the way for his progression in 2018.
The original mix of 'Shades' takes the lead, bringing fluttering atmospherics, sturdy rhythms and acid tinged bass licks into the limelight before the latter stages introduce a frenzied arpeggio lead to carry out the rest of the composition. Hermanez offers up his 'Deep In The Clouds Remix' next, taking a more refined approach with soaring string melodies, airy atmospherics and wandering square wave bass floating above shuffled organic drums.
'Ya Gruuv' from Deltano then closes the release, this time round seeing him offer up a more reduced house affair via swinging snare hits, shuffling hats and elongated bass drones whilst stirring in hooky stab sequences and billowing vocal murmurs for good measure.
Deltano's 'Shades' EP is out on DELT.A 22nd January 2018.
Tracklist:
1. Shades
2. Shades (Hermanez Deep In The Clouds Remix)
3. Ya Gruuv