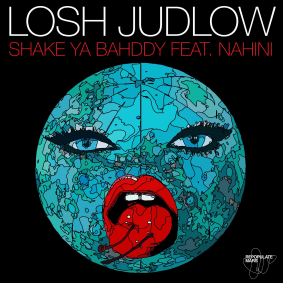 Losh Judlow ft. Nahini - Shake Ya Bahddy
Repopulate Mars hosts a debut release from London's Losh Judlow entitled 'Shake Ya Bahddy', featuring vocals from Nahini and remixes from Mason Maynard and Million Dolla Man.
DJ/producer/model Josh Ludlow has been producing under different aliases for years but his first release under the Losh Judlow moniker marks a huge change in style from his previous projects.
"'Shake Ya Bahddy' came about when I was on my way home from dinner. I saw this guy busking and was so into the vibe I persuaded him to wait for me whilst I rushed back to my studio to grab a portable recorder. I quickly threw together a beat for him to play too and zipped back to find him.
When I got back Nahini had vanished, but luckily I had taken his number and after a few missed calls Nahini picked up and agreed to come back. He told me he was from the Ivory Coast and living in shelters in London. I bought some beers and we recorded a session in an empty car park in Notting Hill Gate. I stayed in touch with him for the next year or so occasionally meeting up to lend him cash but I havn't been able to contact him since. There are also a lot more vocals so watch this space for more Nahini trax!"
Cosmic pads and a heady bassline come together to form the disco influenced 'Shake Ya Bahddy' as Nahini's voice repeats the track title, leading into the percussive 'Screw Bass Mix' which implements twisted breakdowns and fuzzy meandering synths. Sola? and Relief affiliate Mason Maynard reimagines the track, working in rave stabs and a rumbling low-end before Million Dolla Man incorporates intricate melodies with chopped and distorted vocal samples. Finally, 'Rain Down' combines filtered hats, funky guitar licks and ghostly murmurs to conclude package.
Losh Judlow 'Shake Ya Bahddy feat Nahini' drops via Repopulate Mars on 11th May 2018.
Tracklist
Shake Ya Bahddy feat. Nahini
Shake Ya Bahddy feat. Nahini (Screw Bass Mix)
Shake Ya Bahddy feat. Nahini (Mason Maynard Remix)
Shake Ya Bahddy feat. Nahini (Million Dolla Man Remix)
Rain Down
https://www.facebook.com/repopulatemars
https://twitter.com/RepopulateMars
https://soundcloud.com/repopulatemars