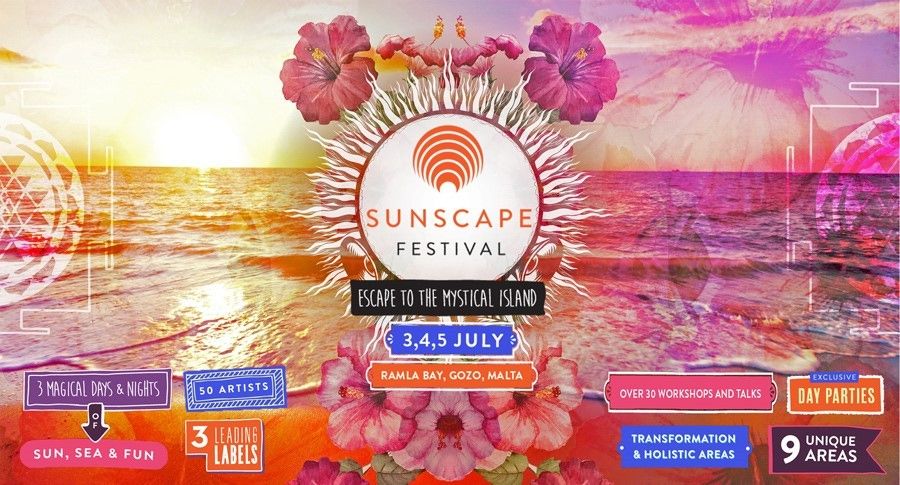 SHANE WATCHA, & MORE COMPLETE GOZO'S SUNSCAPE FESTIVAL
Come and experience three days and nights of partying and performance with us at Europe's most-intimate island festival on the beach.
Sunscape Festival features 50 acts including over 20 international artists and 3 international labels across four stages over the weekend of 3, 4, 5 July.
Europe's most hidden island festival reveals the final strings to its bow to make it the most exciting festival destination this summer. Joining previously announced artists such as Goldfish (live), Shpongle, M.A.N.D.Y., Fur Coat and Livio & Roby at Gozo's Sunscape Festival, will be fellow Get Physical stalwart Audiofly, Bristol producer Maxxi Soundsystem and the formidable lo*kee resident, Eric Volta presenting his uncompromising and uninhibited sounds to Gozo's shores. Joining them and completing one of the most eclectic line-ups spanning house, psybient, drum n bass and reggae is Shane Watcha, Zombie Soundsystem founder and a champion of new sounds, as well as underground New York techno artist Elon.

They join Shpongle, Goldfish, a very special showcase from Spanish outfit FACT and Berlin label Serialism featuring Livio & Roby, Konrad Black, Azimute and FACT Worldwide Residents. The new Nautilus stage will feature showcases by Jamais Vu & Swerve presenting Legends of Drum & Bass including LTJ Bukem, Fabio & Grooverider, Jumping Jack Frost, Bailey and Randall. Returning for 2015 is Electro-Swing Malta, one of the country's hottest exports who have toured some of the biggest clubs in Europe and bring smiles wherever they go.
Much more than simply a music festival, Sunscape festival-goers can experience interactive and collaborative art installations, various forms of holistic practices (including surfboard yoga), eclectic & inspirational workshops and talks, massages on the beach and much, much more.
TICKETS
There's a limited amount of Regular Weekend Tickets starting from just 65 Euros, with VIP tickets starting from 75 Euros! If you're local to Malta, we've got special deals available for you. Buy Tickets!
TRAVEL PACKAGES
We've teamed up with Festicket to bring you some of the best travel packages you'll find at any festival this year. Festival-goers are able to purchase VIP tickets, stay in pre-pitched tents, boutique camping areas and beautiful local hotels… Plus weekend passes are included with all accommodation.
YOGA
Participate in a variety of sunrise and sunset yoga at Sunscape this year. If you want to can also experience other well-being activities including Pilates, Qi Gong or Biodanza and an array of other talks & workshops.
HOLISTIC
Experience all that our Holistic Area has to offer your mind and body. Restore your physical self with a range of massages and healing treatments, including Reiki, Theta, and reconnect with yourself again at our Transformation area through sound healing workshops and guided meditations.

ART THEME
You are the universe in ecstatic motion Let yourself become living poetry.
Try another way of looking. Try you looking and the whole universe seeing. – Rumi