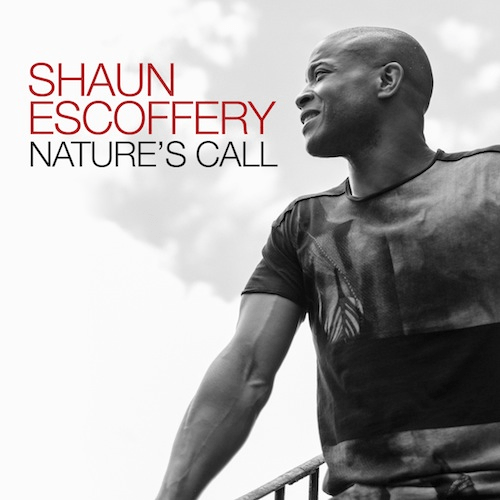 Shaun Escoffery – Nature's Call
Taken from his first album recording in 7 years, 'The Red Room' which is forthcoming this Autumn, UK Soulful star Shaun Escoffery unleashes the first single 'Nature's Call' on Dome Records.
'Nature's Call' is a plea for people to come together and live in "love, peace and harmony" , with a video featuring members of the general public with Shaun in the background narrating the scene. Remixers who have contributed to 'Nature's Call' include his lifelong friend Idris Elba ('The Wire, 'Luther" and Nelson Mandela in "Long Walk to Freedom' movie); regular cohort DJ Spinna, who adds his signature Brooklyn House flavour; UK House heavyweights Copyright turn out a powerful deep groove; Sir Piers joins forces with Pedro Caldas delivering a tasty soulful remix and a dub; and Gil Cang, who produced and co-wrote the album, adds his own take with a Rolling Stock Remix, finishing off this mighty musical package!
"I've taken my time, a couple of years of writing and recording. I wanted to have something to say, it takes time to get to that point, to say what's in your heart. 'Nature's Call' is a song that I believe captures what a lot of people are feeling at the moment" – Shaun Escoffery
It was actor Idris Elba who convinced Shaun Escoffery that his future career lay in singing and acting. They were best friends in their teens in the East End of London and attended Barking and Dagenham College together. The name Escoffery is a famous one in UK black music – The Escoffery's, Michelle Escoffery (a cousin), and Shaun…. His songwriting led to Shaun's first recording, singing on "Got To Find Me A Love" with D'Influence in the early Nineties at the age of 17. He then auditioned for "Mama I Want To Sing", the soul-gospel musical based on the life of Doris Troy, which opened in London's West End in 1995. The cast list was phenomenal – Chaka Khan, Doris Troy herself, and subsequently Mica Paris and Deniece Williams. "It was an amazing experience – One night I got to sing a song with Stevie, and on one occasion I was singing on stage with Prince" It was the beginning of a string of musical roles for Shaun. He went into a production of "Tommy" ,then came "Smokey Joe's Cafe", the musical revue based on the songs of Leiber and Stoller. His roles in musical theatre became more varied. In "Les MIserables" he played Enjoiras and in 2007 he went into "Parade". Then came what is currently a four-year run as Mufasa in the London production of the Tim Rice-Elton John hit show "The Lion King".

Shaun's solo recording career began in 2001, his debut album was co-written with his friend Geoffrey Williams. Shaun recalls: "Trevor Nelson jumped on 'Space Rider', then when the album came out everyone gravitated to 'Days Like This'. Elton John also championed the album! Both the initial singles made the UK charts. "Days Like This" had started out as an acoustic guitar thing, but the subsequent release of the DJ Spinna remix took him down the club route for the first time. In 2003 his label Oyster released a remix album "Soulonica", with contributions from Jazzanova, DJ Spinna, Koop and Mark de Clive-Lowe, among others. And in 2007 came "Move Into Soul", an album produced by Shaun with Geoffrey Williams, which featured his interpretation of some of his favourite soul songs, among them "Why Can't We Live Together" and "A Change Is Gonna Come". Shaun is thrilled to be back with a new solo album and is excited to be planning his first live performances with a band for five years. – "I'm really nervous about performing solo again, but I can't wait"… Watch this space for live show dates!