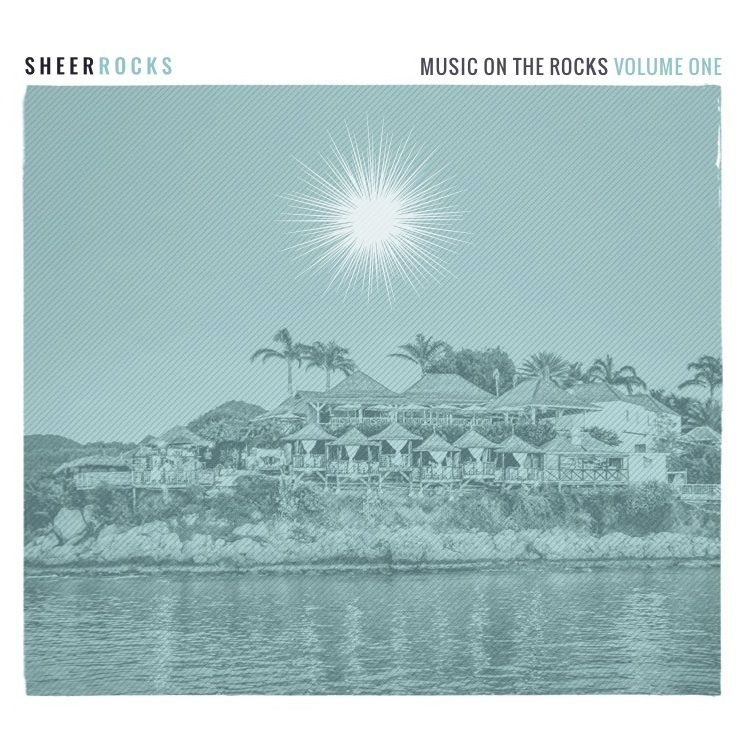 Various Artists - Sheer Rocks – Music on the Rocks Volume One
Sheer Rocks is an idyllic open air restaurant on the West coast of Antigua. It boasts incredible sunsets, daybeds and a plunge pool as well as soul soothing atmospheres, and over the last five years has built up a deserved international reputation thanks to its great Mediterranean menu. For their next trick, owners Kate and Alex Rocks reunite with old friend and Cafe Mambo resident Pete Gooding who puts together a perfectly breezy and feel good compilation to go with the world renowned restaurant.
Before now the place has played host to sets from the likes of Danny & Ilona Rampling, Darren Emerson, Nigel Gore (Back II Life) Alan Russell (Black Market Records) and many more. The tracklist for this new project has been hand selected by Pete Gooding, who himself has been playing at Sheer Rocks for the last 5 years, and his partner at Secret Life Records, Phil Dockerty. It includes some key musical highlights and some of the hottest names in Balearic music and is a great sonic window into the Sheer Rocks world.
Things kick off with a perfectly horizontal cover of 'On The Beach' by Nick & Samantha, and it sets an expertly beachy vibe right away. After that there is sun kissed reggae from Afterlife, long legged disco from Midnight Mystery Club and serene sunset sounds from Paqua. Norwegian producer Telephones is included with his excellent 'Hot Destinations For a Cooler You' from Gerd Jansen's taste making Running Back label, and fellow Norwegian Rune Lindbaek teams up with Øyvind Blikstad on the truly wonderful 'North'.
Sunset master Jose Padilla collaborates with Australian producer Tornado Wallace on the Brazilian influenced 'Mojame' from Jose's album Too Many Colours on International Feel and more highlights come from Italian DJ and production duo Balearic Gabba Sound System in the form of their remix of 'So Good' by Danish band The Ball and the Wall released on Secret Life Records. Other stunning contributions come from Waldemar Schwartz (of Golf Channel Recordings) and Napoleon aka Simon Mills from legendary production duo Bent. Reknowned Chill Out producer Afterlife also serves up some sublime sounds and, overall, never is this anything less than a high class, dreamy slow-disco soundtrack that will have your thoughts turning to summer in no time.
Upcoming Sheer Rocks dates
Sunday 13th December with Pete Gooding – Album launch party
Friday 1st January with Nigel Gore
Sunday 7th February with Carlitto Mujinan
Sunday 6th March with Darren Emerson
Sunday 17th April with Harry Judda & Jamie Raines (Back to Back)
Tracklist:
01. Nick & Samantha – On The Beach
02. Afterlife – Orion's Place
03. Midnight Mystery Club – Keep A Beat
04. Paqua – We Came Far
05. Jacob Gurevitsch – Mexican Margarita
06. The Ball & The Wall – So Good ft Clara Sofie (Balearic Gabba Sound System Remix)
07. Luminodisco – La Mission
08. Jose Padilla – Mojame
09. No Logo ft Ashibah – Forever
10. Napoleon – Moogie Wonderland
11. Private Agenda – Deja Vu
12. Telephones – Hot Destinations For A Cooler You
13. Rune Lindbaek & Oyvind Blikstad – North
14. Waldamer Schwartz – Taza De Oro