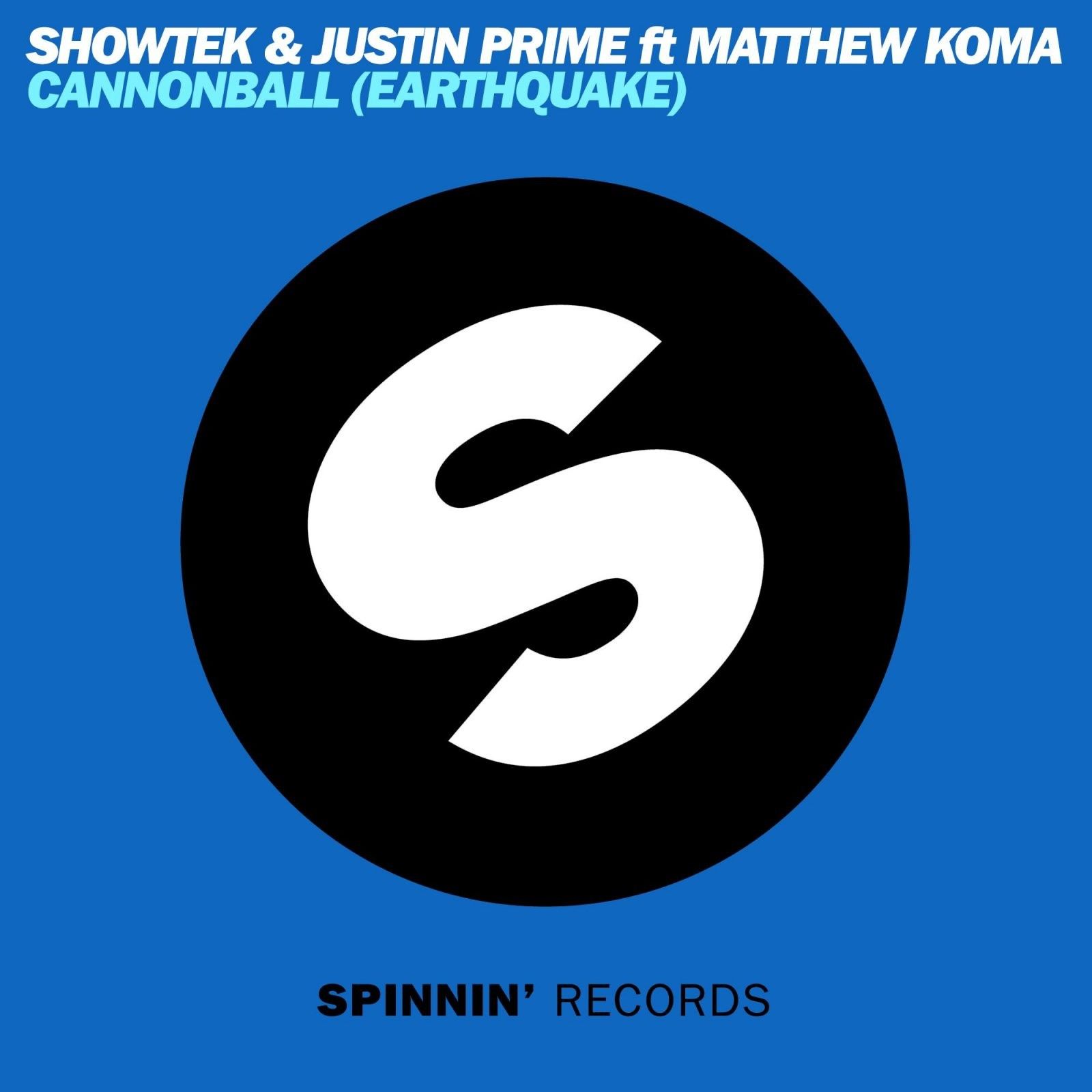 Showtek & Justin Prime ft. Matthew Koma – Cannonball (Earthquake)
Following the huge success of 'Cannonball' Showtek and Justin Prime have now revealed details of their new single, 'Cannonball (Earthquake)'. The collaborative production, which features the vocals of Matthew Koma, is set for release on Spinnin' / Polydor on 16th March 2014. It received its world premiere on world-renowned dance music tastemaker Pete Tong's BBC Radio 1 show on Friday 6th December, introducing the single to the world in explosive fashion.
Released in March of this year, the instrumental version of the track quickly proved itself to be an inescapable club anthem with its high-octane rush of euphoric chord progressions, ice cool synths and pounding bass. Going straight into the Beatport Top 10, as well as No.5 in their native Holland's chart, it quickly appeared as one of the most played tracks of Miami Winter Music Conference and came out as an undisputed fan favourite at Ultra Music Festival, remaining in heavy rotation across clubs and festivals throughout the summer.
Now, Showtek and Justin Prime are set to release a fresh incarnation of the instrumental featuring Matthew Koma, who has previously collaborated on tracks such as Hardwell 'Dare You', Alesso 'Years' and ZEDD 'Spectrum'. On 'Cannonball (Earthquake)' the instrumental retains all the immediacy and energy that make it such a standout club track, while Koma's soaring vocals perfectly intertwine with the track's synth melodies to add another utterly infectious layer to the standout production. With the addition of Koma's songwriting finesse, 'Cannonball (Earthquake)' is elevated to new realms.
The announcement of the new single will round off a hugely successful year for Showtek, in which they have repeatedly affirmed their position as one of the most consistently exciting and innovative acts in dance music. 'Booyah' featuring We Are Loud and Sonny Wilson has been ubiquitous throughout the last six months and brought the Dutch duo's sound to a whole new audience after being added to the A playlist at BBC Radio 1 and reaching No.5 in the UK chart upon release in October. This was followed by an Essential Mix in for Radio 1 in November, while the duo has also been busy keeping up a non-stop international touring schedule that already stretches well into 2014.
Similarly, 2013 has seen fellow Dutch artist Justin Prime continue to rise through the ranks of dance music. With releases on a host of electronic music's biggest labels already under his belt including Musical Freedom, Spinnin', Def Jam and Ultra Music, he is also a highly sought-after remixer and has delivered fresh takes on tracks from Rihanna & David Guetta, Jennifer Lopez and Flo Rida to name just a few. With the announcement of the new single and more music already scheduled to drop in 2014, things look set to get even busier for prime in the next twelve months.
For more info on Showtek, please visit:
http://www.showtek.nl/
https://www.facebook.com/showtekofficial
https://twitter.com/Showtekmusic
https://soundcloud.com/showtekmusic
For more info on Justin Prime, please visit:
http://justinprime.nl
https://www.facebook.com/justinprimemusic
https://twitter.com/justinprime
https://soundcloud.com/justinprimemusic