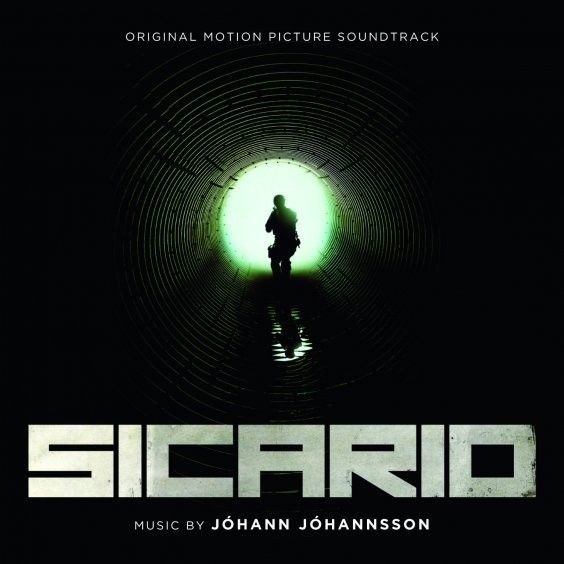 Jóhann Jóhannsson - SICARIO – Original Motion Picture Soundtrack
The Lionsgate film SICARIO stars Benicio Del Toro, Josh Brolin and Emily Blunt, and is in UK cinemas from October 9th . The album features original music by Golden Globe winning, Oscar and BAFTA nominated composer Jóhann Jóhannsson. Varèse Sarabande records will release the SICARIO – Original Motion Picture Soundtrack digitally and on CD.
SICARIO debuted at the Cannes Film Festival earlier this year, earning rave reviews for both the film and the score. Vanity Fair Magazine called the score "rumbling, evocative" and said "Jóhannsson has a wonderful knack for balancing eye-popping technical flourishes with more organic texture and mood." SICARIO is Jóhann's second collaboration with director Denis Villeneuve, for whom he also scored the 2013 film Prisoners.
"Denis didn't use temp music while editing, so I began writing the music with a completely blank slate. This was both daunting and exhilarating," said Jóhannsson. "Like Prisoners, it's quite tense and has a certain sense of dread, but the instrumentation is very different. While Prisoners had practically no drums at all, there is a lot of percussion in SICARIO; I recorded 5 different drummers and did a lot of electronic manipulation of the recordings."
"I was partly inspired by the spectral writing of composers like Gerard Grisey and Horatiu Radulescu while the percussive aspect of the score was partly inspired by the group Swans – I wanted to capture a kind of relentlessly slow and mournful but still ferocious and brutal energy," Jóhannsson described. "I used a combination of 65-piece orchestra and individual soloists, combined with extensive electronic manipulation of the recordings, to create the score. The orchestral writing is textural rather than melodic"
Featured players on the SICARIO score include Hildur Gudnadottir (cello), Robert Aiki Aubrey Lowe (vocals and modular synthesizer), Skuli Sverrison (bass) and Shazad Ismaily (guitar and percussion).
Jóhann Jóhannsson is a Berlin-based composer originally from Iceland who has released several albums on labels including FatCat, 4AD and Touch. He is equally at home writing commissioned works for the Icelandic Symphony Orchestra, Bang on a Can and Theatre of Voices ensembles, as he is collaborating with Marc Almond, Barry Adamson, Pan Sonic, The Hafler Trio, Andrew M. McKenzie; CAN drummer Jaki Liebezeit and Stephen O'Malley of Sunn O))).
Writing music for plays, dance and theatrical performances led to work on film soundtracks. Jóhannsson has scored more than a dozen movies, including The Good Life (Eva Mulvad), Varmints (Marc Craste) and For Ellen (So Yong Kim) before his recent work with director Denis Villeneuve on Prisoners and Josh C. Waller on McCanick. His music has also found a home in art house films across the globe, from Lou Ye's Mystery, Janos Szazs' prize winning drama, Le Grand Cahier, to a collaboration with experimental filmmaker Bill Morrison on The Miners' Hymns.
Jóhannsson was awarded a Golden Globe in January 2015 for Best Film Score for The Theory Of Everything, directed by James Marsh, whilst his music for the film also earned him both Oscar and BAFTA nominations for best original score.
In Mexico, SICARIO means hitman. In the lawless border area stretching between the U.S. and Mexico, an idealistic FBI agent (Emily Blunt) is enlisted by an elite government task force official (Josh Brolin) to aid in the escalating war against drugs. Led by an enigmatic consultant with a questionable past (Benicio Del Toro), the team sets out on a clandestine journey forcing Kate to question everything that she believes in order to survive.
Tracklist:
1. Armoured Vehicle
2. The Beast
3. The Border
4. Drywall
5. Explosion
6. Desert Music
7. Target
8. Convoy
9. The Bank
10. Surveillance
11. Reflection
12. Melancholia
13. Night Vision
14. Tunnel Music
15. Fausto
16. Balcony
17. Soccer Game
18. Alejandro's Song