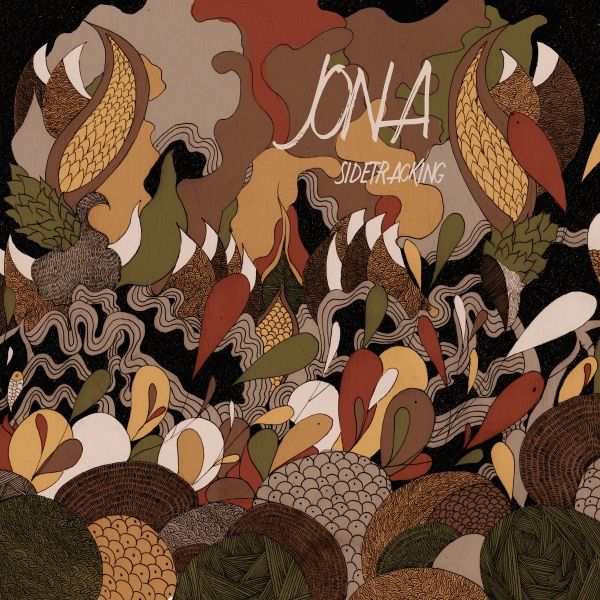 Jona - Sidetracking LP
'Sidetracking' is Jona's highly inventive and musically diverse debut album project for Alex Niggemann's forward-thinking AEON label. The musical jigsaw puzzle began with 'Sidetracking – Part 1: Prologue' (an introductory 2-track vinyl instalment with remixes) in January 2016 and is completed in February, with the release of the full-length 'Sidetracking' album, featuring 8 more original tracks to form the 10-track CD package.
Created over the course of two highly creative years, the concept for 'Sidetracking' was for Jona to invite some of his musician and producer friends to collaborate with him in the studio and complement his album's solo productions. This inspired project features Varoslav (Rue de Plaisance, Paris), Usio (Studio Barnhus), David K (Cocoon), Bolivian percussionist Daniel Aguilar, Italian pianist Giovanni Verga, and Edinburgh-based producer The Reverse Engineer.
Driven by his desire to explore new sound perspectives and ideas, Jona has carefully forged his career path by consistently creating exciting and forward-thinking music. His previous label outings: 'Traffic' on 'Lost Tapes Volume 1' (AEON010) and 'Gemini EP' (AEON016), have seen him fine-tune his own unique sound. By incorporating a wide range of styles into his tracks, Jona strives to break down unnecessary boundaries and explore new ideas and ways to ignite that hallowed dancefloor flame. It is therefore no wonder that his solo and collaborative creations for 'Sidetracking' have yielded such stimulating aural delights.
'Microcosm' with its subtly mesmeric intro and snappy, swinging percussive energy is the perfect introductory aural treat, before diving into a spiralling, glitch ambient 'Descent Into The Abyss'. Varo Slav (label boss at Rue De Pleasance) is a Parisian of Czech origin who brings his 'from the heart' creative energy to the gentle chiming chug of 'Over And Out', the album's first collaborative venture.
'The Chase' is a track whose style is heavily influenced by the jazz music that Jona was so in love with during his formative years. Calling on the somewhat mysterious Usio (whose 'Kuwa Huru' LP on Studio Barnhus should be checked by everyone) to join him in a studio jam, has resulted in an utterly compelling afro-beat influenced percussive groove, topped with swirling funk-fuelled stabs and strings, mesmerising melodious piano, and a large helping of pure, hip-swinging goodness.
The funk factor is turned up several notches when Bolivian percussionist Daniel Aguilar unleashes his skills on 'Drive', the perfect accompaniment for Jona's stripped back, bass heavy groove creation. The filmic qualities and ambient beauty of 'Detachment' show yet another side to Jona's diverse compositional palette, complemented perfectly with the delicate touch of Italian pianist Giovanni Verga.
For Jona, emotion is paramount, melody is important, and original material is always better than a sample. In David K (Cocoon, Souvenir), he has found a kindred creative spirit and their combined creative energy sparks with joyous abandon on 'Space Jungle', setting the scene perfectly for Jona's next bubbling solo excursion 'The Temple'.
The perfectly segued dublicious skank of 'Transmission Breakdown' sees Jona's experimental creative juices in full flow, as he teams up with Edinburgh-based digital composer and sound artist Dave House (aka The Reverse Engineer) for a delightfully hazy downtempo jam that flows perfectly into 'Hidden Away', the album's stunning, melancholic, sun-setting finale, once again featuring the keyboard wizardry of Giovanni Verga.
The on-going blueprint for Alex Niggemann's AEON label is to showcase music and develop an ever-growing family of like-minded creative artists focused on conjuring up the spirit of classic and timeless electronic music, whilst always updating and creating new boundless possibilities. 'Sidetracking', Jona's debut artist album project, undoubtedly keeps the AEON ethos moving forward towards a very exciting future indeed.
Further Information:
https://www.facebook.com/jonaofficial/
https://soundcloud.com/jona_music/
http://www.residentadvisor.net/dj/jona
https://www.aeon-audio.com
https://www.facebook.com/aeonaudio
www.twitter.com/aeon_audio
https://soundcloud.com/aeon-audio
https://www.youtube.com/user/AEONAUDIOTV
https://pro.beatport.com/label/aeon/32877