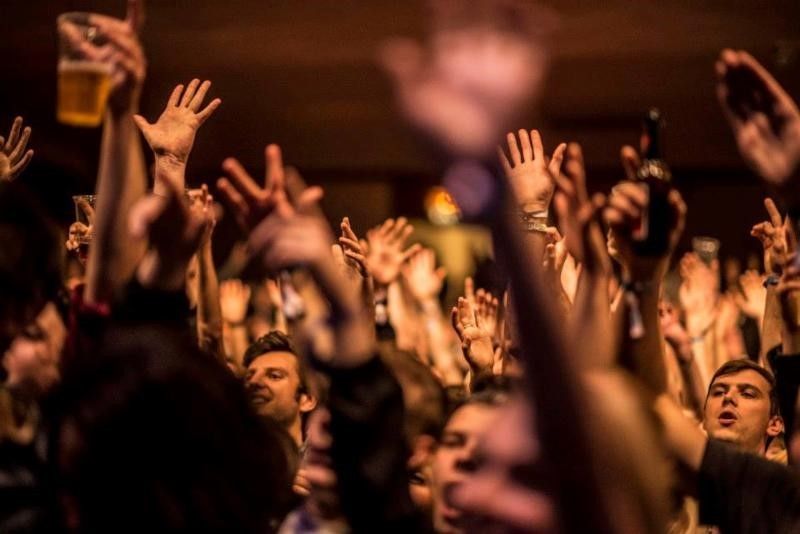 Simple Things Festival 2014
Simple Things is delighted to announce the final headliner for this year's festival: Montreal garage-rock gods Death From Above 1979.

Having sold hundreds of thousands of records worldwide and drawn endless acclaim for their seminal 2004 debut You're A Woman, I'm A Machine, the band are preparing to release one of the most anticipated comeback records in recent memory, The Physical World. Their Simple Things date follows a string of dates in Glasgow, Manchester and London which sold-out rapidly upon their announcement in July, and will be their final UK outing for 2014.

You're A Woman, I'm A Machine is widely regarding as a pivotal release in contemporary musical history. A dizzying 34 minutes of unrelenting noise-garage-dance-punk, it became a staple of record collections worldwide, defining a moment where the feral energy of punk rock and raw dancefloor sexuality could coexist and thrive. In the live arena, the band changed perceptions of just how ungodly a racket could be conjured by two guys. After they helped to define the decade, the duo disbanded unceremoniously two years later and went on an indefinite hiatus, leaving legions of in the dark about the future of DFA1979.

Simple Things returns to Bristol for 2014, bringing 60 acts together for 17 hours of innovative music across 12 stages.

The festival will be kicking of with a very special opening party at Motion, Bristol on Friday 24th October, featuring a full live show from Caribou, with the main support for the show from acclaimed Hyperdub artist Jessy Lanza.
The main event will take place the following Saturday 25th October, set over a cross section of existing city centre venues and brand new intriguing creative spaces demonstrating the very best Bristol has to offer. Saturday will be headlined by the reformed angular dance floor punk duo Death From Above 1979, also headlining will be Glaswegian post-rock titans Mogwai, known for their quiet/loud dynamic, defined bass riffs, and an eminent ambient sound, sometimes dark and sometimes grand. Joining Death From Above 1979 and Mogwai on the Saturday, will be the ever cool and authentic DJ Harvey. Harvey's long-awaited return to these shores last year saw the disco edit aficionado play only a handful of dates. Under his new Wildest Dreams moniker and with a new record released soon, Harvey has showcased a more instrumental side to his character with his vocals and a psychy, sleazy, edge to his music.
Other names on the bill for Saturday include the colourful musical chameleons Liars, Atlanta garage-rock band Black Lips and the ever-controversial Zomby, who will no doubt bring surprises with whatever he chooses to play. A real coup for this year's event is Hyperdub's select roster that will be hosting a stage to celebrate 10-years of the label, with boss-man Kode 9, Laurel Halo, Cooly G and Scratcha DVA all present and inline. Nightmares On Wax return for a long-awaited set that will showcase exactly why George Evelyn became one of the hottest acts in the country. How To Dress Well's Tom Krell brings his dreamy futuristic R&B sound, which he continuously pushes to new heights. The enigmatic DJ Sprinkles is also on the bill, who has had an incredible 12 months showcasing her unique take on deep house, plus Eagulls' intense post-hardcore workout will be a definite draw. Mercurial producer Actress joins off the back of his bleak and bruised fourth album, whilst Bristol native, Harlem based DJ Nature returns to home-turf with his genre-defining sound, along with SOPHIE, famous for his writing and irresistible topline melodies, as evident in his recent 'Lemonade' single. Simple Things also welcome Techno A-lister DVS1, a Berghain regular, whilst The Haxan Cloak bring their claustrophobic layered sounds, a real coup for the festival and for those who like their music with the lights off, elsewhere see the modern twist on R'n'B come in the form of Onra's brilliant live show.
Other acts confirmed for this year's event are: Rejjie Snow, Amazing Snakeheads, Turbowolf, Dark Sky, Redinho, Happa, Greys, Hidden Orchestra, Damiano von Erckert, Max Graef, Jaakko Eino Kalevi, Ron Morelli, Thought Forms, Cooly G, Svengalisghost, God Damn, Lovepark, Cuts, Bad Breeding, The Fauns, Esben & The Witch, Mirel Wagner, Pardon My French, Seven Davis Jr, Oliver Wilde, Futureboogie, Impey, October, Eaux, Menace Beach, The Kelly Twins, Terekke, Eugene Quell, Volte-Face, Scarlet Rasca and Gramrcy.

The 2013 edition of Simple Things was full of interesting contrasts and juxtapositions, including the use of a disused inner-city fire station (The Island), and on the other end of the spectrum, the gold-plated Colston Hall. Announcements on this years venues coming soon..
SIMPLE THINGS
www.simplethingsfestival.co.uk
TICKETS
tickets.crackmagazine.net
EVENT OPENING TIMES
FRIDAY OPENING PARTY: 20:00 – 01:00
SATURDAY FESTIVAL: 12:00 – 05:00