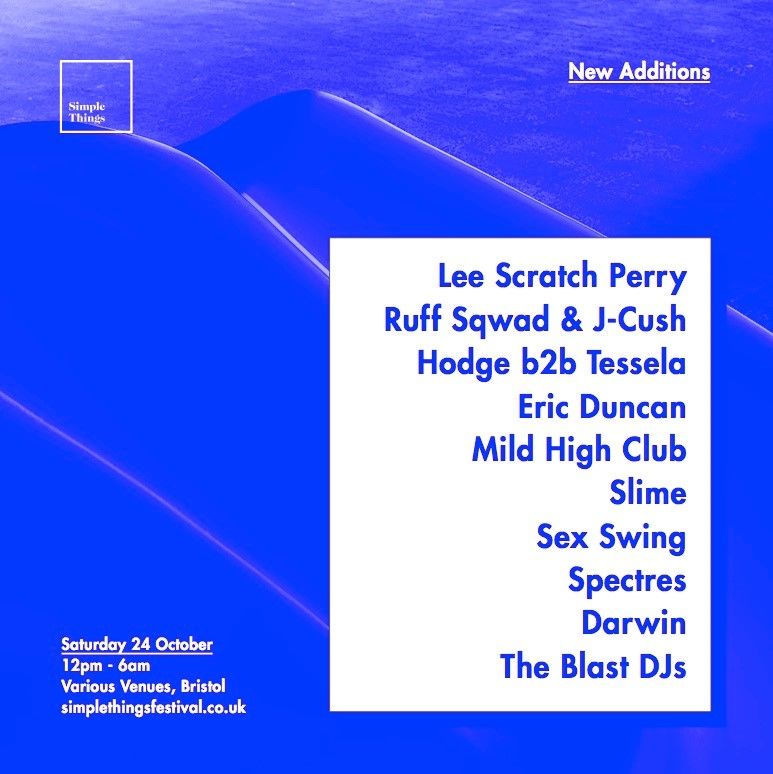 Simple Things Festival announce Third Wave Of Acts
Pioneering multi-venue festival Simple Things have bolstered their already weighty lineup, adding a host of eclectic acts to the billing as they take over Bristol's clubs, theatres, fire stations and prison cells on October 24th.
Legendary reggae innovator Lee 'Scratch' Perry will be touching down in Bristol for his first performance in the city in over two years, pairing his inimitable stage presence with a full live band as he delves into his expansive back catalogue of cosmic dub excursions.
Following the massive addition of JME & Skepta a couple of weeks ago, the Simple Things team have brought yet another revered grime collective into the fold: Ruff Sqwad & J-Cush. Ruff Sqwad's advent in 2002 brought grime form the streets of East London to a national audience, setting the stage for its meteoric rise to prominence over the next decade. The crew will be joined by Lit City Trax founder and Future Brown mainstay J-Cush for a rare performance outside of London.
Further live additions include the patchwork compositions of Newcastle-based Slime, smoked-out psyched pop from Stones Throw signee and Arial Pink producer Mild High Club, cacophonous Bristol outfit Spectres and the menacing noise-punk of Sex Swing.
Whilst the daytime programme of Simple Things leans towards live performances, the evenings and night time has always been the preserve of cutting-edge underground DJs, and this year is no different- celebrated UK techno artists Hodge and Tessela have just been added for a marathon four hour back-to-back session. Rub-n-Tug co-founder and NY disco extraordinaire Eric Duncan will also be joining proceedings with the Futureboogie cohort, whilst Berlin mainstay Darwin makes her Bristol debut. The remarkable Giant Swan are also set to bring a truly original performance to the Simple Things stage.
Full line-up below.
Opening: 23rd October
Godspeed You! Black Emperor
+++
Festival: 24th October
Live Acts:
Skepta & JME / Battles / Savages
Penguin Cafe / Wire / Factory Floor / Dean Blunt
Lee Scratch Perry / Ruff Sqwad & J-Cush / Holly Herndon / HEALTH / DJ Funk / Lone
Danny L Harle / Romare / Vessels / Vessel / Speedy Ortiz
Liturgy / Lower Dens / The Soft Moon / Oliver Wilde / Nicole Willis & The Soul Investigators Chastity Belt / Long Arm / Grumbling Fur / Loyle Carner / Khruangbin
Mild High Club / Slime / Sex Swing / Spectres
DJs:

Ron Trent / Mike Skinner / Objekt / Untold
Hunee / Helena Hauff / Barnt / Hodge
Galcher Lustwerk /
nd_baumecker /
Avalon Emerson / Discodromo / Moxie
Tessela / Erc Duncan / Darwin / Futureboogie / Studio 89 / Gamrcy / Pardon My French
Strange Fruits / Malestripper / Giant Swan / Kokoro / The Blast DJs / The Quietus DJs

+++
LINKS & FURTHER INFO
SIMPLE THINGS
www.simplethingsfestival.co.uk
TICKETS:
tickets.crackmagazine.net