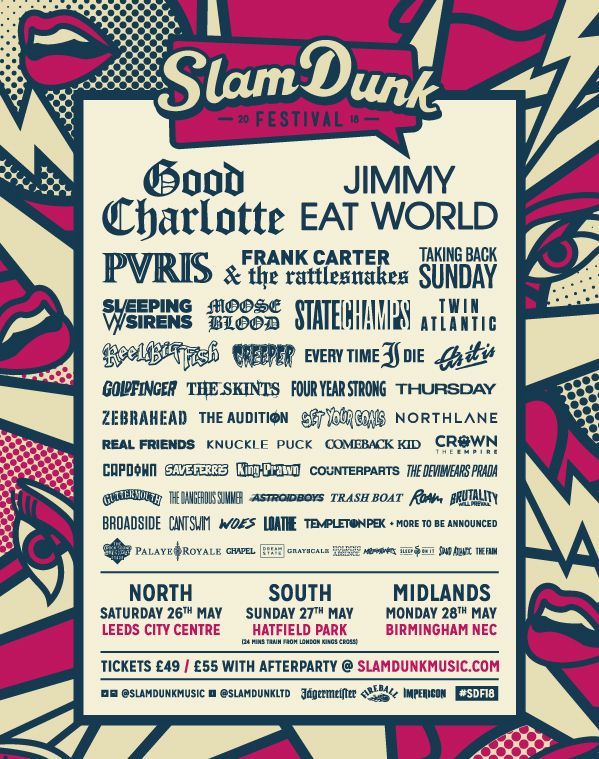 Slam Dunk Festival reveals more amazing acts…
Continuing its reputation as the best festival for pop-punk fans and rock revellers alike, Slam Dunk Festival 2018 is thrilled to unveil even more names to the already astounding May Bank Holiday weekend bill. Moose Blood, As It Is, The Dangerous Summer, Woes, King Prawn, Guttermouth, Templeton Pek, Astroid Boys, Brutality Will Prevail, The Devil Wears Prada and Loathe are all set to join co-headliners Jimmy Eat World and Good Charlottefor an unparalleled display of all things alternative!
Mixing a classic British indie sound with trademark American emo, Moose Blood won over thousands upon thousands of fans with their debut full-length 'I'll Keep You In Mind From Time To Time', produced by Beau Burchell (The Bronx/Senses Fail), firmly establishing the Canterbury quartet as one of the UK's most beloved bands. Armed with undeniably captivating melodies and poignant lyricism, singles such as 'Swim Down', 'It's Too Much' and 'Honey' are sure to draw in sentimental singalongs at Slam Dunk Festival 2018.
Taking the pop-punk world by storm since their inception, As It Is are consistently reaching new heights. Beginning life on internet message boards posted by vocalist and Minnesota native Patty Walters looking to start a pop-punk band, the Brighton band have proved their unique sound as well as their evident chemistry with the release of masterful albums 'Never Happy, Ever After' and 'okay.'. These prominent records have led As It Is to soaring success, sharing the stage with the likes of Sum-41 and Neck Deep and rightly garnering cult adoration around the globe, and their appearance at Slam Dunk Festivalwill be no different.
Marking their first festival appearance since their reunion, beloved emo rock band The Dangerous Summer will be returning to Slam Dunk Festival in May. Forming in Maryland, USA in 2006, the then-fledgling quartet caught the attention of Hopeless Records which would become the label home of their debut studio album 'Reach For The Sun' and sophomore follow up 'War Paint'. After breaking hearts by announcing their disbandment in 2014, The Dangerous Summer have since revealed their reunion and subsequent return to the stage as well as plans to release new music – which will no doubt be teased at Slam Dunk Festival in May.
Delivering a fresh twist on UK pop-punk as it we know it, Edinburgh natives and Rude Records scholars Woes will take to the Slam Dunk Festival stages to delight audiences with their individualistic coarse group vocals and bouncing choruses as found on fan-favourites such as 'Winter Sun' and 'Worst Friend'.