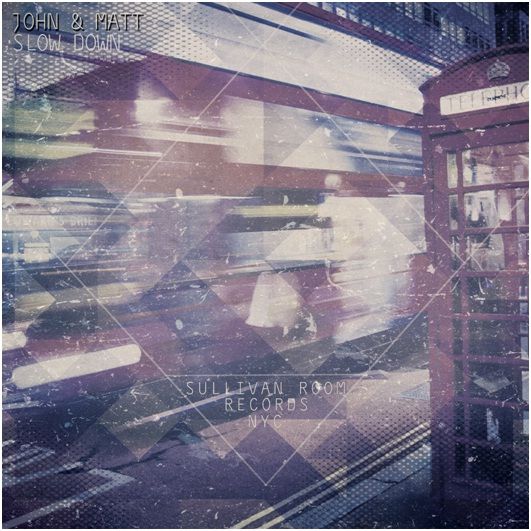 John & Matt - Slow Down EP
Talented duo John & Matt are rapidly becoming one of the most talked about up-and-coming tandems within the current Dance music panorama. Having put their signatures on remarkable projects such as: 'Hold On EP', 'You, Here', 'Take My Hands', 'Girl You Know How' and 'Alexis Night' amongst others, they are now back again with a late summer wonder – 'Slow Down EP'.
Released on the 14th of September, 2015, 'Slow Down EP' is a five-track package including four different mixes of the lead track 'Slow Down', together with another stellar production by the name of 'All Night'. Having started their careers as musicians, John Gagliano and Mathieu Fortin, jointly known as John & Matt, have later immersed themselves into the electronic music realm, managing to land chart placements with their first releases and signing top-notch label deals with the likes of: Sullivan Room Records, Natura Viva, Dear Deer Records, Da Way, Sex Panda White, Esclama Records and Reloaded Recordings.
Set to continue John & Matt's successful run, 'Slow Down EP' adds another heavyweight project to their developing resume. Whilst the Indie Dance / Nu Disco inspired and vocal infused original rendition of 'Slow Down' was the first track created by the duo, they have now added four outstanding mixes. The harsher tones found within the Dub mix blend perfectly with the House vibes proposed by the Club mix, whilst the Synthtrumental version takes a more experimental take on this single. In order to complete this project John & Matt have also devised a deep instrumental production – 'All Night' – displaying a different side of their unique sonic palette.
Following the release of 'Hold On EP', John & Matt are now back again on Sullivan Room Records' roster with their latest hit 'Slow Down EP'. Managed by Modern Day Music, Sullivan Room Records have been offering high-quality House and Techno music since 2013 and they have quickly become a rising name within their scene. 'Slow Down EP' is certainly a massive contribution towards Sullivan Room Records' growing musical capital and will now be added amongst the works of other important names on their talent list, such as: Dave Seaman, Thierry Tomas, Zoo Brazil, Chris Fortier, Neil Quigley, Marco Bailey, Latin Intelligent, Rills, Daniel Wilde, Derek Marin and Simon Wish amongst others.