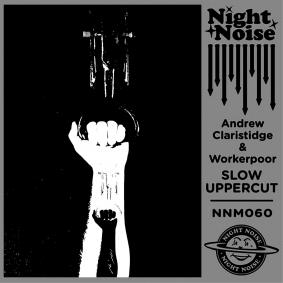 Andrew Claristidge & Workerpoor - Slow Uppercut
Andrew Claristidge teams up once again with the mysterious Workerpoor for a new EP on the ever-eclectic Night Noise Music. The release was written between their studios in la Bretagne, Paris and Berlin, and comes backed with remixes from David Carretta, Cristiano Roberto, The Soviet Union and Tales of Voodoo.
Claristidge was formerly part of Acid Washed and has toured the world with his multi-faceted sounds that veers from pop to wave to techno. Workerpoor, meanwhile, has been at the heart of the dark electro scene on labels like Zone with artists like Arnaud Rebotini, The Hacker and Gesaffelstein. Their latest EP makes use of analog synths, drum machines and field recordings from the lake of Callac de Bretagne, so brims with life.
The fantastic first track 'Strength Training' is a dark, deviant, electro-wave burner that soundtracks a cyborg disco. It's raw, rugged and futuristic and perfect for club deployment, while the second track 'Slow Uppercut' is a slow, ambient, robotic piece redolent of Boards Of Canada that will sink you into a cosmic abyss.
First remixer is legendary French artist David Carretta who opts for crashing hits and slapping drums that are dazzling and distorted in equal measure. Cristiano Roberto is a new alias from electro & disco mainstay Rodion and here he cooks up a psychedelic slow burner that will flip you inside out.
Synth disco don The Soviet Union serves up an intergalactic workout of pixel thin synths and punk-funk drums that are fantastically visceral and direct. Last of all, Tales of Voodoo— a London party and artist that transcends musical boundaries—layers up swirling pads and trippy colours, crisp hits and rumbling bass into something strangely joyous.
This is another devilishly good package of modern disco from Night Noise.
Tracklist:
1. Strength Training
2. Slow Uppercut
3. Strength Training [David Carretta remix] 4. Slow Uppercut [Cristiano Roberto Remix] 5. Slow Uppercut [The Soviet Union Remix] 6. Slow Uppercut [Tales Of Voodoo Remix]