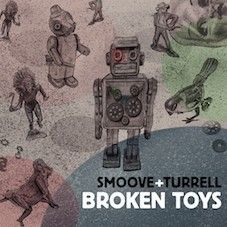 Smoove + Turrell – Broken Toys
Newcastle's finest Smoove & Turrell are back in June with their third studio album Broken Toys. Their rise through the ranks of British soul has been nothing but unstoppable, here's a little recap why:

First album Antique Soul scored some heavy points with singles I Can't Give You Up, You Don't Know & Beggarman. Gaining the lads two records of the week on Radio 2 (Radcliffe & Maconie) and their first ever-national playlist on 6music. The original 7" of the northern soul banger I Can't Give You Up still changes hands for up to £160 on the net. This propelled Smoove & Turrell to headlining stages at festivals such as Glastonbury and Big Chill to name a few, not bad for an unknown Geordie band.

Any worries about a difficult second album were brushed aside when in 2011 S&T released Eccentric Audio. With Smoove's timeless production skills and a confident John Turrell at the top of his game both lyrically and vocally, Eccentric Audio saw the boys break through onto national TV & Radio playlists throughout the UK and Europe. Getting two Radio2 playlists with singles Hard Work and Gabriel and MTV Europe and Virgin Media playlists with single Slow Down.

With the word starting to spread across the pond to America S&T tracks could be heard on as many things as network giant ABC's primetime campaign, feature film For A Good Time Call, video game The Crew and international smash hit series like The Finder & World of Jenks.
Back on home turf, track Hard Work was used on a national advertising campaign as well as others being used on a host of primetime TV shows such as Match of the Day, Strictly Come Dancing, Splash & Coronation Street opening up S&T to yet a wider audience again.

Live performance highlights saw the boys perform in venues as varied as the legendary terrace in Space Ibiza, it took them as far a field as Moscow and Dubai, it let them play to the whole of Marseille from the ramparts of a castle and led them to support the one and only Nile Rodgers & Chic.

Now it's 2014 and the album is Broken Toys. Scheduled for release in June, this is another jump forward both in terms of production and appeal. Sparkling pop songs flirt with disco influenced floor stompers in between the blues, jazz, funk & soul the boys are so well known for.

First out of the blocks is double A side single – Lay It On Me / I Just Want More and already gainingradio momenteum with airplay on the likes of Gilles Peterson (BBC 6 Music) and Lisa Tarbuck (Radio 2) and will be swiftly followed by the barnstorming Will You Be Mine in late April.
Hitting the road again with their motley crew of Geordie reprobates Smoove & Turrell's 7 piece band will once again be gaining yet more of a loyal fan base both here in the UK and in Europe & the wider world.
Smoove + Turrell's debut single – Lay It On Me / I Just Want More is released on Jalapeno Records on 14th April taken from their forthcoming studio Broken Toys released on 9th June.
For all the latest Smoove + Turrell tour dates and release news head to: http://www.smooveandturrell.com
BROKEN TOYS ALBUM TRACKLIST:
1. Have Love
2. Will You Be Mine
3. Lay It On Me
4. Long Way To Fall
5. Play To Win
6. People Keep Talking
7. Always
8. I Just Want More
9. The Clown
10. Broken Toys
11. One Woman Army
12. Coming home
13. Now Or Never

FORTHCOMING TOUR DATES:
2nd May – Gateshead Beer & Music Festival – Gateshead
3rd May – Troyfest – Hay On Wye Wales
8th May – The Great Escape – Brighton
9th May – Butterworth Hall – Warwick
29th May – LONDON ALBUM LAUNCH – Jazz Cafe Camden – London
20th June – Willowman Festival – Yorkshire
21st June – Band On The Wall – Manchester
31st July – Kendal Calling – Penrith
30th August – Mersea Scooter Rally – Mersea