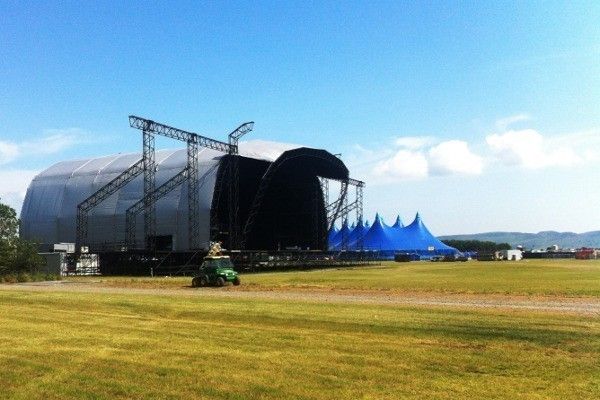 Snoop Dogg to bring California Sunshine to T in the Park
The sun is set to shine on T in the Park's 20th year celebrations, and with temperatures in Kinross currently soaring into the 20s, organisers are gearing up to welcome 85,000 music fans per day to the sunny Scottish countryside this weekend. When Snoop Dogg (aka Snoop Lion) played T in the Park in 2005, he brought a touch of California sunshine to the fields of Kinross, and with Snoop set to return to play the festival's 20th year bash on Saturday, it appears as though he'll be once again bringing the sunshine with him.

Geoff Ellis, Festival Director, said: "The sun is splitting the sky here in Kinross as we add the finishing touches to the site, and it's looking like we're going to have a glorious weekend for our 20th year celebrations. I think Snoop Dogg must be a lucky charm – he played in 2005 when we enjoyed fantastic weather so I think we may need to book him every year!
"Fans should ensure they're prepared for all weather this weekend by bringing sunscreen and a hat to shield themselves from the rays. Remember to stay hydrated over the weekend plus bring layers of clothing as temperatures can drop overnight."

The 20th year bash kicks off on Thursday, when over 35,000 Thursday campers (a new record!) will descend on the fields of Kinross for a top line-up of Thursday entertainment. This weekend, some of the biggest artists in the world will play T in the Park's 20th year celebrations, including headliners Mumford & Sons, Rihanna and The Killers, plus Calvin Harris, Kraftwerk, The Script, Stereophonics, Snoop Dogg, David Guetta, Beady Eye, Frank Ocean, Emeli Sandé, alt-J, Foals, The Lumineers, Yeah Yeah Yeahs and loads more.

T in the Park organisers have also issued top tips to make sure that festival goers stay safe in the sun this weekend. Says a T in the Park spokesperson: "We're all looking forward to a sunny T, but the last thing you want to happen is have your weekend ruined becauseyou weren't properly prepared. These tips should make sure you enjoy the festival and leave with a suntan."

1) Sunburn is sore and it looks nasty. Bring sun cream, use it and reapply it throughout the day.
2) Drink lots of water! Bring an empty plastic bottle and fill it up for free at the water taps onsite.
3) Don't drink too much alcohol –alternate with water and soft drinks and don't forget to eat regularly – eating's not cheating.
4) Don't forget to bring any medication such as anti-histamines and inhalers as the sun can exacerbate these conditions.
5) Come prepared for a change in weather! Even if it's hot during the day, the site could become cold at night so bring a warm change of clothes and bring a waterproof just in case!
6) If you do feel ill at any time, or run out of sun cream, visit a welfare tent or a first aid point situated around the site

Experience the 20th year of T in the Park – limited tickets still available (at the time of writing) from www.tinthepark.com or www.ticketmaster.co.uk or by calling 08444 999 990. Boutique camping options in The Residence are also available for those looking for luxury living at T in the Park – check out www.theresidenceexperience.co.uk.