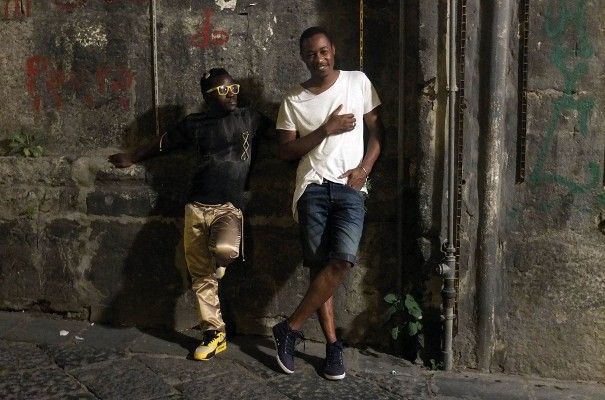 Ten Cities Enters Its European Phase Of Exchanges
With the success of the African leg of its programme taking in exchanges in CAIRO (with Diamond Version), NAIROBI (with Batida, Just A Band and Camp Mulla), JOHANNESBURG (with Vakula) LAGOS (with Pinch) and LUANDA (with Andi Teichmann), the Goethe-Institut now moves into the European phase of the ever innovative TEN CITIES project. Designed to join the dots between European and African electronic music and to gain an unprecedented insight into global club culture, the project's European chapter has kicked off this month in NAPLES.

DJ Satelite and and MC Sacer.(dot) travelled to Naples to get down to work with Marco Messina, Lucio Aquilina and other musicians from the city alongside Andi Teichmann, further cementing the relationships formed back in Luanda at the end of 2012. The exchange brings further recordings as well as a gig at Ex Asilo Filangieri. This counter visit has been organised by Marco Messina, Lucio Aquilina and Andi Teichmann and supported by Goethe-Institut Angola and Goethe-Institut Naples.
Over the coming months they'll visit Lisbon, Bristol, Berlin and Kyiv to compelte this ambitous and ground-breaking project.

Read The Guardian's account of their recent visit to Kenya for the Nairobi – Lisbon exchange:
www.guardian.co.uk/music/2013/jul/07/ten-cities-europe-africa
ABOUT TEN CITIES:

TEN CITIES – a new initiative from the ever-innovative Goethe-Institut, explores how the European and African dance music scenes and club cultures are intrinsically linked. Over the course of the 2 years they will be bringing together established artists such as Pinch, Rob Smith, Vakula and Octa Push from the 10 cities of Cairo, Johannesburg, Luanda, Lagos, Nairobi, Berlin, Bristol, Kyiv, Lisbon and Naples for a series of musical and cultural exchanges.

Links & Info:

Website: www.ten-cities.com | www.goethe.de/nairobi
Facebook: www.facebook.com/tencities.social
Soundcloud: www.soundcloud.com/ten-cities
Youtube: www.youtube.com/tencitiesvideo