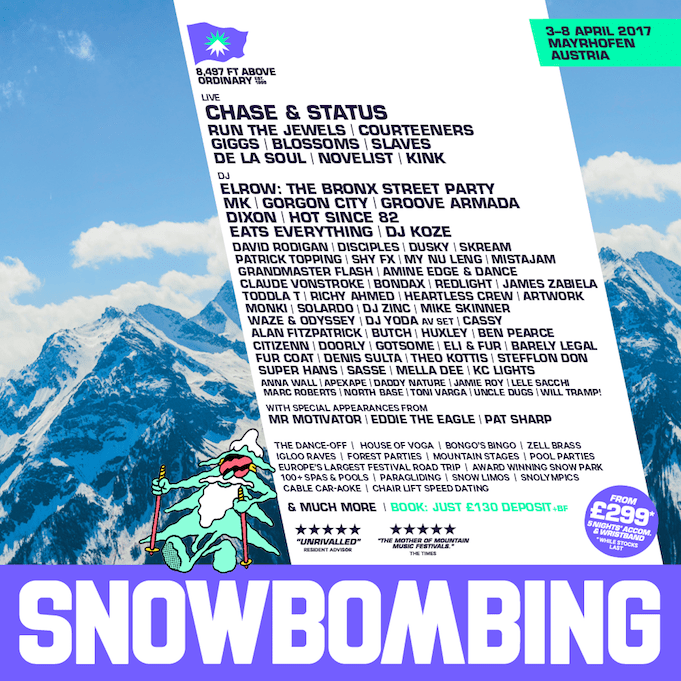 Snowbombing 2017 adds more acts!
Snowbombing – the world's No.1 festival on snow – adds another avalanche of world class acts to the line-up for 2017, including Run The Jewels, Courteeners, Novelist, Groove Armada, DJ Koze, Eli & Fur and many more. Taking place from 3-8 April 2017 in 'the party capital of the Alps', Mayrhofen, Austria, Snowbombing features everything from igloo raves, forest parties, luxurious spas, paragliding, snow-yoga, rooftop hot tubs and 650km of unadulterated piste at one of the finest ski resorts in Europe.
Snowbombing prepares to welcome two of the biggest personalities in hip-hop as Run The Jewels bring their explosive live performance to the mountains! Veteran rappers Killer Mike and El-P topped nearly every 'best albums of 2014' lists with 'Run the Jewels 2' and with hit-after-hit in their back catalogue and a new album about to drop the duo are guaranteed to deliver a show-stopping performance.
Courteeners are also set to make their Snowbombing debut! With a string of successful albums and countless indie-rock anthems to their name, The Mancunian three-piece, fronted by charismatic frontman Liam Fray have earned their title of Britain's "biggest underground band". South London MC and producer Novelist has been making serious waves on the grime scene with his politically-charged rapid-fire vocals and futuristic beats. Get ready for some heavy basslines as he steps on stage at SB17.
Snowbombing also welcomes Superstylin duo Groove Armada! Andy Cato and Tom Findlay have made their mark as one of the planet's best-loved and biggest selling dance acts, with eight studio albums, countless hits and a slew of sold out headline performances. DJ Koze also stars. The onetime hip-hop DJ and Pampa Records label head remains one of the world's most unique and in-demand DJs, with an innate skill for firing up dancefloors with his off-center selections.
With all this plus BBC Radio 1Xtra DJ MistaJam, Patrick Topping, Bondax, dexterous turntablist DJ Yoda, Huxley, Doorly, Eli & Fur, Mike Skinner, Theo Kottis, Lele Sacchi, Gotsome and many more also confirmed today, along with previously announced acts Chase & Status, Giggs, Blossoms, Slaves, De La Soul, Elrow presents: The Bronx Street Party, Dixon, Shy FX, MK, Grandmaster Flash, Eats Everything, Dusky, KiNK, Cassy, David Rodigan, Heartless Crew and Monki, SB17 is shaping up to be the biggest year to date.
But it's not just the world-class music line-up that's earned Snowbombing the title of the world's No.1 music festival on snow… With igloo raves 6000ft above sea level, mountain top stages, enchanted forest parties, 650 km of unadulterated piste, an award-winning Snow Park, the infamous pool party, chairlift speed dating, paragliding, the Snolympics, Cable Car-aoke, Snow Limos, and much more, Snowbombing has redefined winter sports holidays and shown what the ultimate alpine music festival looks and sounds like.
The fun starts a day early this year on Sunday 2nd April as Europe's largest festival road trip rolls into town and the parties spring into action with appearances from acts including Novelist, Mistajam, Mike Skinner, Doorly, Waze & Odyssey, Huxley and Theo Kottis.
New for 2017 is Pat Sharp's Fun Haus, the ultimate homage to the 90s! Take a trip down memory lane as the Haus bands journey back through the era that brought us everything from Daft Punk to Britpop legends Oasis. Party with Peep Show's Super Hans, strike a pose with House of Voga, or join winter Olympics hero Eddie The Eagle for an Official Film Screening and Q&A. With all this plus Bongo's Bingo, the Ping Pong Champs and lots more, there's entertainment and laughs aplenty.
The town of Mayrhofen will also play host to The Leder-Hoedown, a traditional Austrian party, taking place in the centre of the village. The main high street will be taken over with pop up stages, food from local hero Hans The Butcher and music supplied by traditional oompah band Zell Brass, Snowbombing resident DJs and partners Apex Collective, Bodo's Schloss, Bodytonic, Drop The Mustard, Metropolis, Flux, Halo, Mixmag Allstars, Musika, Muzik, Reasons and Rompa's Reggae Shack.
For a taste of the action, watch this video: https://youtu.be/xPgoNEvSJ7M
Snowbombing takes place from 3-8 April 2017. Book now for just £130 deposit +BF at www.snowbombing.com.
SNOWBOMBING 2017 NEW ACTS
LIVE
RUN THE JEWELS | COURTEENERS
NOVELIST
DJ
GROOVE ARMADA | DJ KOZE
PATRICK TOPPING | MISTAJAM | BONDAX | MIKE SKINNER
DJ YODA AV SET | HUXLEY | DOORLY | GOTSOME
ELI & FUR | THEO KOTTIS
ANNA WALL | APEXAPE | DADDY NATURE | JAMIE ROY | LELE SACCHI | MARC ROBERTS | NORTH BASE | TONI VARGA | WILL TRAMP! | UNCLE DUGS
SNOWBOMBING 2017 ALL ACTS
LIVE
CHASE & STATUS
RUN THE JEWELS | COURTEENERS
GIGGS | BLOSSOMS | SLAVES
DE LA SOUL | NOVELIST | KINK
DJ
ELROW PRESENTS:
THE BRONX STREET PARTY
MK | GORGON CITY | GROOVE ARMADA | DIXON
HOT SINCE 82 | EATS EVERYTHING
DJ KOZE | DAVID RODIGAN | DISCIPLES | DUSKY
SKREAM | PATRICK TOPPING | SHY FX | MY NU LENG
MISTAJAM | GRANDMASTER FLASH
AMINE EDGE & DANCE | CLAUDE VONSTROKE | BONDAX
REDLIGHT | JAMES ZABIELA | TODDLA T
RICHY AHMED | HEARTLESS CREW | ARTWORK
MONKI | SOLARDO | DJ ZINC | MIKE SKINNER | WAZE & ODYSSEY
DJ YODA AV SET | CASSY | ALAN FITZPATRICK | BUTCH | HUXLEY
BEN PEARCE | CITIZENN | DOORLY | GOTSOME | ELI & FUR | BARELY LEGAL
FUR COAT | DENIS SULTA | THEO KOTTIS | STEFFLON DON | SUPER HANS
SASSE | MELLA DEE | KC LIGHTS
ANNA WALL | APEXAPE | DADDY NATURE
JAMIE ROY | LELE SACCHI | MARC ROBERTS
NORTH BASE | TONI VARGA | WILL TRAMP! | UNCLE DUGS
WITH SPECIAL APPEARANCES FROM:
MR MOTIVATOR | EDDIE THE EAGLE | PAT SHARP
THE DANCE-OFF | HOUSE OF VOGA | BONGO'S BINGO | ZELL BRASS
IGLOO RAVES | FOREST PARTIES | MOUNTAIN STAGES | POOL PARTIES
EUROPE'S LARGEST FESTIVAL ROAD TRIP | AWARD WINNING SNOW PARK
100+ SPAS & POOLS | PARAGLIDING | SNOW LIMOS | CABLE CAR-AOKE
CHAIR LIFT SPEED DATING | SNOLYMPICS & MORE TBA
—
"The energy at Snowbombing is unreal! Loved bringing TS5 for the 1st time to the festival & Austria." Craig David
"There are very few events like this, it sets itself apart from 99% of festivals" – Fatboy Slim
"Snowbombing is always killer" – Groove Armada
"Snowbombing is always a coming together of like-minded party animals, from all over Europe"- Andy C
BOOK NOW
Festival packages including hotel and festival wristband start from just £249
Book your place now for just £130 deposit +BF by visiting snowbombing.com
ABOUT SNOWBOMBING
Explain Snowbombing? Where to start… Mayrhofen, Austria, that's where. Up a massive mountain 8,497 FT above ordinary! The finest ski resort in Europe, sprinkled with world class acts, insane venues (think Igloo rave, enchanted forest party, tennis club turned super club). Blue runs, black runs, beer runs. More? Add Eddie The Eagle, throw in a pool party, a celebrity butcher named 'Hans', whack a luxury jacuzzi on every other rooftop, stand back and survey the majesty. If it's good enough for Mr. Motivator, it's good enough for you. As Fatboy Slim one eloquently put it: "there's no shared experience in the world as mental as this".