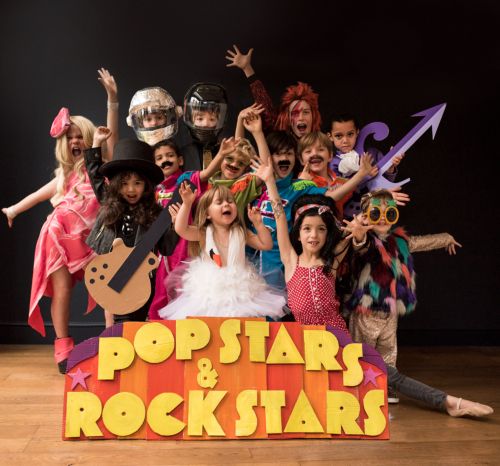 Camp Bestival Theme Announced
Celebrating our landmark tenth festi-holiday in style, Camp Bestival gets its rocks off with a theme guaranteed to get the whole family dancing all weekend long. Yes, Pop Stars & Rock Stars is the game and 27th – 30th July 2017 is the date you can't miss this summer!
Unabashed pop kid and rock n roll believer Rob da Bank says: "Who hasn't dreamed about busting a move like James Brown, getting into spandex like Kylie, glittering up like Ziggy Stardust or going a bit more sensible like Blur? Well, its time to get into the dressing up box, be a bit brave and get ready for Camp Bestival 2017… now where's my meat dress?!"

In among all the crazy excesses of music, theatre, family shows, fairground attractions, outdoor activities, poets, authors, comics and amazing food, we never miss an opportunity to bust out the glitter and spandex and our Pop Stars & Rock Stars theme is the perfect chance to indulge your fantasies and celebrate your musical heroes.
To get you in the mood, we've teamed up with the fantastic Ladyland crew, whose merry mini-Prangstas are already getting into the dressing-up mood. With all manner of Daft Punks, Gaga Girls and Beastie Boys, not forgetting whole families of Beatles and more, the force of fancy dress is strong and the possibilities are endless…
If you want to be the Christmas No 1 in your family, don't miss out on our Early Bird ticket price and if you book before 9th December you get an exclusive souvenir Camp Bestival Christmas card. Numbers are a strictly limited for these exclusive souvenir cards so grab them while you can.
And if you want to secure your premium experience at our amazing campsite at a castle by the sea, then Camping Plus, Backstage VIP Camping and Hospitality Camping tickets are on sale now, too – they are popular as Quality Street at Christmas so don't miss out!
And as Christmas is just a month away now, our renowned Camp Bestival Advent Calendar will be back, bursting with festive goodies. Featuring an array of amazing prizes, activity sheets to keep the little ones busy, mellifluous carols and Christmastime tales, be sure to head to bestiadvent.net from the 1st December and fill your stocking!
More big news is coming soon, so check www.campbestival.net and our Facebook and Twitter for all the latest.
Ticket Info:
Camp Bestival 2017 Weekend Tickets are on sale now via: Ticketline / 0844 888 4410
WEEKLY PAYMENT PLAN
The Camping Bestival 2017 Weekly Payment Plan is on sale now. Use our 30-week payment plan from £5 per week. Book online via Ticketline only.
CAMP BESTIVAL 2017 EARLY BIRD WEEKEND TICKET PRICES
Adult Weekend Ticket – £175*
Student Weekend Ticket – £165* / Age 13 to 17 Weekend Ticket – £105*
Age 10 to 12 Weekend Ticket – £80* / Age 5 to 9 Weekend Ticket – £30*
Age 4 & Under Weekend Ticket – £10*
Babes in Arms (1 & Under) – FREE (but ticket required)*
*All tickets include camping from Thursday / Please refer to the Camp Bestival Ticket Terms & Conditions below
Car Parking – £20 in advance / Campervan Ticket (Field A) – £90
Caravan / Trailer Tent Ticket (Field A) – £100