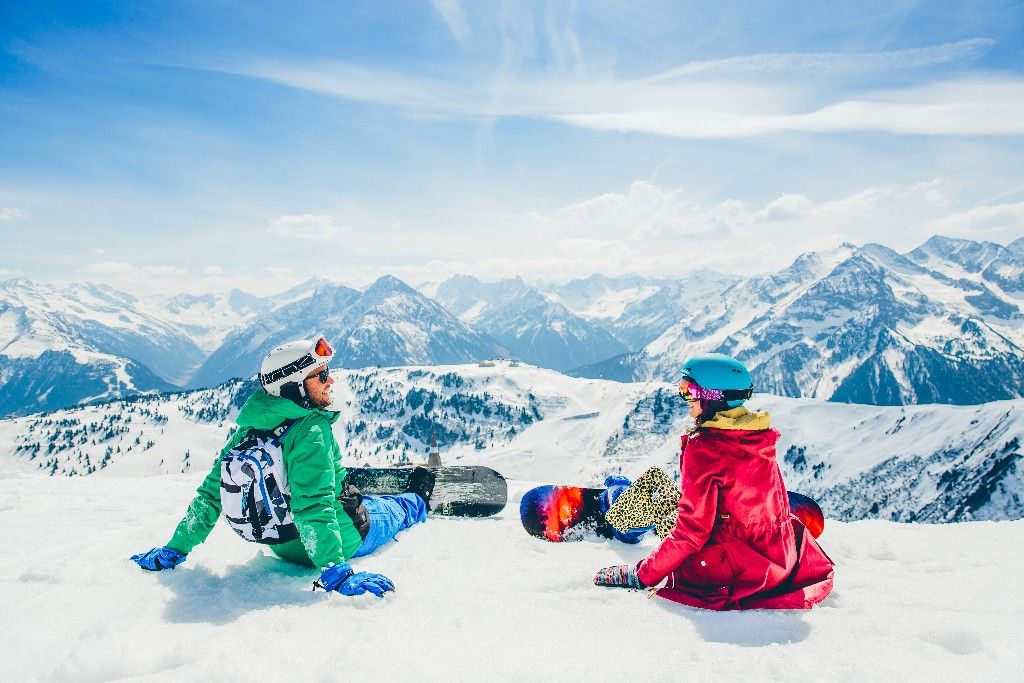 Snowbombing 2019 Announces Second Wave Of Names
After announcing the first stunning array of names for Snowbombing's 20th Anniversary celebrations, The World's Greatest Show On Snow continues to grow and grow with an unmissable lineup of new additions making their way to Mayrhofen in 2019.
Leading the way with these new additions, are a true mixture of dance flavours – showing no matter your taste, Snowbombing has the soundtrack for it. One of the most talked about producers of the year, George FitzGerald heads to the slopes of Mayrhofen, fresh from the critically acclaimed second album 'All That Must Be' that has soundtracked festival fields ever since its release. With singalongs and crystal clear grooves, expect his set at Snowbombing 2019 to be an absolute roadblock. Equally shaking things up is Snowbombing favouriteHigh Contrast, fusing his drum and bass roots into 2019 with an incredible set that'll light up party celebrations in no time, while the electric kicks and vibrations of Sub Focus will make their home under Austrian skies for a deep dive through one of the most celebrated producers of recent times. Renowned as the rising star of electronica, Mall Grab will be making a special appearance for Snowbombing's 20th Anniversary, with a sizzling set of lo-fi beat perfection as he points to what comes next for dance culture. In similar shoes areCamelphat, the Grammy-nominated duo whose chat-storming hits have made them a go-to playlist favourite with the sort of anthems that'll take the Mayrhofen streets by storm.
Always the go-to figure for kicking a party right off, Jaguar Skills will return to Snowbombing next year with his dazzling and unrivalled show a unique blending of scratching sounds and cloak-sealed excitement. In Moxie, Snowbombing has the genre-blending DJ perfect for the winter season – sure to serve up a warming set of classics and variety, while the always unstoppableFlava D will stop in to toast to 20 years with an exciting carnival of sound and power when she takes to the decks at Snowbombing 2019. When you look for a party crew, you look for Horse Meat Disco – and that's why they'll be the first on the plane to head to Snowbombing's big birthday bash next year, fusing the sort of carefree fun and big-time beats that'll see thousands flocking to their front door at Snowbombing 2019.
What's a birthday party without some serious special guests? Well, the proclaimed Godfathers Of Drum 'n' Bass Fabio & Grooverider will be ripping apart the slopes with a must-see appearance at Snowbombing next year, delving into the sounds and classic hits that have seen them become one of the most influential duos in the genre's history. Rinse FM's Emerald will be spinning classics and crowd-pleasing favourites in abundance, with Chicago house weaver Ben Sterling, the unpredictable Fleetwood Mac-inspired remixes of Fleetmac Wood (perfect for those who missed out on tickets for their recent run) and Dub Pistols' very own Barry Ashworth also confirmed today – it cements Snowbombing 2019 as truly The World's Greatest Show On Snow.
Once again returning to Mayrhofen are the beloved Snowbombing Residents – with feature turns from beloved favourites and newcomers alike including Anna Wall, Apexape, Bedlam, Boots & Kats, Concrete Music, DJ Ardi, Daddy Nature, Harriet Jaxxon, Floyd Lavine, Future Flex, Jamie Roy, Kristin Velvet, L&F Projekt, North Base, Marc Roberts, Mixmag Allstars, Muzik, Nicola Bear, Pro-Ject, Reasons, Uncle Dugs, Watergate and 1996 all along for the ride – making sure the party never stops at Snowbombing 2019.
These new names join a world-class lineup of unmissable favourites and game-changing superstars all heading to Snowbombing 2019 for the ultimate birthday celebration of 2019. Lead by the unmistakable presence of Stormzy (serving up a very special #MerkyTakeover to mark the occasion), rave icons The Prodigy and the pioneer of dance culture Fatboy Slim, it promises to be a once-in-a-lifetime party like no other. From Andy C, Bicep (DJ), Groove Armada (DJ), Hannah Wants, Denis Sulta, Monki and Hunee, to the laugh out loud garage hits of Kurupt FM along with Artwork, Skream, Eats Everything, Maribou State (DJ), Solardo, Mele, Paul Woolford, DJ Yodaand much more – there isn't a lineup that can compare to that making Mayrhofen their home for a landmark moment in festival history. Grab your tickets, grab your dancing shoes – Snowbombing 2019 is waiting.
Snowbombing provides the chance to party in unique locations including the Forest Stage, The Racket Club, the special Arctic Discos and more, not to mention the Spas & Saunas, Paragliding, Chairlift Speed-Dating, Cable Car-aoke, Alpine Yoga, Cable Car Raves, Ride & Seek, an award-winning Snow Park, Bongo's Bingo and The Snolympics. Visitors can eat authentic Austrian cuisine in the well-known, delicious restaurants or see the incredible sights of Mayrhofen from the skies whilst trying paragliding, all with the opportunity to stay in incredible accommodation! From 5* spa luxury hotels with rooftop jacuzzis, chalets, pensions and apartments in the heart of central Mayrhofen, to pocket-friendly, self-catered apartments and cheaper options in the surrounding Zillertal Valley, Snowbombing has something for everyone.
Serious skiers and beginner boarders alike are all encouraged to hit the slopes, with 650km of piste and the 78° gradients of Austria's steepest slope The Harikiri (the steepest slope in Europe) is on hand for those feeling adventurous, plus lessons and plenty of beginner-friendly slopes to get to grips with for first-timers. Black runs, blue runs, beer runs – there's something for all abilities on Mayrhofen's powdery peak district. Snowbombing has truly redefined winter sports holidays and shown what the ultimate alpine music festival looks and sounds like.
With an array of further announcements, names and plans to be revealed over the coming months, this is just the beginning for the 20th Anniversary celebration the mountains have been waiting for.
Announced Today
A-Z
Barry Ashworth
Ben Sterling
Camelphat
Emerald
Fabio & Grooverider
Flava D
Fleetmac Wood
Floyd Lavine
George FitzGerald
High Contrast
Horse Meat Disco
Jaguar Skills
Kristin Velvet
Mall Grab
Moxie
Sub Focus
SB Residents
Anna Wall
Apexape
Bedlam
Boots & Kats
Concrete Music
DJ Ardi
Daddy Nature
Harriet Jaxxon
Future Flex
Jamie Roy
L&F Projekt
Nicola Bear
North Base
Marc Roberts
Mixmag Allstars
Muzik
Pro-ject
Reasons
Uncle Dugs
Watergate
1996
Previously Announced
Stormzy | The Prodigy | Fatboy Slim
Andy C | Bicep DJ | Groove Armada DJ
A-Z
Artwork | Barely Legal | Cassy | Craig Charles
Darkzy B2B Skepsis Ft. Bru-C | Denis Sulta | Doorly | DJ Zinc
Eats Everything | Hannah Wants | Hunee
James Zabiela | Kurupt FM | Maribou State DJ | Mele | Mella Dee | Monki
My Nu Leng | Palms Trax | Paul Woolford | Redlight
Saoirse | Skream | Solardo | Special Request
Waze & Odyssey
PLUS 20 YEARS OF SNOWBOMBING ROYALTY:
DJ Marky | DJ Yoda | Jon Carter | Justin Robertson | Krafty Kuts & A -Skillz
Plump DJs | Scratch Perverts | Stanton Warriors
CONNECT WITH SNOWBOMBING
http://www.snowbombing.com
https://www.facebook.com/snowbombing
https://twitter.com/Snowbombing
http://instagram.com/snowbombingofficial
http://www.youtube.com/snowbombing
https://soundcloud.com/snowbombing-festival