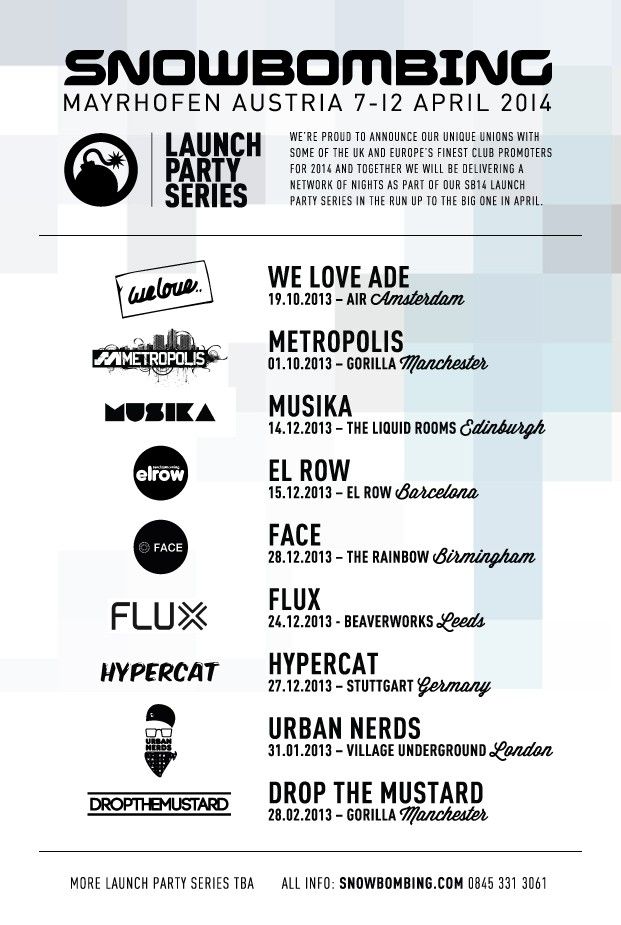 Snowbombing Announces Launch Parties
Snowbombing has once again teamed up with the crème dela crème of the European club scene to deliver a plethora of outstanding parties across Europe in the run up to Snowbombing 2014.
Taking place in an outstanding variety of locations, and with a collection of exceptional line-ups, Snowbombing will be bringing the mountains to the dance floors of UK and Europe. For those who haven't yet experienced the magic of Snowbombing, now's the chance!
Kicking off proceedings, after the monster party at Space in Ibiza, Snowbombing has joined forces with the almighty 'We Love…' for a second year. This year's event at Amsterdam Dance Event aka ADE has an impressive line up including TEED, Duke Dumont, Benoit and Sergio, Greg Wilson, Cajmere and PBR Streetgang.
More good news is that Snowbombing stalwarts, Urban Nerds, are back on board for 2014. Having firmly cemented their London party brand on the underground circuit the Nerds pride themselves on providing DJs who know their way around a needle. Grime, dubstep, hip-hop, drum 'n' bass, reggae, electro and beyond, the Nerds have it in abundance.
Manchester's Metropolis is best known for its groundbreaking and genre defying music events. Established in 2002, Metropolis has, over the years, formed into one of the most influential and sought after club nights and will be opening its doors in November.
Forward thinking Musika will be returning to Edinburgh and bringing their high quality party led House and Techno with them. With an ambitious artist booking policy that has in the past included the likes of Carl Cox, Seth Troxler, SASHA and Maya Jane Coles, this is guaranteed to blow the socks of even the most seasoned of Snowbombers.
Three generations of experience, the people behind El Row certainly know what the key ingredients are for a great party. Usually hosted in the oldest club in Spain, they'll be bringing their supreme knowledge to the mountains.
Midlands' finest underground mischief-makers FACE will welcome a diverse crowd to their snowy party in the run up to new year packing their Birmingham venue full to the brim. Face prides itself on putting on great parties for great people, without any arrogance or pretence.
From humble origins, throwing a one-off party for charity in their home city of Leeds, Flux has grown in the three years since its inception to become one of the UK's leading providers of house and techno persuasion. In the last year, Flux has also expanded beyond its Leeds base to throw parties in the capital and across the rest of Europe and now Snowbombing. Flux continues to go from strength to strength, both in events and the wider music scene.
Newbie on the Snowbombing scene, Drop the Mustard was established in Manchester throughout the last couple of years with diverse line-ups and a squad of up and coming residents. Booking the likes of Benoit & Sergio, Aeroplane, Jamie Jones, M.A.N.D.Y, Bicep, Azari & III and George Fitzgerald their eclectic policy centered on house has attracted a loyal following throughout the UK.
Making their Snowbombing debut, Hypercat will be bringing their collision of electro-dubstep-house to the table. Rapidly becoming one of the most in-demand and vibrant events across Germany, Hypercat are famed for their DIY party spirit, stunning laser shows, L.E.D light men and dancing girls. This is really not to be missed!
If that wasn't enough, WATCH THIS SPACE for details of an exciting party in Milan
Snowbombing is Europe's largest snow and music festival. Days are spent skiing/boarding, enjoying music on mountain top stages or relaxing in the spa of a 5* Hotel. Nights deliver cutting edge performances from world class acts in unique venues, from a sky-high igloo, to an enchanted forest clearing.
Prices start at £219 +bf for accommodation and all the entertainment. So don't be shy, secure your place at the World's greatest and wackiest show on snow. And, hold tight deposits are only £125 – what at steal!
www.snowbombing.com