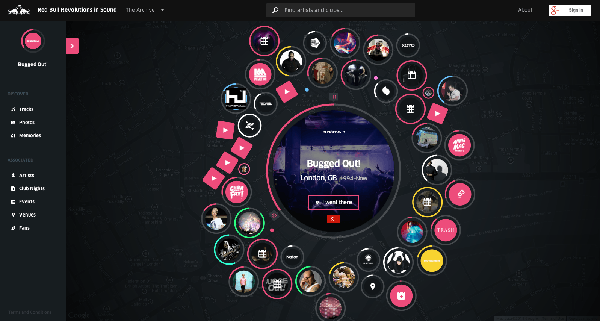 Red Bull and Google+ launch new digital club culture archive
Following this morning's ticket release, places aboard the landmark EDF Energy London Eye for Red Bull Revolutions in Sound were snapped up in record time as clubbers rushed to nab a coveted capsule spot. For the lucky few, they'll be able to soak up the city skyline with a soundtrack provided by one of the UK's legendary club outfits. First release tickets for the Silent Disco at the foot of the Eye also sold out in minutes. For the rest, there are still various opportunities to get involved, including 2nd release tickets for the Silent Disco (on sale 10am Thursday 24th October), 30 simultaneous live streams and, launching in Beta today, a new digital archive of club culture.
A proud supporter of digital innovation, Red Bull has teamed up with Google+ to create an evolving dance music hub, a place to explore and document the memories, movements and moments that really matter. History is littered with clubs that have had a prevailing cultural impact: it's doubtful that Goldie's legendary drum'n'bass session, Metalheadz, would have happened had Fabio and Grooverider not mixed techno with jungle years before at their club night Rage, or that Britain would have developed such a taste for Balearic beats had Danny Rampling, Nicky Holloway and Paul Oakenfold not travelled to Ibiza together and opened Shoom, The Trip and Future respectively back in London. It's these places and pioneers that spawned soundtracks, styles and scenes, instigating cultural revolutions of their own – shaping the sounds of popular music, changing the look of the catwalks, or simply creating a legend that will live on forever in the hearts of those who were there.
The Red Bull Revolutions in Sound archive invites artists, clubs and fans to contribute, helping to map out this vibrant history and chart the connections between landmark nights, artists and venues. Using information from Discogs, Freebase, Last FM, Soundcloud, Mixcloud and, of course, Google+ to help populate each page, the archive uses the 30 capsules that are part of the Revolutions in Sound event as a starting point, aiming to add more each day. Anyone with a Google+ account can get involved, adding memories of their favourite DJs, charting dancefloor meanderings, musical awakenings and momentous events, or simply use the database to delve into the annals of nighttime.
Kevin Maguire, Head of Music for Google+, Europe comments "Red Bull Music Academy has been pushing boundaries for 15 years, as long as Google has been organising the world's information and making it useful. We saw this celebration of the history of dance music as an incredible opportunity to collaborate and bring music and social media closer together, continue the music momentum on Google+, and invite fans to catalogue their favourite tracks, photos and memories through the years."
From next month, there'll be loads of other ways for fans to map out their escapades, too. They'll be able to use their personal Google+ profile to link tracks from YouTube and Soundcloud, add photos, comment and share across other social networks, starting new conversations and maybe even planning the next night out. Users can keep their content visible only to their Google+ circles, and share memories among just close friends.
Check out Red Bull Revolutions in Sound archive HERE