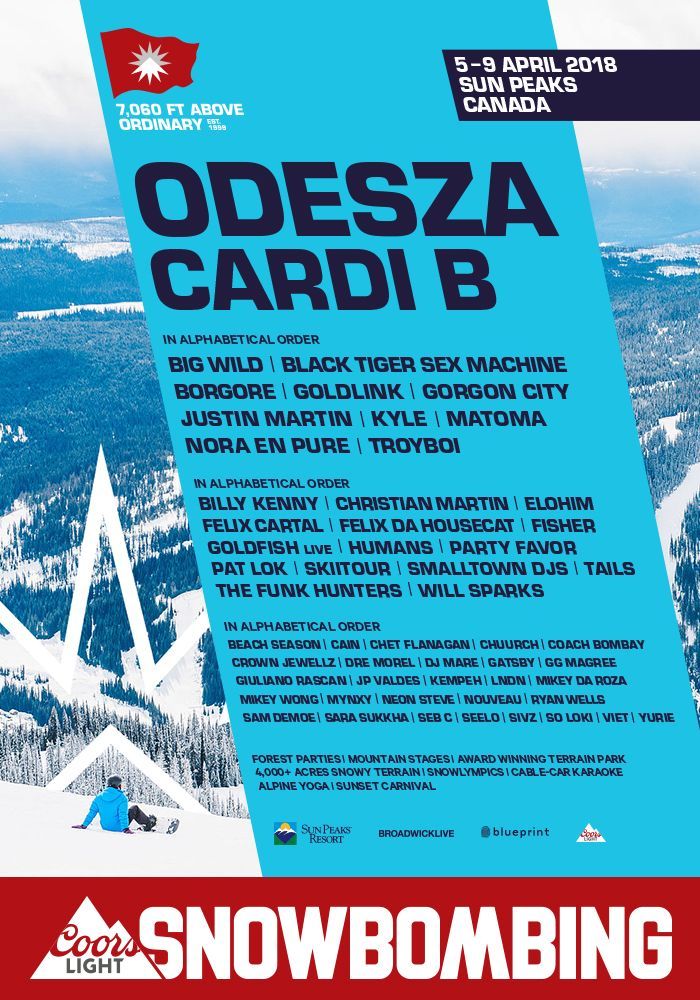 Snowbombing Canada announces first phase lineup!
After a stunning debut festival, The world's greatest show on snow is heading back to BC for Round Two! Snowbombing Canada is returning for its 2nd year and is delighted to announce an array of superstars for the CLSBC18 lineup…
The phenomenally talented duo Odesza will be bringing their electrifying live show to Snowbombing Canada 2018. The two impressive Seattleites, who started making music just 5 years ago, have close to a third of a billion plays on Spotify and are taking the stadium circuit by storm with their breathtaking live show. We know the Forest is going to be one special place come April…
Viral sensation and embryonic First Lady of Hip-Hop, we're extremely hyped to announce Cardi B as our second headliner for CLSBC18! The first female performer to ever hold three singles within the Billboard RnB Top 100 (take that Mariah and Beyonce), we're infatuated with the RnB tinged, Hip-Hop soaked melodies and riffs from this prodigious young musician. With collabs featuring Migos, A$AP Rocky and Nicki Minaj already under her belt, we can't wait to see what she brings to the Snowbombing stage…
Borgore is one of electronic music's most popular and polarizing artists. Called the enfant terrible of bass culture and happy to name himself the man who "ruined dubstep," the LA based, Tel Aviv-born producer's genre-destroying "gorestep" and maniacal live shows have made him an iconic character in the modern bass scene. You can be sure he's going to have the mountains of Sun Peaks shaking this spring!
The ever-experimental GoldLink, continues to galvanize crowds around the world with a pulsating sound that he coined early on — future bounce. His one of a kind vocal delivery has set him aside from the pack, as he has quickly become one of the hottest rising stars in the hip-hop scene. We can't wait to welcome him to Sun Peaks!
These incredible names lead a carefully crafted line-up of exceptional music in all its forms, with sets across the slopes from TroyBoi, Felix Cartal, Gorgon City, Elohim, Matoma, Party Favor, Billy Kenny, Justin Martin, Black Tiger Sex Machine, Nora En Pure and Goldfish (live).
Super Duper Kyle Harvey makes unabashedly sunny pop-raps, whether it's looping early nineties one-hit wonders or rhyming about "Fruit, Snacks and Cups of Patron." He claims Jadakiss, Will Smith and Incubus as his inspirations. Think, California beach kid whose childhood resembled the Nickelodeon cartoon Rocket Power, and might even be found surfboarding over the Snowbombing audience in 2018!
At 23 years young, Will Sparks has cemented his position at the forefront of the globally loved Melbourne sound. Countless original productions have spent weeks inside the Beatport top 10 in addition to signature remixes of global hits such as Major Lazer's 'Be Together', Robin Thicke's 'Blurred Lines' and The Chainsmokers' 'Selfie'.
2017's line up was always going to be a tough one to beat but, unsurprisingly, Snowbombing Canada have already managed to knock it out the park (or 'off the slope') with the avalanche of artists announced for 2018's festival!
Coors Light Snowbombing reimagines the festival scene, offering totally unique party spaces and gig locations, including the Forest Stage, the Underground, Alpine Yoga, Coors Light Basecamp, Rise & Seek Competition, an award winning Terrain Park, The Snowlympics and even Chair Lift Speed Dating for those looking for a little love on the mountain! Guests can enjoy renowned mountain-side restaurants, live life as a real Snow'baller with our VIP packages and party at 7,060ft at the stunning mid-mountain venue The Sundance Terrace.
And where to stay? From 4* spa luxury hotels with jacuzzis, chalets and apartments in the heart of central Sun Peaks to pocket friendly self catered apartments and cheaper options in the surrounding area, Coors Light Snowbombing Canada has the perfect pillow to suit everyone, no matter the wallet size. You can definitely do Snowbombing on a budget!
Serious skiers and beginner boarders alike are all encouraged to hit the slopes with 4,270 acres of uncrowded piste and the steep gradients of the infamous Headwalls on hand for those feeling adventurous, plus lessons and plenty of beginner-friendly slopes to get to grips with for first timers. Black runs, blue runs, beer runs – there's something for all abilities on Sun Peak's powdery peak district. 4 days and 4 nights of unparalleled partying awaits amongst the snowy splendour of Sun Peaks next April… Make this your year!
http://www.snowbombingcanada.com
https://www.facebook.com/snowbombingcanada
https://twitter.com/snowbombingcan
https://www.instagram.com/snowbombingcanada/
http://www.youtube.com/snowbombing