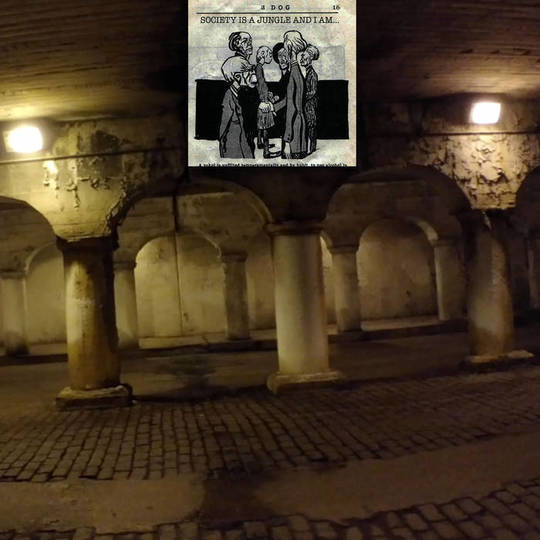 Various Artists - SOCIETY IS A JUNGLE AND I AM
Chicago underground electronic veteran Austin "a_dog" Keultjes, has just finished a live album recorded April 25, 2016 at Chicago's Empty Bottle, titled "SOCIETY IS A JUNGLE AND I AM…." This album is Keultjes' first solo project since his 2014 LP, "Divine Ecstasy", as one half of production duo Supreme Cuts.
Described as "primal", "protest music from the year 2065" and "anti-club music", from those who witnessed the project's live conception, Keultjes also shared a few words of his own about the album:
"Ukraine, Brazil, America, etc etc… All over the world people are hitting the streets to stand up for themselves. I felt I had to express that through music. Music that reflects the times. It's been a long time coming…
I chose to do a trilogy of live records to introduce myself because I like the element of chance and I feel its more personal like having a conversation with the audience even if they're listening later. I recorded this album by mixing original music together at the show, with a whole lot of samples and effects (similar to old dub recordings) and just pressing record."
While he described himself as "musically at my rawest", a_dog's new album is not surprisingly haunting and aggressive, but hopeful, with transcendent, euphoric moments that glow in the darkness.
Look out for a_dog's next solo album, "Free & Clear 4ever", due out in several months.
Tracklist:
1. True Godess Reincarnation (Shin Megami Tensei)
2. TERROR – a_dog
3. ACTION (give us water) – a_dog
4. Felucia – a_dog
5. A.B.I.B.A.S. – a_dog
6. N.B.D. (Never Back Down) – a_dog
7. City of Fire – a_dog
8. CRADLE2THEGRAVE – a-dog
9. THEY DONT CARE ABOUT US – Michael Jackson (a_dog edit)
10. 2% – a_dog & RAYMOND ABERCROMBIE
11. (you can't stop) JUSTICE – a_dog
12. outro (WILL U BE THERE-MJ)